The Top Pho Places in Vancouver
Springtime is here, which means brighter days ahead and more time with the family outside. However, what we can always count on in Vancouver is lots of rain. When it's wet and chilly outside there's nothing like a bowl of pho noodle soup to warm you and your family from the inside out. Kids love to slurp noodles and they'll be delighted to get their own large bowl. Kids will even enjoy the veggies cooked soft and tasty in pho broth. Whether your family members prefer a traditional phở bò (beef), a vegan noodle soup, or if they're just here for all the delicious sides (shrimp salad rolls are basically a mandatory pho accompaniment), here are some of the most loved pho restaurants in Vancouver for both dine-in and take-out.
Takeout and Delivery Only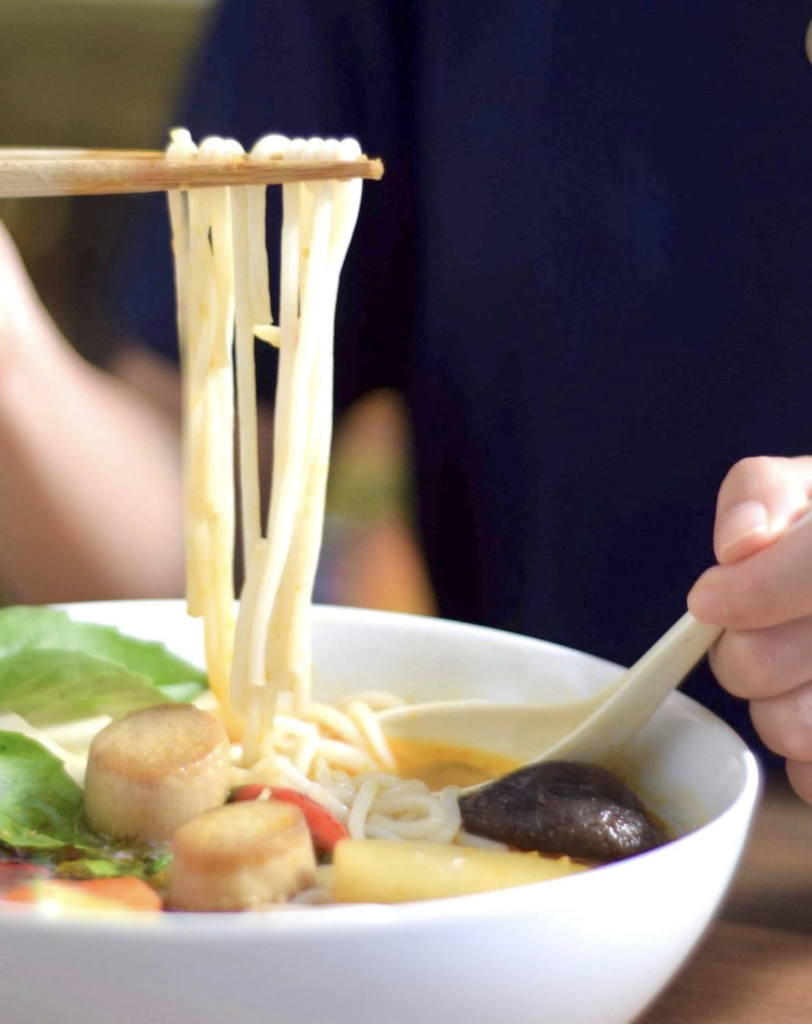 Photo: Khoe Plant-Based
In the last two years Vancouver has had many new take-out and delivery businesses pop up out of commissary kitchens. Khoe Plant Based, a vegan Vietnamese kitchen, is one of them. It offers a menu of seven plant-based dishes, including a noodle soup in a chili lemongrass broth. They offer delivery and pickup at 1370a East Georgia St.
Vegetarian and Vegan Pho
1269 Hamilton St and 1392 Kingsway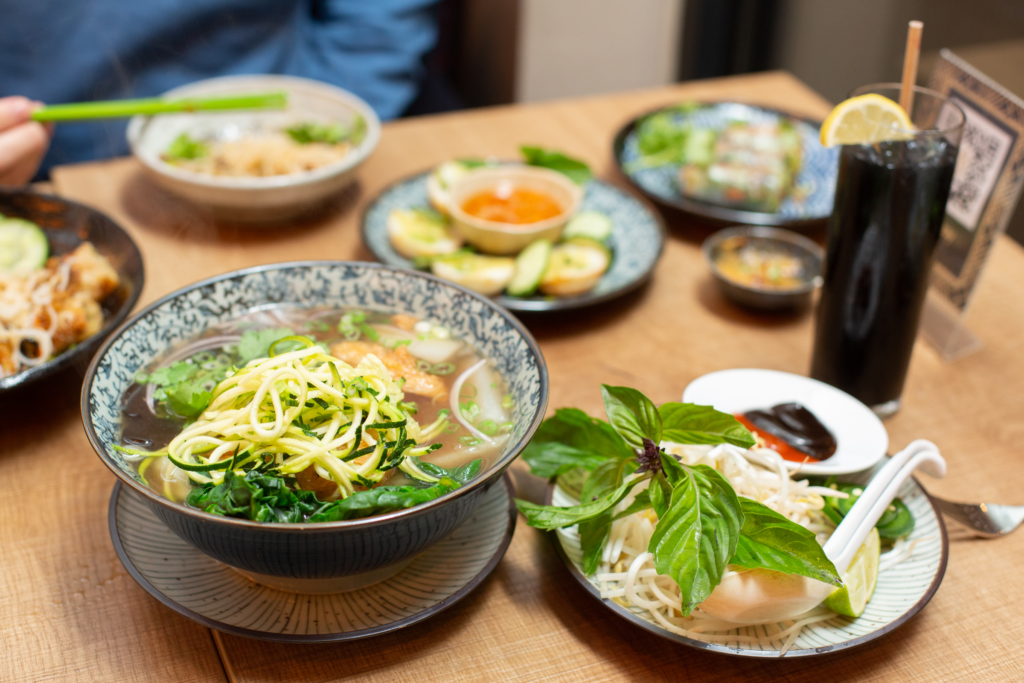 Do Chay offers an inventive vegetarian menu in two fun and bright locations in Vancouver with plenty of space for maneuvering and parking a stroller. Kids will love the dangling pendant lights and hanging plants. Do Chay's vegan pho is available for dine-in only and features zucchini, yuba, daikon, seasonal vegetables and rice noodles in a vegan pho broth. There are lots of interesting dishes on the menu like coconut milk rice cakes and monsoon rolls to entice you to come back a second time. Adventurous kids will be thrilled to order the activated charcoal black lemonade.
736 W. Broadway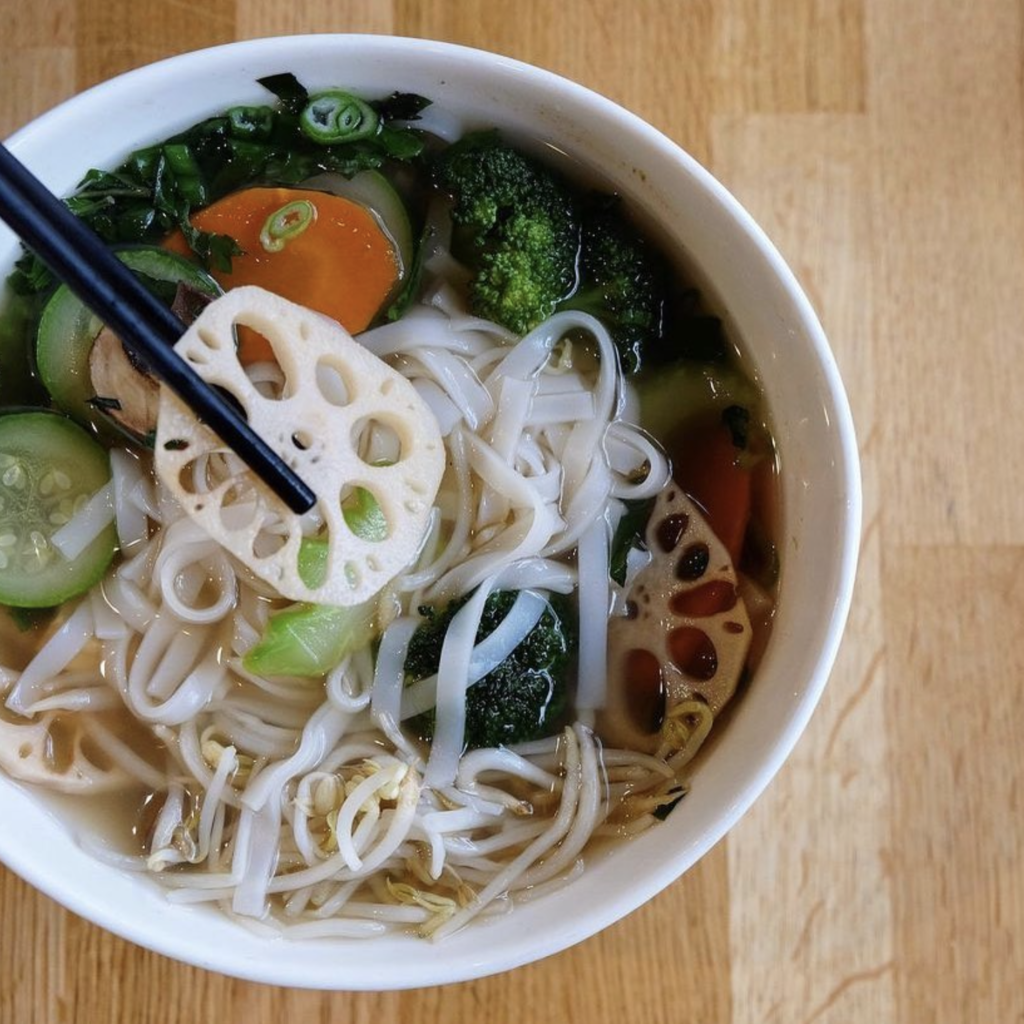 In addition to gluten-free vegan pho with rice noodles, Lotus Seed Vegan offers a wide variety of menu items including avocado toast, shiitake mushroom salad roll, and poke bowls. Kids will love the smoothies and all day breakfast menu. Think: ingredient-conscious diner with vegan Vietnamese cuisine.
Traditional Pho Restaurants
3420 Cambie Street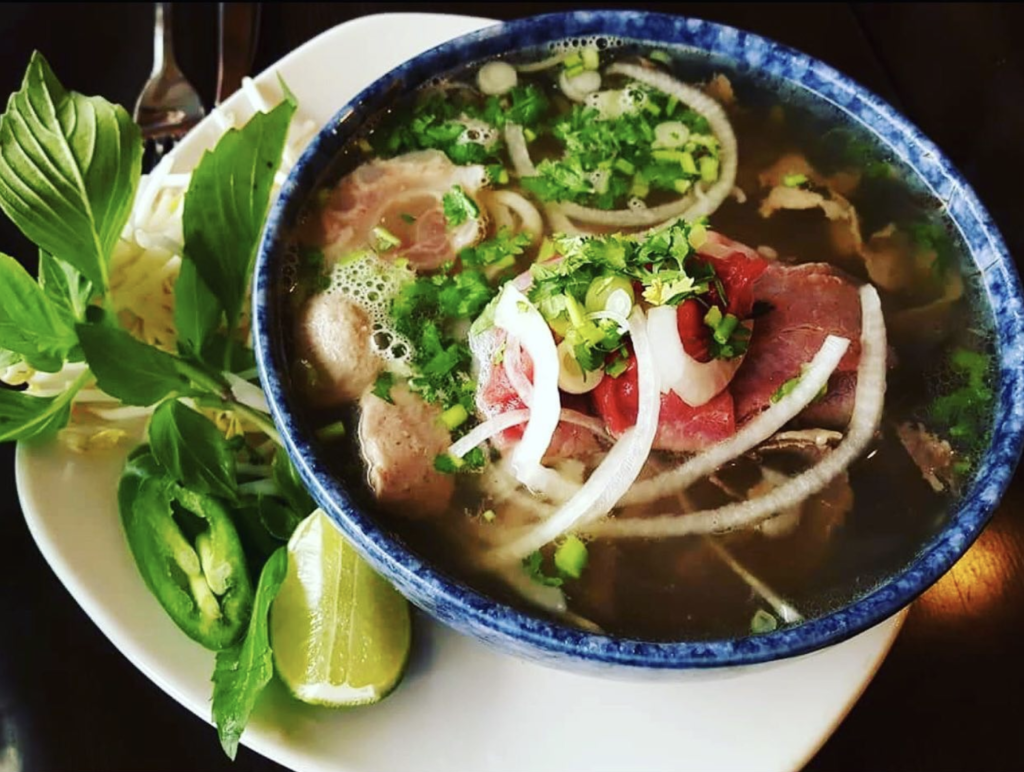 Viet House is a very family friendly restaurant and easy to get a table and highchair. They're also open until midnight seven days a week, so they're great for the kid-free crowd too. They serve a red wine beef stew pho where beef simmers in red wine broth for six hours, and a variety of other appetizers and dishes like prawn rice noodle rolls, and seafood and coconut broth. There's something for everyone to enjoy. They're popular for their crispy chicken wings and deep fried squid, and they serve unique dishes like duck leg mantou (steamed bao) and duck confit.
1046 Commercial Drive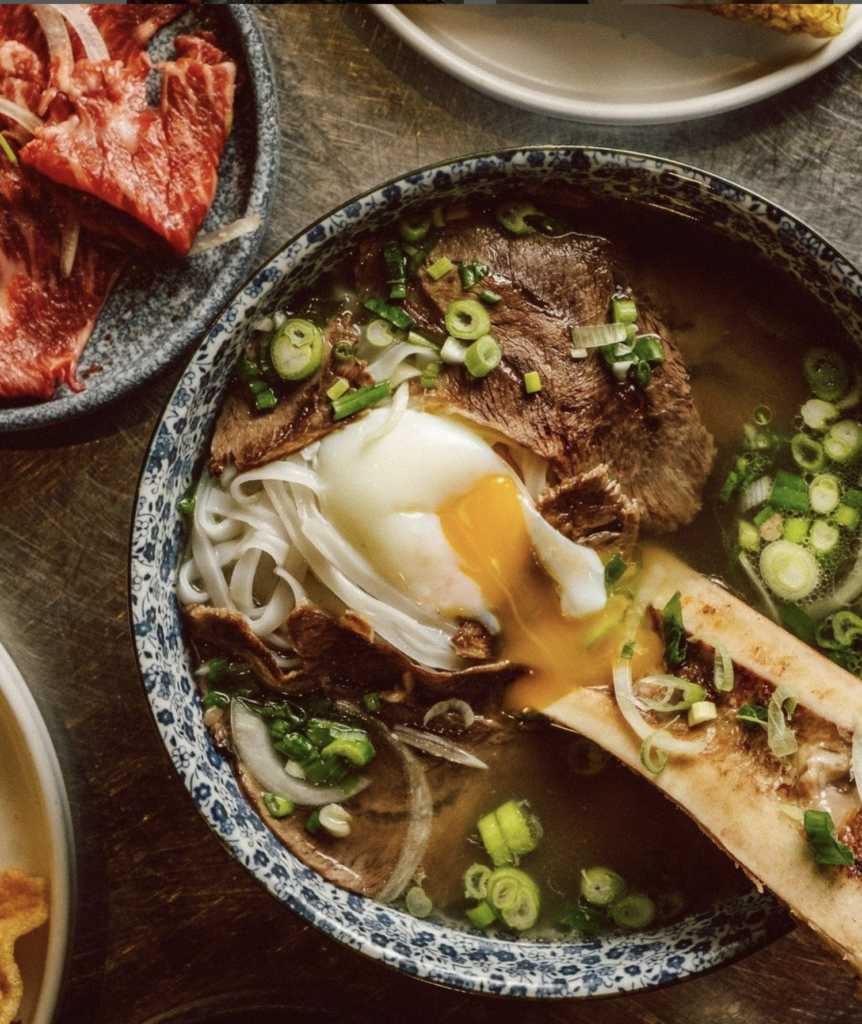 A classic on Commercial Drive, Lunch Lady has your traditional Pho Bo – beef noodle soup with AAA Canadian rare beef, and a vegan noodle soup in vegan broth. What sets its pho menu apart is the $25 Wagyu Beef Noodle Soup. You can even get a Chinese donut as a side, and kids will love getting churros for dessert.
551 Howe St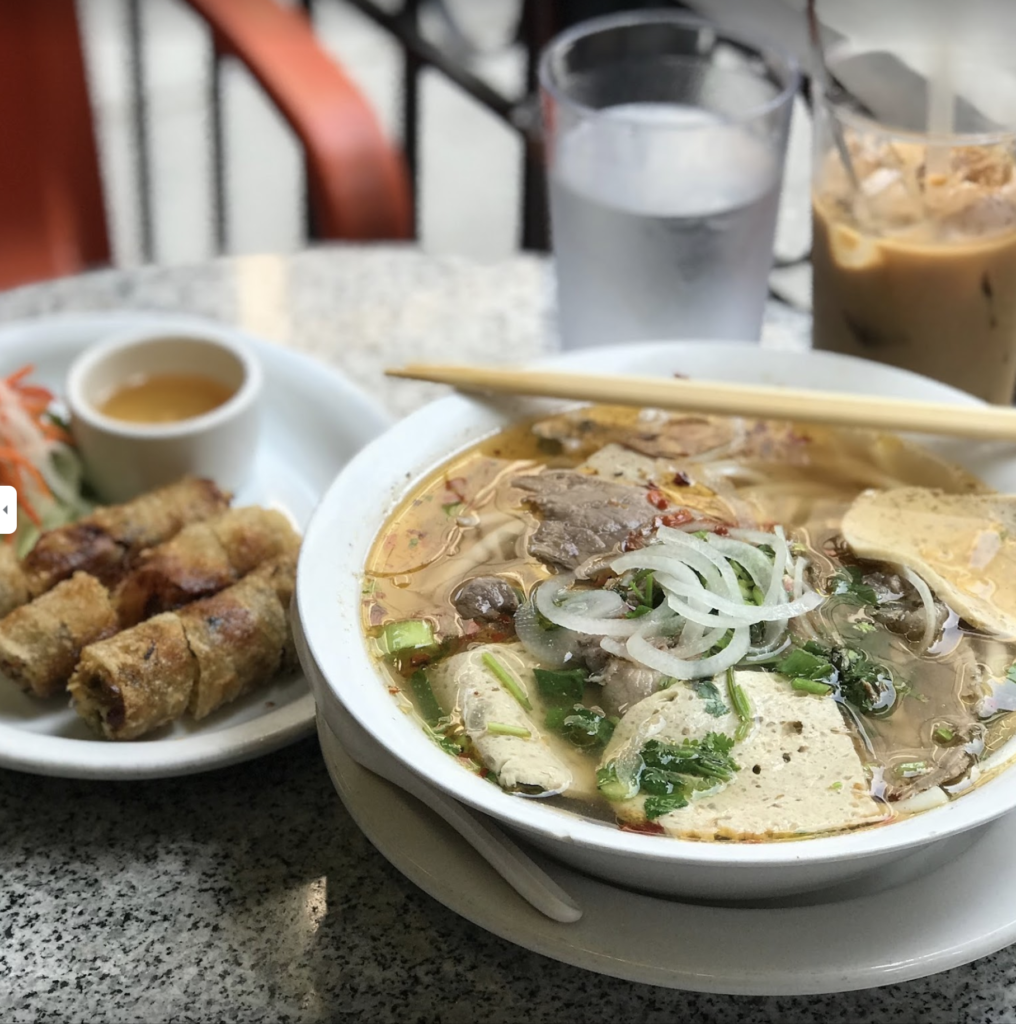 Popular amongst the downtown lunch crowd, but great for anyone looking for a quick and delicious bite, Joyeaux Cafe opens from 8am to 8pm every day and serves Western-style breakfast, Vietnamese and East-Asian lunch specials, and classic Vietnamese noodle soups. It can get packed at lunch.
3388 Main Street
See Also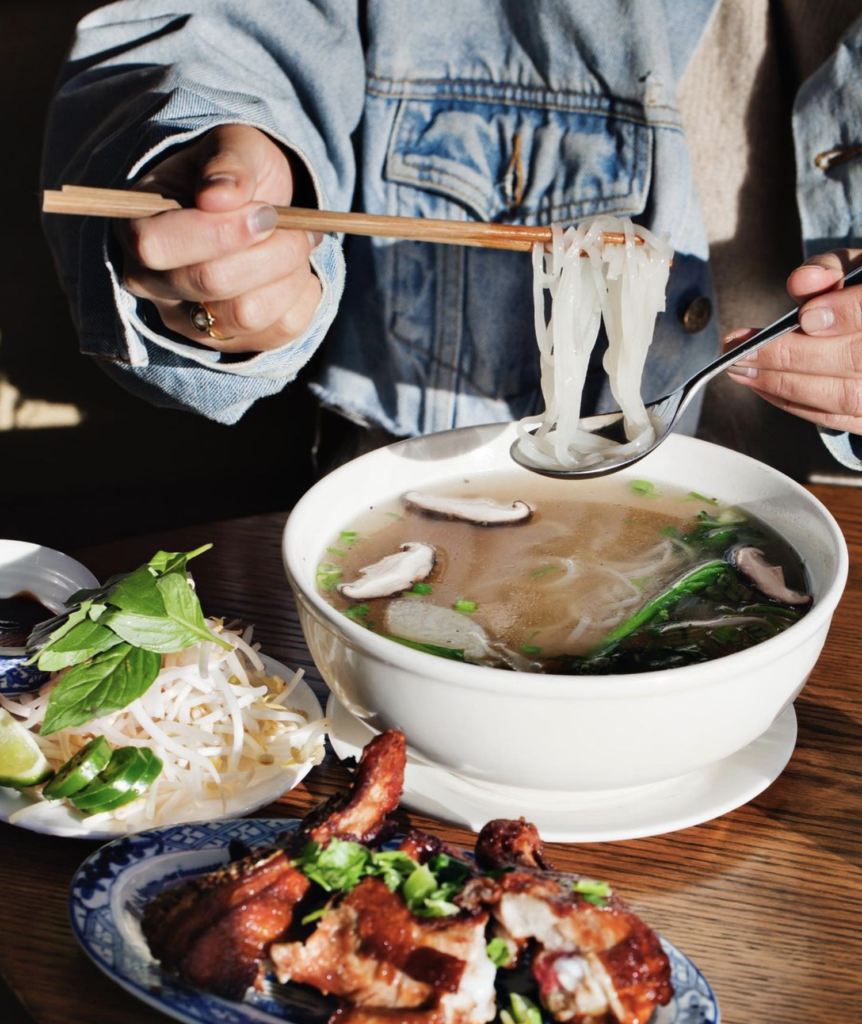 For the best ambiance, best date night spot, and hardest restaurant to get a table, Anh and Chi is worth the line-up or the very early 5pm dinner. They allow reservations-by-donation to one of three charities for $10 per guest. Anh and Chi has four types of traditional noodle soups, and a dine-in only crab meat noodle soup called Grandma's Crab Tomato Noodle Soup. Must-try items at Anh and Chi include the DIY Street-Side Platter (kids will have a lot of fun with this), Fresh Saigon Roll, and Caramelized Sablefish.
654 SE Marine Drive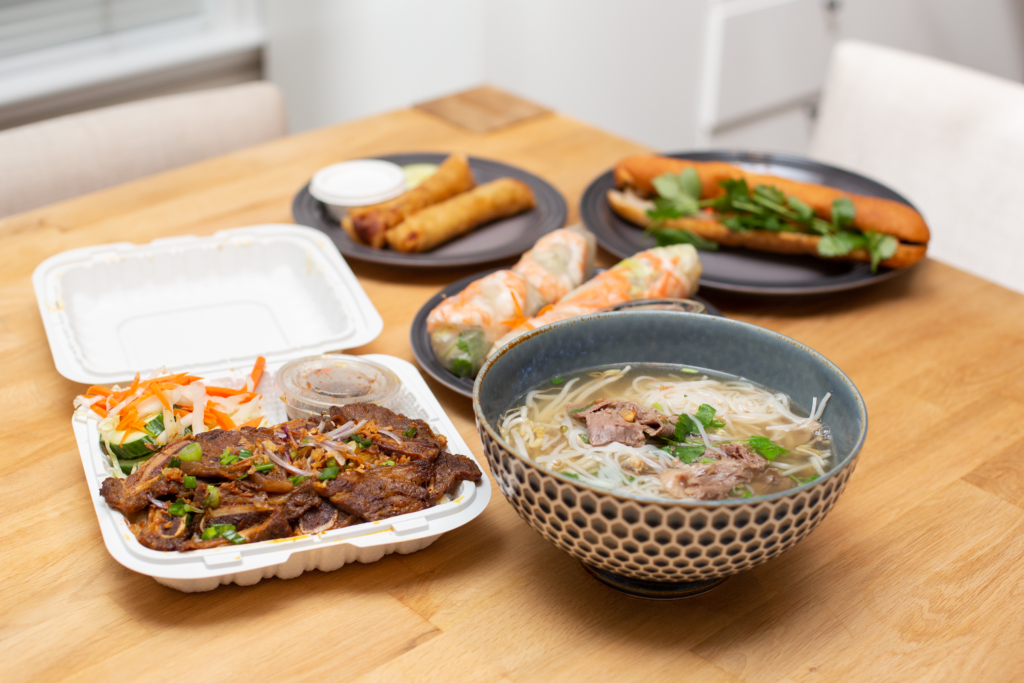 Pho is a tough dish to deliver but Pho Zen does a good job of packaging and delivering fresh beef noodle soup.They have a large selection of the different variations of pho on their menu, as well as bun nuoc, a noodle soup made from vermicelli (vermicelli noodles are round in shape and have a darker white color when cooked, versus pho noodles which use flat rice sticks, and are flat and have an opaque color when cooked.) Pho Zen has a delightfully long non-alcoholic beverage selection for kids to order from, with items like rice yogurt and red bean with coconut milk and ice. There's plenty of space for families with strollers.
3079 Main Street and 1150 Davie Street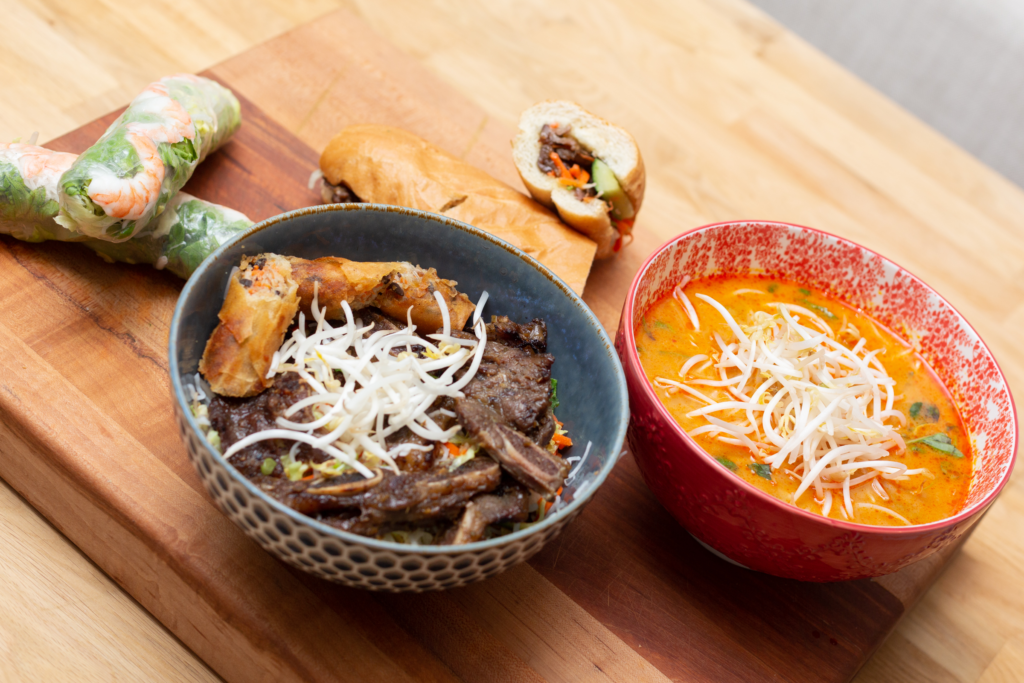 A popular spot for pho and takeout in Mount Pleasant and the West End, Pho Goodness has delicious starters, including five varieties of salad rolls, the most noteworthy one being the House Special Roll, which is a spring roll wrapped inside a salad roll. The pho at Pho Goodness is consistently high quality with strong flavors, and their side dishes, like the grilled beef short ribs, are delicious as well. Great option for getting takeout or delivery to eat with the kids at home.
2114 W. 41st Ave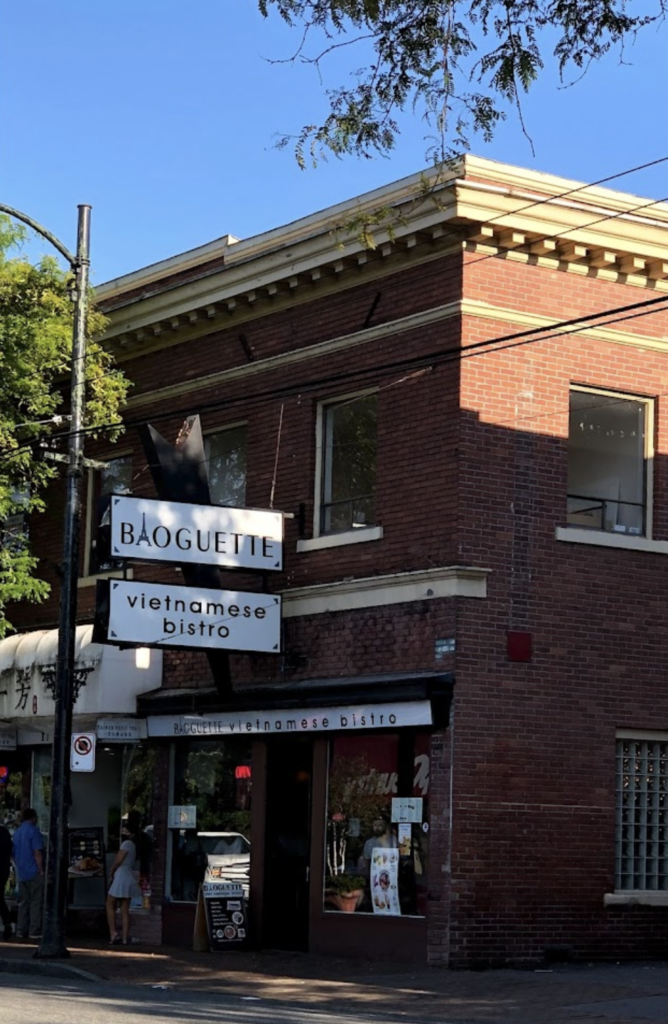 Baoguette Vietnamese Bistro is in the heart of Kerrisdale and has a great selection of items on their menu. Their baoguettes (bahn mi) come in soft buns and are very popular. They can be cut in half for little hands to hold. Pho comes in seafood options, spicy peanut sate broth, and traditional rare beef. A great option for dine-in or delivery if you're close to the area.
Jenny Liu
Jenny Liu is a project manager, professional photographer, and blogger at www.stuff-i-love.com. She lives in Vancouver with her husband and baby girl. Her interests include having one-on-one conversations, trying new skincare treatments around Vancouver, going to fitness classes, and most of all, reading and writing. She has a degree in mechanical engineering and is part of the 2022 Writer's Studio at Simon Fraser University.