Eight kid friendly patios in Vancouver
Taking the kids out for dinner can be challenging especially when there's not much space to move around. Enjoy your meal, the lighting and the scenery at these choice patios with room to roam!
Top kid friendly patios in Vancouver
Tap and Barrel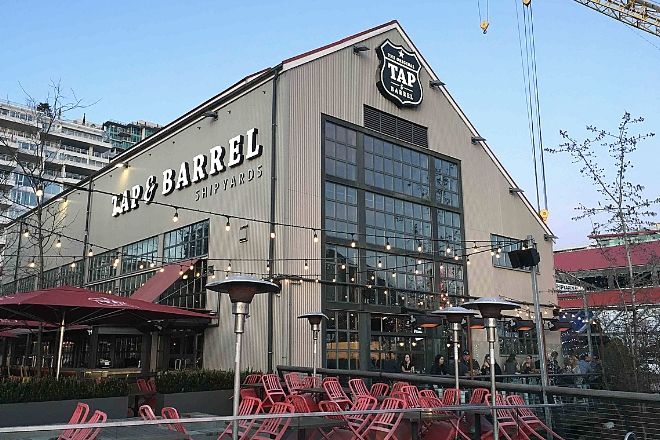 Some of the choicest views in town are had here + an expansive two level patio at Olympic Village. Lot's of choices for mom and dad, wine and beer on tap, a decent kid's menu and of course it's the home of the deep-fried pickle. Kids can run around the squares after dinner. 
Protip: If you're at the Shipyards bring a suit for the kids so they can dash around in the spray park after dinner!
Olympic Village, Lonsdale Quay, Canada Place
The Tap Shack Eatery
The view in Coal Harbour is spectacular from this patio that seats nearly 300. And on a hot day you can enjoy watching the float planes come in while your littles run through the sprinklers.
Coal Harbour
Old Spaghetti Factory
Right in the heart of Gastown, this patio is perfect for people watching and completely enclosed to keep everyone safe. The menu is kid-friendly with lots of choice to keep mom and dad happy too.
Gastown, Vancouver
Popina Canteen
This still-under-the-radar gem—co-owned by award-winning chef Angus An—is not just for tourists! After playing at the nearby water park, families might enjoy heading to Popina Canteen for a fun family meal, with kid-friendly patio seating and food the little ones actually want to eat: burgers, fries, and Puffcream—homemade soft swirl ice cream piled high in a cream puff shell. For the parents there are seafood sandwiches, salads, sophisticated cocktails, beer and a good selection of local wines.   
Granville Island
Pajos
World famous, 100% ocean wise fish & chips, anyone? Whether you're at in Steveston (the Wharf or Garry Point), Rocky Point Park, or Gates Park's new multi-age playground, Pajo's has got you covered. Their signature tempura-style battered wild salmon will have you coming back for more! Did we mention their bottomless chips, steak-cut onion rings, and Texas-Style Grilled Cheese sandwiches just for kids? Pull up a chair in the sunshine and enjoy! Open daily from 11 am – 7 pm, weather permitting.
Longtail Kitchen / Freebird Chicken Shack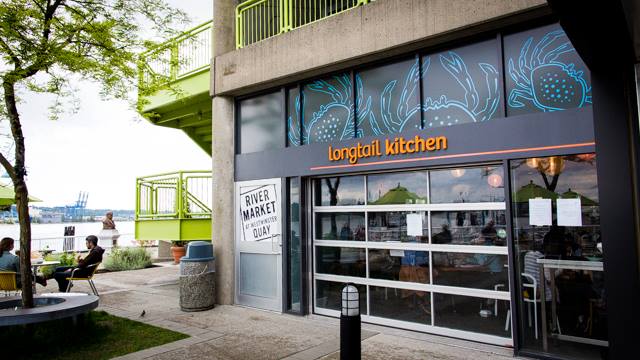 This casual counter-service eatery at the River Market serves Southeast Asian street food, with a patio overlooking the boardwalk. With lots of outdoor space for children, and food for everyone: fried, roasted and grilled chicken, rice, noodles, and flavourful veggies, this is also a great option for a takeout picnic—order a whole chicken and sides and head to a local park or your own backyard.  
River Market, New Westminister
>> 5 super casual spots to eat outdoors with the kids!
Craft Beer Market 
This cavernous beer hall will fit wiggly kids and cumbersome strollers both indoors and outside on the patio, with plenty of elbow room so you don't annoy your neighbours. A "half-pint" kids' menu features vanilla waffles with whipped cream and berries, mini burgers, cheese flatbread and more.
Olympic Village, Vancouver
Rocky Mountain Flatbread, Kitsilano
Your kids will drool over the kid-friendly and completely customizable flatbread pizzas baked in the wood-fired oven. There's also a mini faux kitchen area to keep them busy while you enjoy your meal. Kid's menu is fresh, healthy and delicious. PS: Close to Kits Beach and Vanier Park if an evening stroll is on the table.
1876 W 1st Ave, Vancouver
Vancouver Mom
Would you like to write for us? We welcome well-written guest submissions with a local interest slant. Share your tips, review local businesses and highlight hot trends for Vancouver moms. Get all the info on our Contributor Page!