Five best places to eat outdoors with little kids
One of the highlights of summer in Metro Vancouver is awesome, local eats – beachside! Check out our list of family-friendly spots to sit outside and enjoy the sunshine while filling up those hungry toddler tummies.
Five best places to eat outdoors with kids
Eats at the Pier
New Westminster Quay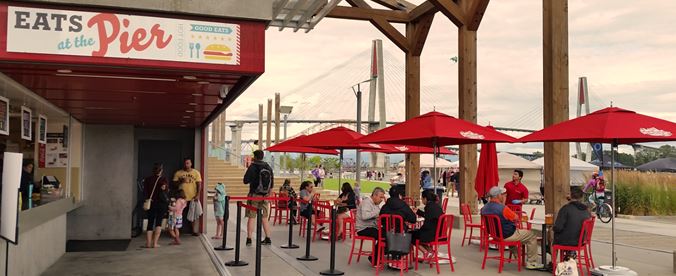 Award-winning Pier Park is THE destination to relax in a hammock and watch tugboats on the Fraser River. In the middle of two playgrounds and a spectacular new boardwalk, "Eats at the Pier" rises above and beyond concession stand expectations. Menu favourites include grilled chicken quesadillas, fish & chips, and twisted potatoes. For dessert, be sure to save room for maple walnut ice cream cones and mini donuts. Open from 11:30 am until dusk seven days a week during the summer.
The Butler's Beachside Café
Boundary Bay, Delta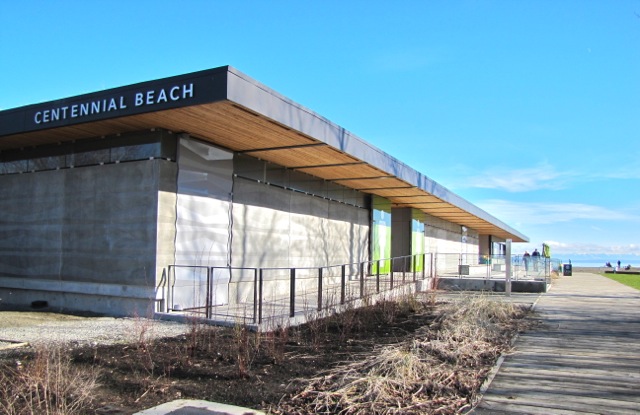 Located at Centennial Beach – one of the best spots to spend a sunny day in Metro Vancouver – this kid-friendly, pet-friendly outdoor café offers breakfast and lunch fare, plus a full espresso bar serving Salt Spring Coffee. Must-have menu items include beer battered fish & chips, jerk-chicken wraps, sweet & spicy Thai noodle salad, and gluten-free cookies! During the summer it's open  7 days a week from 10 am until 4 pm.
Granville Island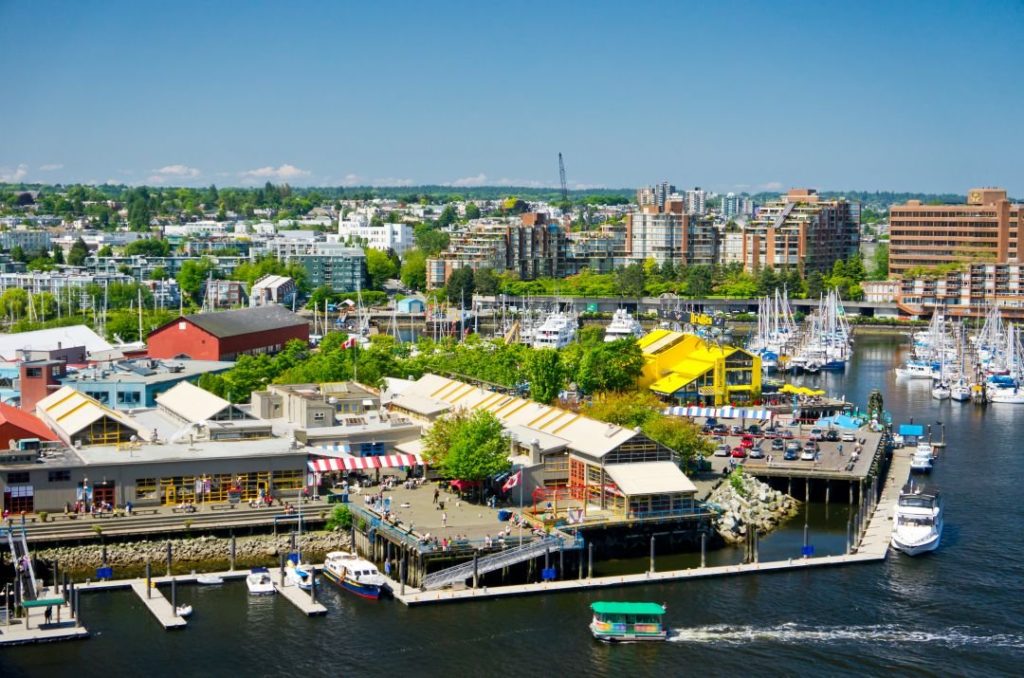 Patios galore! Bridges, Dockside, The Sandbar, and Go-Fish, among so many others, offer outdoor dining and fresh-off-the-boat seafood. Best of all, the free waterfront seating outside the Public Market is perfect for enjoying your choice of Vancouver's trendiest local cuisine before heading to the Kids Market or water park. Protip: Beware hungry locals (ducks, geese, seagulls) if you spread your picnic blanket on one of the grassy knolls next to the pond! The Public Market is open seven days a week until 7 pm.
The Galley
Jericho Beach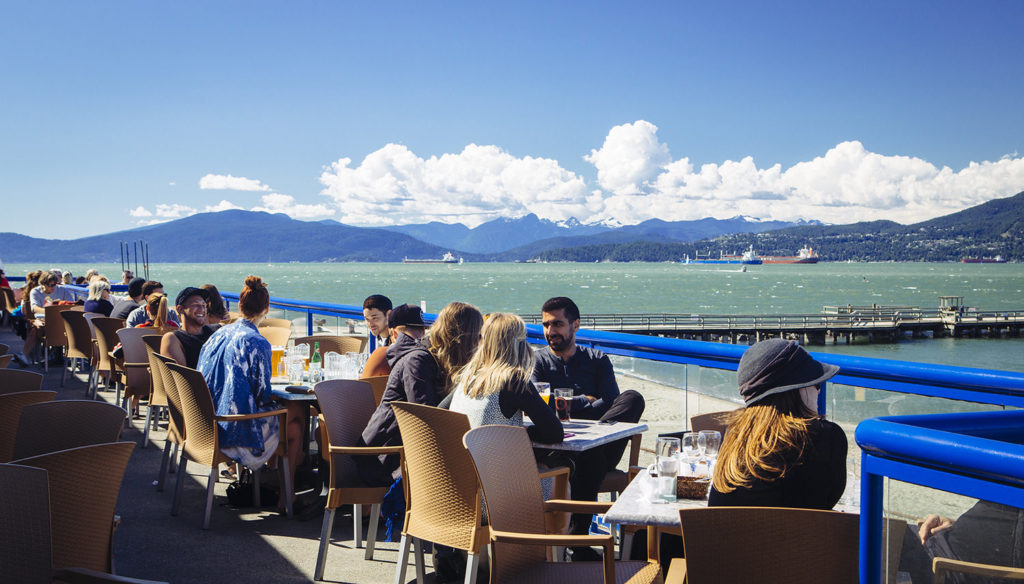 Worked up an appetite building sand castles? Located at the Jericho Sailing Club, the Galley's beachside patio is a hot spot for locals and tourists alike – the view alone is worth the wait. The kids' menu is limited but a single order of nachos is great for sharing. In addition to burgers and fish tacos, they also offer "olde fashioned lemonade" made with cane sugar and nearly a dozen ice cream flavours! Open daily 9 am until 10 pm (weather permitting).
Second Floor, Jericho Sailing Centre, 1300 Discovery St
Pajo's
Steveston, Port Moody, and Coquitlam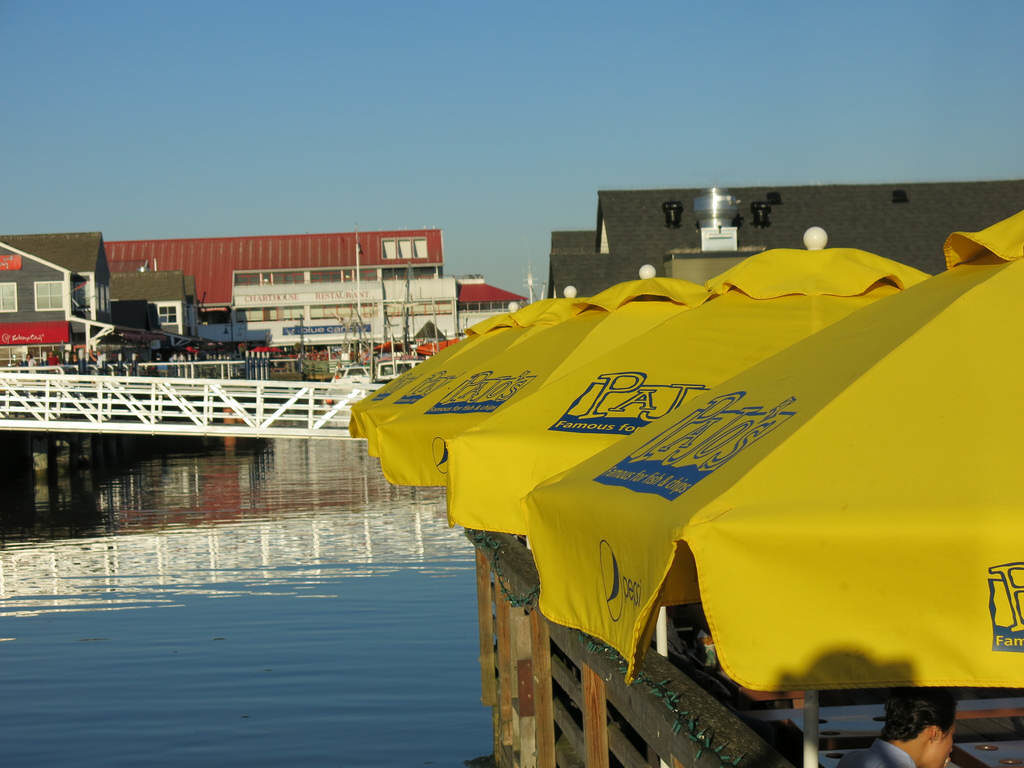 World famous, 100% ocean wise fish & chips, anyone? Whether you're at in Steveston (the Wharf or Garry Point), Rocky Point Park, or Gates Park's new multi-age playground, Pajo's has got you covered. Their signature tempura-style battered wild salmon will have you coming back for more! Did we mention their bottomless chips, steak-cut onion rings, and Texas-Style Grilled Cheese sandwiches just for kids? Pull up a chair in the sunshine and enjoy! Open daily from 11 am – 7 pm, weather permitting.
Banner image credit:  The Galley
Jeanine Wasik
Jeanine is a teacher, writer, and mom to two active and curious toddler boys. She has a passion for education and outdoor adventures. She loves to discover and share the best hidden parks, playgrounds, and beaches in Greater Vancouver. When she isn't writing, you'll find her and her boys playing in the dirt or peeking under logs in the forest.