Got a hankering for Indian? You live in the right place. Vancouver has some of the best Indian food around. Now pass the chai!
East is East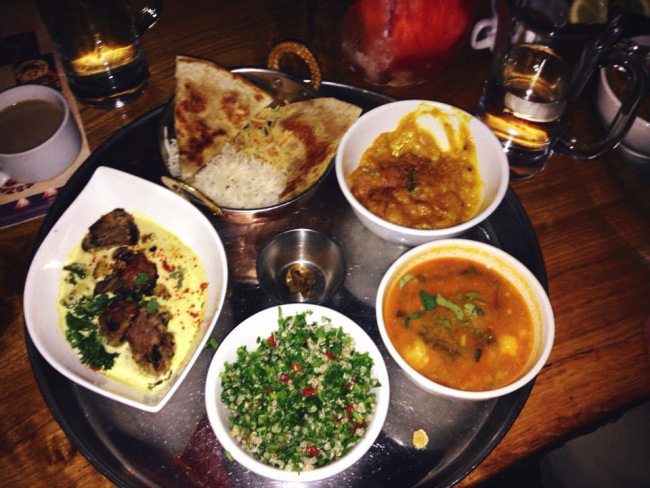 Indian tapas and sharing plates inspired by the Silk Road. Indian and Afghan cuisine-inspired menu. Tip: Rotis are to die for! And the chai? Rich and spicy.
3243 W Broadway, (604) 734 5881  & 4433 Main St. (604) 565 4401
Maurya
Fine dining, Indian-style with traditional charcoal-fired clay ovens. Their daily buffet lunch is a great deal. Two locations:West Broadway and UBC Campus.
1643 West Broadway, (604) 742-0622
Vij's
The finest Indian cuisine in the city, just off busy South Granville (two words: lamb popsicles!). The affable Vij is often on hand to chat. If the line up is too long, try Rangoli next door. Heading to the border, be sure to visit My Shanti in south Surrey.
1480 W 11th Ave, Vancouver, (604) 736-6664
Handi Cuisine of India
Three Metro Vancouver locations serving traditional and tasty Indian cuisine. Akbar's Own on West Broadway is also part of the Handi restaurant family.
Mirchi Authentic
Indian/Pakistani offerings in south Vancouver. Delish butter chicken, veg dishes and biryani specials on weekends. Incredible naan bread.
Image credit: ansabloggen.com & 604fotography.com (Vij's)
Find more great places for moms just like you. Download JellyBeen, the social mobile app to find the best places to shop, eat and play with kids.
Lee-Anne Ekland
Leeanne Ekland is a stay-at-home mom of one, who's on a mission to rediscover love, wellness, and neighbourhood happenings and to have a ton of fun. She's also a lover of wine and yoga and believes that sharing her experiences at www.MomParadigm.com brings her closer to living her best life. Having started the parenting experience much later than most, she offers a unique perspective on the challenges and all that is amazing about being a mom over 40.