Deciding whether a pediatric dentist is right for your child
Choosing a dentist for your child is a big decision. Many of us remember being scared of the dentist as a child, and want our kids to have a positive experience in the dental chair. Luckily, dentistry has come a long way in the last 20 years. No longer a place of pain and fear, child-centred dentists are making sure that kids actually enjoy going to the dentist (yes really!).
Did you know that there are dentists who specialize in the intricacies of children's teeth, dental health and the unique concerns of kids?
You may be wondering "Why can't I just take my kids to my own dentist?" or "Why should I pay more for a pediatric dentist? Aren't they all the same?"
We asked a pediatric dentist from PDG Pediatric Dental Group what the difference is between a standard dentist and a Certified Pediatric Dentist.
5 reasons to take your kids to a pediatric dentist
Let's start with the basics. No, dentists are not all the same and here is why it's worth paying a little bit more pay for your child to see a Certified Pediatric Dentist.
Specialization in children's oral health
Pediatric dentists' study for  two extra years (on top of their degree in dentistry) before they can become certified. During these extra years, they are trained in children's oral health and alleviating their anxiety. They often have the ability to convert fearful young patients into little ones who leave asking when they can come back.
A Certified Pediatric Dentist understands the complexities of how teeth grow and develop and can keep an eye out for potential future problems.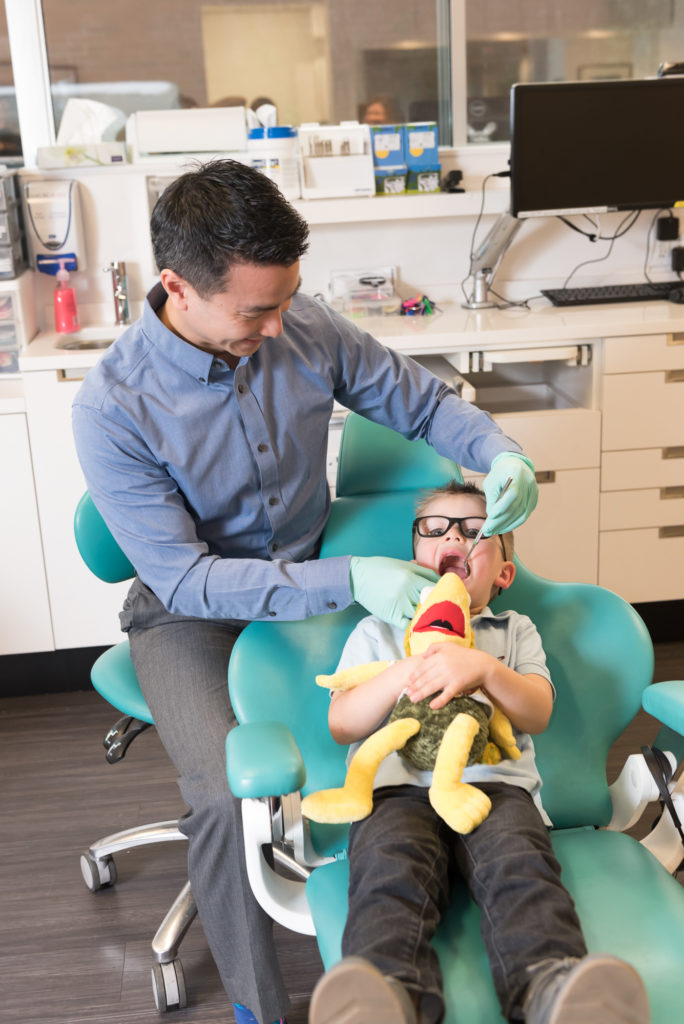 The dentist office is fun!
Dental practices focused on children are decked out in brightly coloured décor, complete with toys and games in the waiting room, to help your child feel more at home. They play cartoons and kids' movies to distract your child during the exam and make them forget they are at the dentist.
Your child will never leave empty-handed from a Pediatric dentist office, they always get a toy from the toy box. And most important, it's a place they want to come back to and enjoy their time.
Child-friendly tools and environment
Pediatric Dentists and their teams work to create a friendly, fun, social atmosphere for visiting children, and avoid threatening words like "drill," "needle," and "injection." Dental phobias beginning in childhood often continue into adulthood, so it's critical that children have positive experiences and find their "dental home" as early as possible.
They not only have a more fun environment, but will also have everything tailored to a child's size, including the equipment.
There isn't anything technically wrong with standard-sized dental equipment, however if the equipment is specially made for a child-size mouth it makes it more comfortable for the little ones. At a pediatric dental office, the tools used by the dentist are introduced one at a time, making it less scary and overwhelming.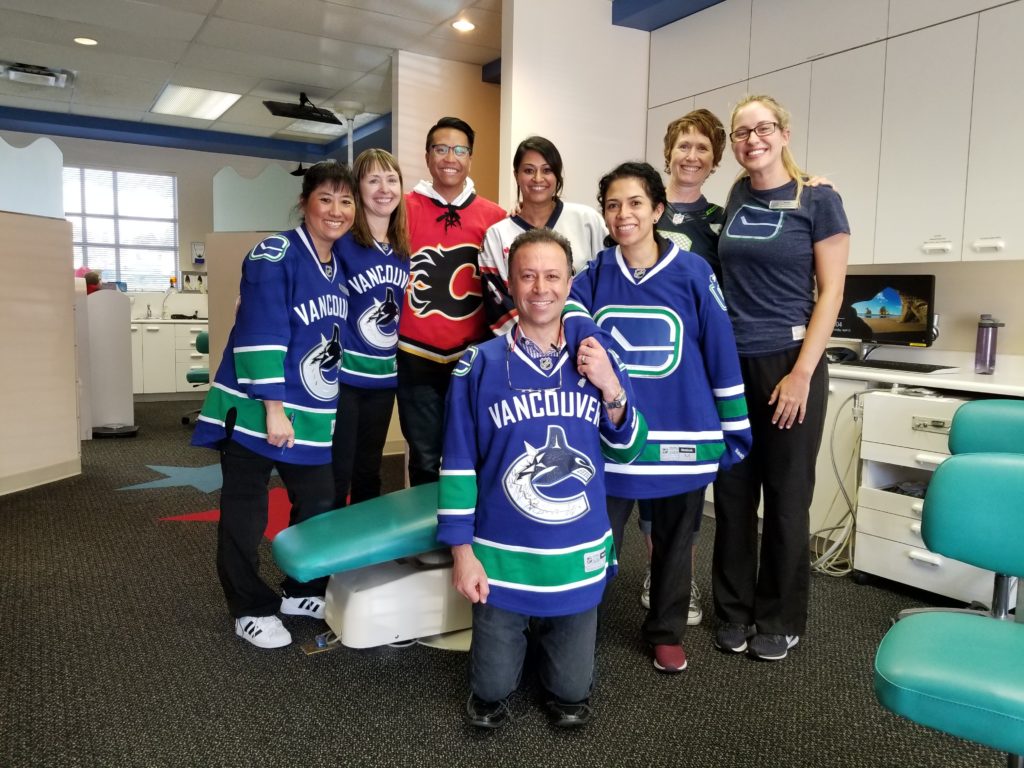 Focus on preventative care
Education is an essential part of preventative care. Certified Specialists in Pediatric Dentistry help educate child and parents about the importance of keeping teeth strong and healthy. Also, they advise parents on disease prevention, good eating habits, and other aspects of the home hygiene routine.
By continuously tracking growth and development, they can anticipate dental issues and quickly intervene before they worsen. Also, preventative care helps the child's self-esteem and even save parents some money!
They really care about kids
Kids are their #1 focus. Every aspect of their care is geared to kids and we all know that kids aren't adults. Many have trouble sitting still, understanding why they are at the dentist, or have little experience with poking and prodding. Pediatric dentists ensure that kids are in a safe, nurturing, fun environment that they will be keen to visit over and over again. More importantly, they'll catch issues before they become problems so they can avoid nasty dental issues down the road.
This post is sponsored by VM Community Builder: PDG Pediatric Dental Group

At PDG Pediatric Dental Group, they provide pediatric dental services for infants, children, and adolescents as well as orthodontic services for children, teenagers, and adults. Their doctors are specially trained to manage children's fears and apprehensions in a positive manner. Four convenient locations: Vancouver, Richmond, Delta/Surrey, Coquitlam.
Harriet Fancott
Harriet Fancott is the Editor and Social Media Manager for Vancouver Mom. She has over 20 years experience in the arts, tech and mom-based blogging arenas. She lives in East Vancouver with her husband and son where they enjoy exploring all that Vancouver has to offer from festivals and events to playgrounds and beaches to sushi and ice cream (although not together).