VM Picks: Summer Bucket List 2018, A Q&A with Fort Langley National Historic Site
Looking for a great summer day trip with the kids? Head to the Fort Langley National Historic Site for a day of history, exploration and play. Or take an overnight staycation in the oTENTiks and visit nearby trails, farms, wineries, berry farms and restaurants. We wanted to find out about  this historic site so we chatted with Nancy Hildebrand, Promotion Officer at the Fort.
>> Check out the full VM Picks Summer Bucket List!
A Q&A with Fort Langley National Historic Site
This was our first visit to Fort Langley and man was it cool. The staff are all dressed in period costumes, the buildings all show like they were still in the 1800's this place is a definite step back in time. For a great family outing, I highly recommend Fort Langley National Historical Site
Give us a quick overview of Fort Langley Historic Site?
Rising from the mist of the Fraser River, the palisades of Fort Langley stand tall. Inside the walls, rough-hewn timber buildings recreate the rugged 1800s. See where Hudson's Bay Company fur traders mingled with California gold prospectors and hear First Nations interpreters tell century-old tales. Feel the blast of the musket fire, pan for gold dust dreams and dress up to play a historic trading boss.
What are three cool things kids (or families) can do there?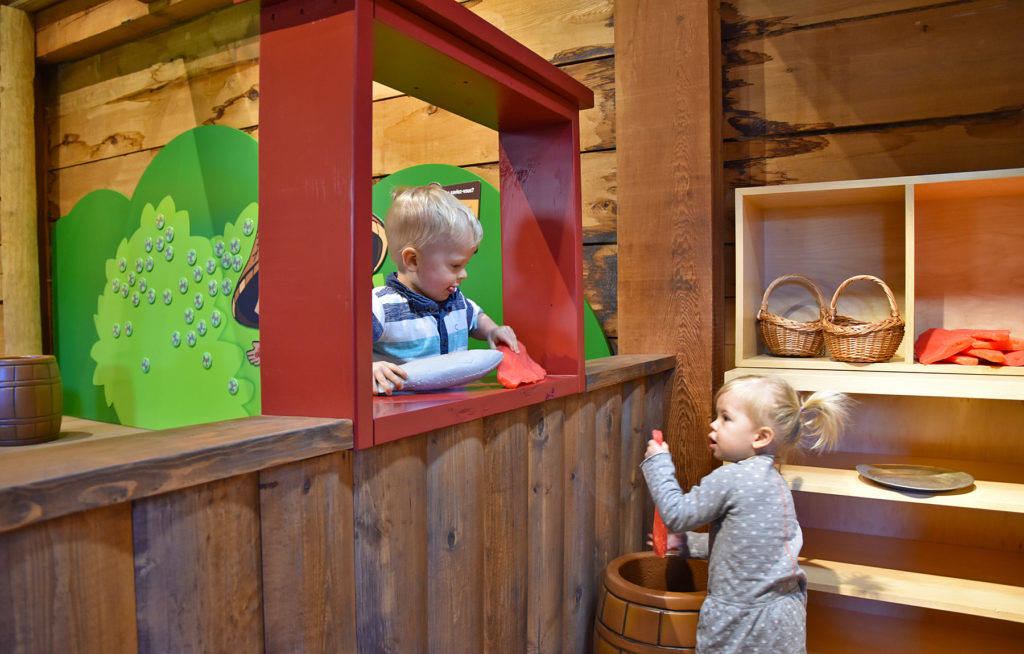 Brand new: Children's Play Area
Step inside the new children's play area, and let your imaginations run free. At the trade window, pretend to trade salmon, cranberries or furs in exchange for axe heads, blankets, rope and other props. Pack toy barrels with salmon fillets, roll them to model boats that you can pack and "paddle." On the wall, a magnetic map of BC lets children discover the resources that drew the fur traders to the area, where Indigenous communities were already well established and trading along the network of rivers.
A dedicated toddler area with soft flooring provides a safe place for your youngest children to explore. Climb in a boat and catch fish with nets, load and roll toy barrels, collect magnetic cranberries in a basket, build a soft foam fort, and make a trade through the trade window.
2. Xplorers Program
Request your Xplorers booklet and follow the "X" signs to find fun activities throughout the site. Bring your sense of adventure and play the part of an 1800s Hudson's Bay Company worker. Dress up and try out blacksmithing, barrel-making, trading and even being the boss. After completing a set number of these experiences, bring your booklet back to the Trade Shop Window to receive a certificate and souvenir.
3. Stay overnight in an oTENTik
"Booked two tents for a truly unique camping experience for my daughter's 11th birthday. Six-man permanent tents with bunks, fridge, table, lighting and BBQ + fire pit use all appointed to each rental. Camp hosts were friendly and very helpful in getting us set up. Once site closes to public at 17:00h we had the run of the whole fort to ourselves and kids played for hours as we roasted marshmallows and chatted with other families staying in 3 other tents."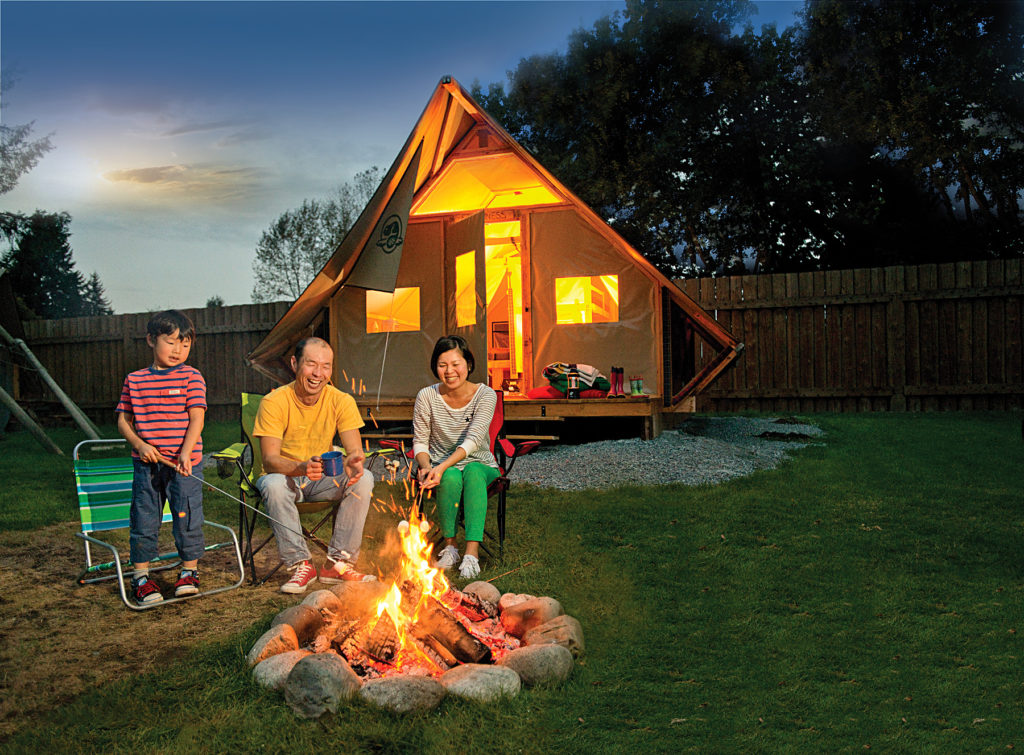 oTENTik, exclusive to Parks Canada, is a cross between an A-frame cabin and a prospector tent mounted on a raised wooden floor. This water resistant accommodation is built to withstand diverse weather conditions and no set-up is required by campers. Each of the five units inside Fort Langley's historic walls represents the heritage of Fort Langley's diverse workers:
• oTENTik 1 – hǝn Ɂǝ́mǝt – First Nations
• oTENTik 2 – The Aloha – Hawaiian (ramp accessible)
• oTENTik 3 – Chez Louis – French-Canadian voyageurs
• oTENTik 4 – What Cheer House – North American gold prospectors
• oTENTik 5 – Stromness – Scottish boat builder's tent
• To reserve, call 1-877-737-3783 or visit reservation.pc.gc.ca.
• There are five oTENTiks available; each can accommodate up to six people, with four single lower bunks, arranged in pairs, and one upper bunk (double size).
• Fees: $120/night, per oTENTik + admission fees. A non-refundable reservation fee also applies.
And more!
4. Pan for gold
5. Build the playhouse walls
6. Dress up in costume
7. Visit the farm animals
How should families prepare for their time there?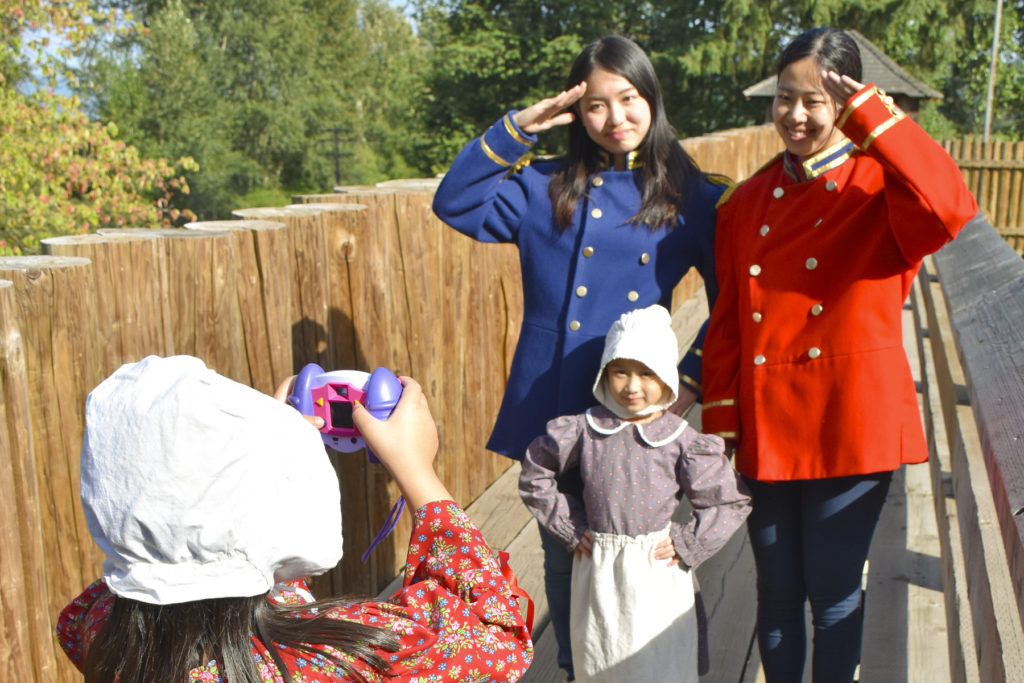 • Fort Langley National Historic Site is about 45 minutes from Vancouver, so it's a great distance for travelling with a family. Bring water, snacks, comfortable shoes, dress for the weather, and of course, bring your camera.
• Within walking distance of the site, there are many restaurants and a biking/walking trail called the "Fort to Fort Trail," and two museums across the street, so it's easy to spend the whole day here. Langley also offers a Circle Farm tour with locally produced wine, cheese, and some great berry farms. Our site has a café, which is currently being renovated (should be open again sometime during the summer).
• For those renting an oTENTik, bring sleeping bags, food, clothing, insect repellent, and flashlights. The oTENTiks are furnished with beds for up to six people, mini fridges, dishes, and BBQs nearby.
What do people typically say after a visit?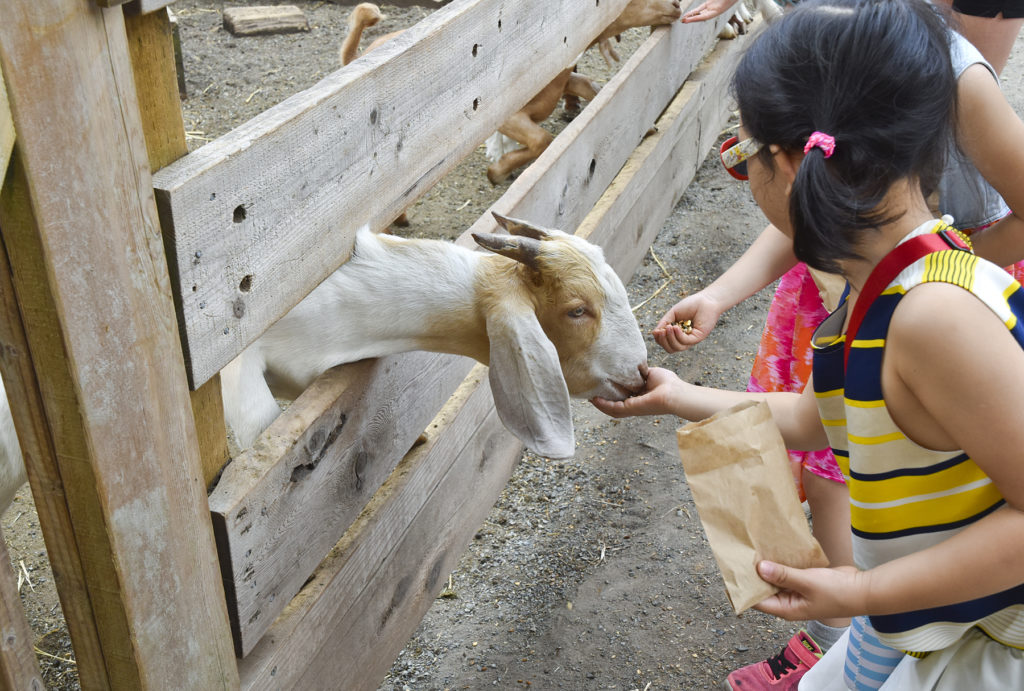 It was great to know the birth of BC wherein the HBC Company established. It was an honour to become a BC citizen. Knowing how it was happened and begin. This is a great place to learn very educational especially to a migrant children and visitors. Being their part of a tour it was fun the staff are knowledgeable and very patient to share some stories about the Fort and pleasant to all the guests.
This post was sponsored by the Fort Langley National Historic Site

Take a day trip to Fort Langley National Historic Site. Learn through play in the NEW indoor children's play area: crawl, build, trade, paddle and explore! Visit the goats, watch historic demonstrations, try on costumes, climb the bastion towers or stay overnight in an oTENTik! Plus, admission is FREE for children under 17.  https://www.pc.gc.ca/en/lhn-nhs/bc/langley/
Harriet Fancott
Harriet Fancott is the Editor and Social Media Manager for Vancouver Mom. She has over 20 years experience in the arts, tech and mom-based blogging arenas. She lives in East Vancouver with her husband and son where they enjoy exploring all that Vancouver has to offer from festivals and events to playgrounds and beaches to sushi and ice cream (although not together).