Vancouver is a riot of cherry blossoms, so head out with the family and revel in the pretty petals lining the streets, seawall, gardens and parks.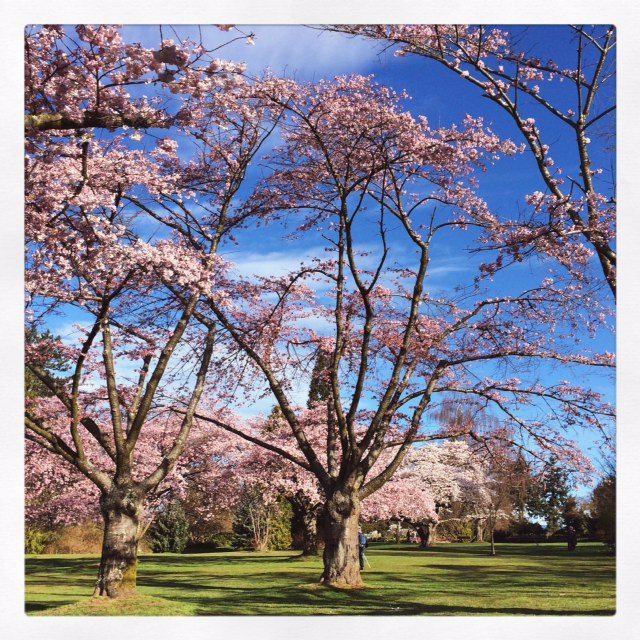 Vancouver Cherry Blossom Festival
An annual festival celebrating Vancouver's cherry blossoms, all around the city in April. Become a Festival Cherry Scout volunteer to observe, report and guide others to the best cherry blossom viewing in the city.
Marpole
A glorious display of pink cherry blossoms. Walk along the quiet streets in this south Vancouver neighbourhood, and don't forget your camera.
Montcalm Street south of 70th Avenue
Sakura Days Japan Fair at VanDusen Gardens
A two day festival of Japanese culture, arts and food. Wear pink to this family-friendly two-day celebration of Japanese culture and tradition.
VanDusen Botanical Garden, 5251 Oak Street (37th & Oak), (604) 257-8463
UBC Botanical Garden Blooms
The Garden is awash in pink and white blooms in springtime. Walk along the garden paths, and purchase a cherry cultivar at the Garden Shop to enjoy blossoms of your own.
6804 SW Marine Drive, Vancouver, (604) 822 3928
Sakura Night
A unique Japanese dining experience hosted by Tojo's. Book a babysitter and enjoy an adult evening of sensational Japanese cuisine from some of Vancouver's finest chefs.
Tojo's Restaurant, 1133 West Broadway, Vancouver, (604) 872 8050
Find more great places for moms just like you. Download JellyBeen, the social mobile app to find the best places to shop, eat and play with kids.
Image credits: Harriet Fancott
Claudia Laroye
Claudia lives in Vancouver. She's the mother of two teenage boys, and has a thirst for travel, chocolate, and pineapple margaritas. She writes and blogs as thetravellingmom.ca, offering a modern mom's guide to family travel sanity. She is much too active on Twitter as @travelling_mom.