Gift Ideas to Encourage a Child's Independence Curated by Little Kitchen Academy
Photo credit: Little Kitchen Academy
It's that time of year again to think of gifts for the kids in your life, whether its a niece or nephew, best friend's child or even your our own little ones. If you're looking for an experiential gift that will build independence, Little Kitchen Academy, a first-of-its-kind Montessori-inspired cooking academy for kids ages three through teen, focuses on providing a safe, inspiring, and empowering space for children to identify, develop, and refine their senses. We reached out to Little Kitchen Academy Founder, Felicity Curin, to find out what other types of related gifts can support building a child's independence and support confidence in the kitchen. Read on for an awesome curated list of both tangible and experiential options are perfect gifts for all the kids on your list.
Here are Felicity's suggestions by age and stage!
3-5 Years Old: A Wooden Chopper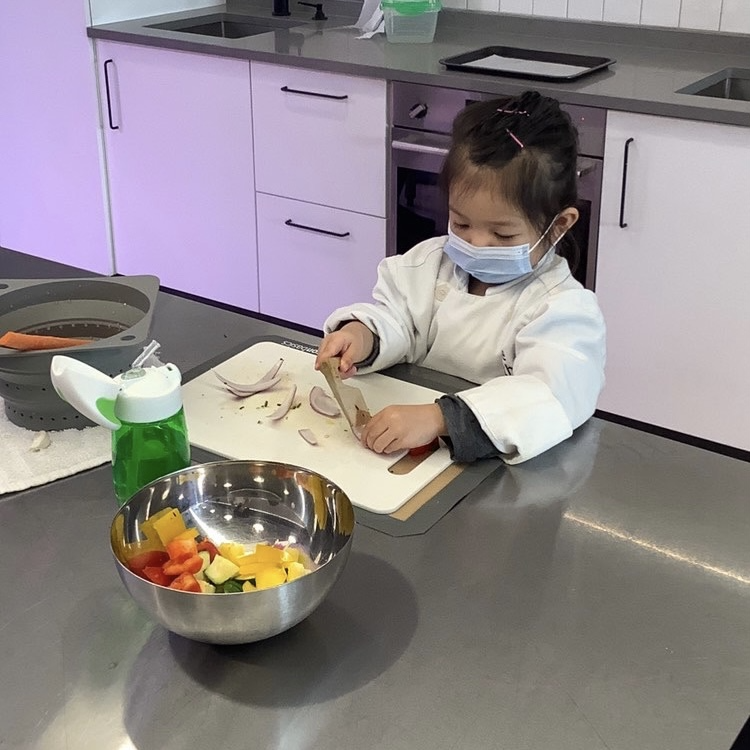 Most 3-5-year-olds are still developing their fine motor skills. Learning to chop fruits and vegetables is a great way to practice those. The wooden chopper is such a wonderful way to engage even the youngest child in the kitchen! Parents may be surprised when we tell them that even our 3-year-old students start to learn proper knife skills in our classes.
Little Kitchen Academy feels very confident introducing knife skills because of this great tool, which will cut through many fruits and vegetables. But, it won't cut skin. It's a fantastic way to start teaching your child knife safety and skills before they transition to something a bit sharper. What better way to feel independent than being able to help cut up food in the kitchen! It's the perfect tool for making a beautiful fruit salad together in the summer. The Little Kitchen Academy Child Safe Knife by PRISE, is recommended, which you can get on Amazon and Etsy. 
6-8 Years Old: A Spiralizer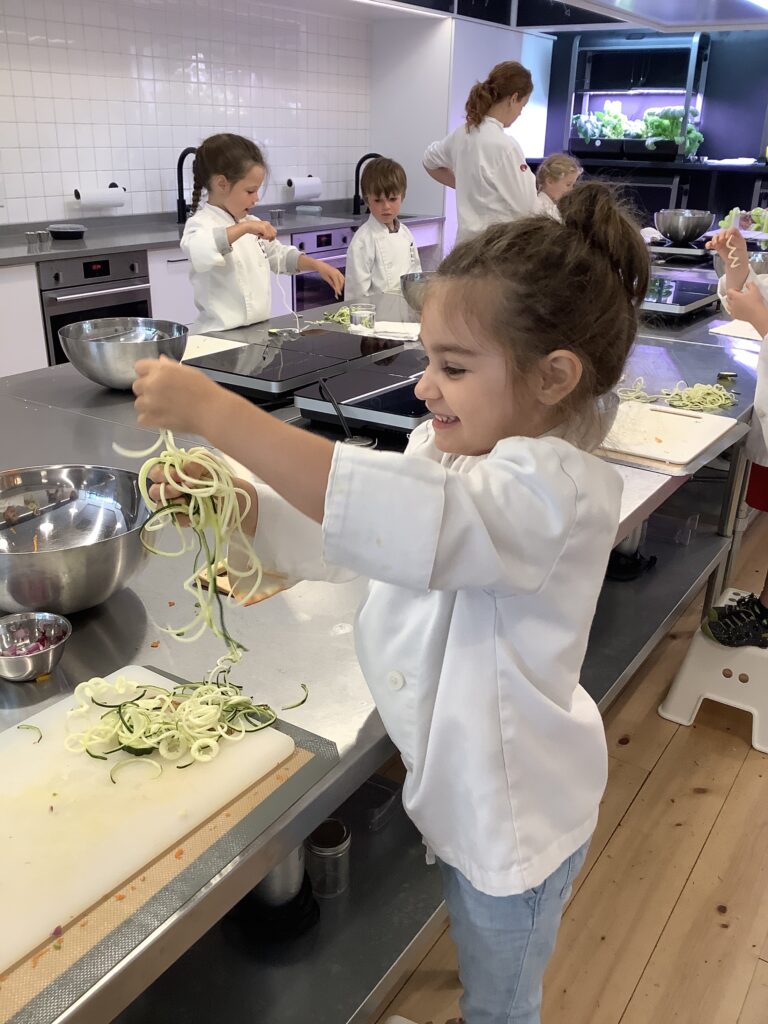 Little Kitchen Academy students LOVE using the spiralizer for anything they can… carrots, zucchini, you name it, they want to spiralize it! It's such an interesting tool that allows them to see how they can transform a vegetable from one form into something completely different. They also love to see how long they can make their zoodles! This tool is loved for the way it develops independence because it is a bit more complex than the wooden chopper and requires the child to pay attention to all the sharp edges. It also allows them to help you in the kitchen and play a bigger role in the preparation of meals. Zoodles are a great substitute for pasta and what a wonderful way to help your child feel proud and empowered than by sitting down and enjoying a delicious meal you made together. Here is an all time favourite spiralizer.
9-12 Years Old: Your favourite recipe and the ingredients to make it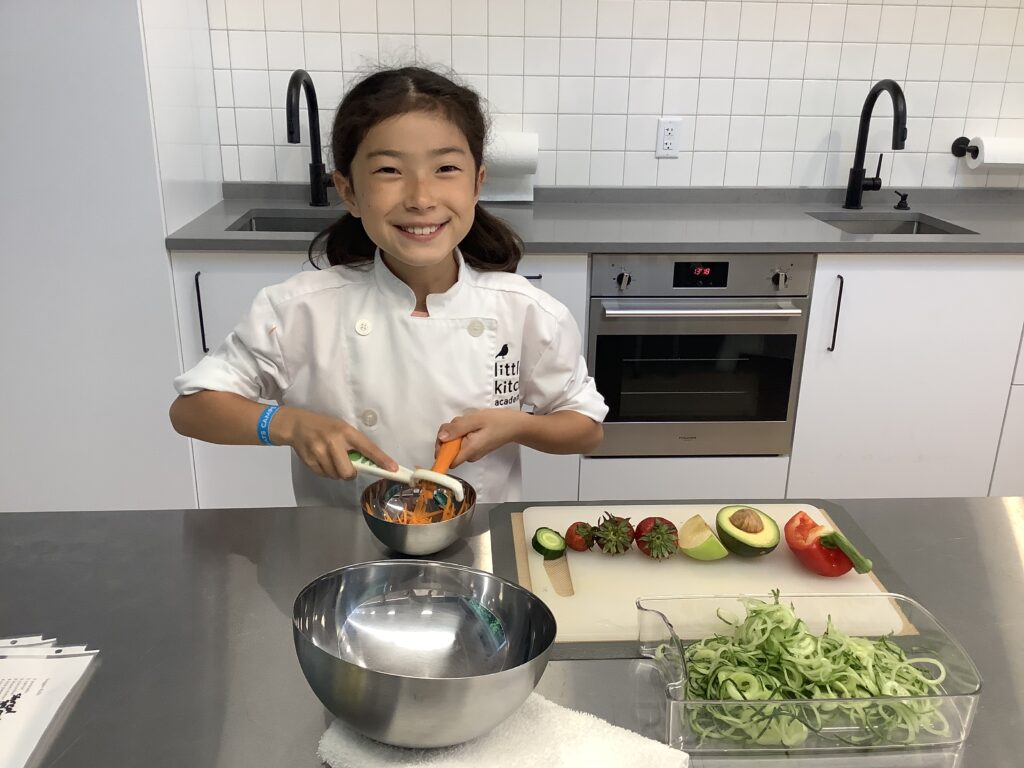 This one is so fun! Everyone has a favourite recipe (or if you don't, check one of our students' favourite recipes here). What better way to create a bond and build independence than by empowering that 9-12-year-old in your life to make that recipe from scratch. You can wrap up all the ingredients (minus the ones they already have in the kitchen) along with the recipe, and challenge them to try to make it for you to share together. You can be there to help them if they need it, but we recommend standing back and watching as they grow their independence. Try stepping in only if they ask for help. 
13-18 Years Old: A gift card to a local restaurant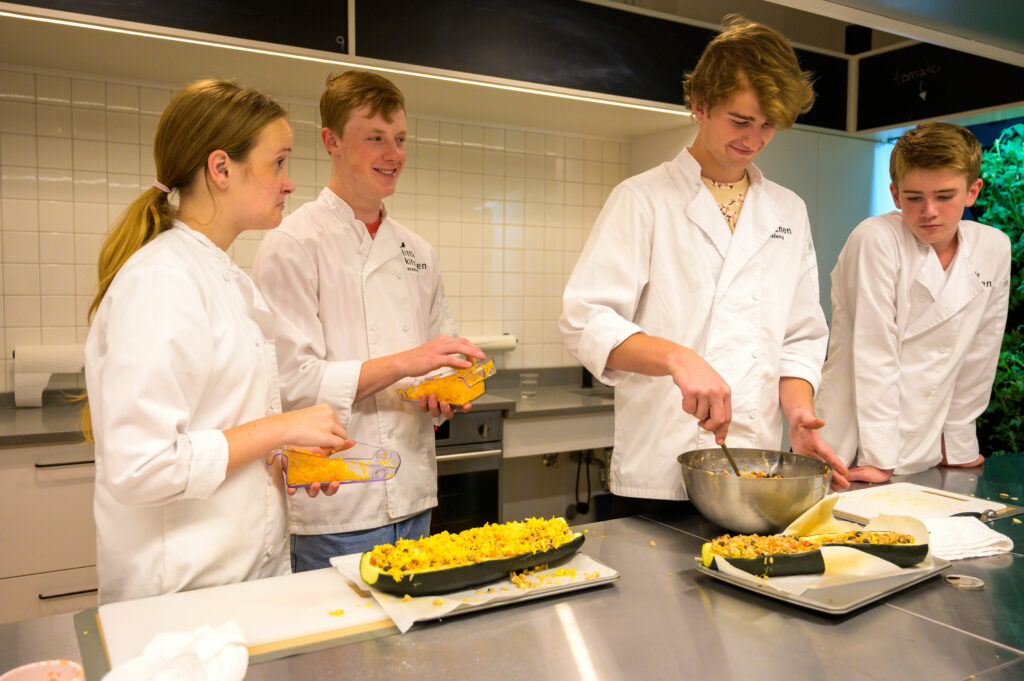 This is another fun gift with two parts! Try finding a fun, local restaurant with unique menu items. Then, have the teen choose one item to eat that they will then try to recreate for you at home! It encourages them to be mindful while they are eating, paying attention to the flavours and textures of the dish.
This is such a great challenge because the teen then needs to research to find a recipe that matches what they ate, try cooking it themselves, and then allows them to compare how their version differs from the one they ate at the restaurant. Was the one at the restaurant saltier? Did it have more of a certain spice? Is there something your teen would change in future? This gift allows teens to experiment in the kitchen and to explore what they do and don't like, all while building practical life skills that will support them as they become independent young adults. Our teens love comparing store-bought versions of foods to ones we cook together at LKA Late Nights (spoiler alert… they always prefer the one they made from scratch over the store-bought version)!
Of course, a great gift at any age is a gift card for Little Kitchen Academy, where your child will experience everything above and more! Little Kitchen Academy has locations opening across North America including in Vancouver and South Surrey, with more opening soon in North Vancouver, Richmond, and Surrey.
Vancouver Mom
Would you like to write for us? We welcome well-written guest submissions with a local interest slant. Share your tips, review local businesses and highlight hot trends for Vancouver moms. Get all the info on our Contributor Page!