Where to Eat in Vancouver: Neverland Tea Salon
Wondering where to eat in Vancouver for a great cup of tea? We check out a great little place in Kits.
As a member of a rare breed of Vancouverite, the Non-Coffee Drinkers, I was keen to try the new, intriguingly named, Neverland Tea Salon.  The light, airy and delightfully decorated old English-style tea shop is nestled amongst the ubiquitous coffee bars of West Broadway.
Quirky and Inviting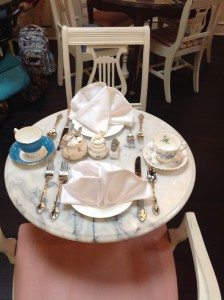 The quirky Peter Pan meets Alice in Wonderland décor is immediately inviting and unashamedly girly, making it the ideal place for a lunch with friends or your mum. The helpful staff are happy to guide you through the menu of over 60 carefully sourced teas. If simple tea and cakes isn't enough they also offer a gorgeously decadent High Tea – complete with finger sandwiches and pastries, all made from scratch on-site (with gluten and dairy-free alternatives available), a glass of bubbly or even a spirit infused tea cocktail.
I managed to restrain myself on my visit (well it was nine am) and stuck with a tasty 'Almond Joy' black tea and home-made blueberry muffin.  I devoured both happily and at a leisurely pace in a cozy armchair chatting with my own mum. Incidentally she stuck to her very British guns and went for a classic Earl Grey, which she said with great authority was delicious, accompanied by an equally appetizing apple and cinnamon muffin.
Where to Eat in Vancouver with Kids?
At first glance the café isn't hugely kid-friendly. I took one look at the towering cake stands and delicate crockery and breathed a sigh of relief that my boisterous two year old was taking an uncharacteristic nap.  However, when he did eventually come around he thoroughly enjoyed the scrumptious, and reasonably priced, kid's hot chocolate. Although he did slosh it about rather alarmingly in its slightly too grown-up for him cup and saucer. We also had an invaluable tip off from a fellow customer that the treasure chest behind us was full of dressing up outfits – well fairy costumes, at least. The emphasis was definitely more on budding Tinkerbells than Peter Pans but he didn't seem to mind.
A Great Recipe for Fun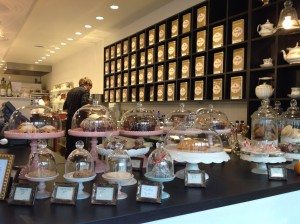 Neverland has a true spirit of fun. It's a place that goes beyond what is expected of a standard tea shop.  They have 'Artist Tea Talks' on their pull out murphy bed style stage and plan on holding open mic and improv nights too, once they have got little nuisances such as entertainment licenses sorted out.  They will even host a Neverland inspired kids party for you in your own home, complete with dress-up, story telling and games, all culminating in a fabulous tea party.
I will definitely be making a return trip to this lovely little imaginative oasis as soon as I can.
Neverland Tea Salon
www.neverlandtea.com | Twitter | Facebook
3066 West Broadway, Vancouver, 604-428-3066
Jo Ramsay
Jo Ramsay is a producer, director, writer, Brit abroad, mom of two mischievous bundles of fun, a newly converted yoga obsessive and lover of all things comedy. Jo blogs at Titchy Jo and tweets as @JoRamsay1.