What to do in Vancouver: Mom (and Baby) Friendly Flicks
What to do in Vancouver: Take in a Flick
The landscape of Vancouver is rapidly changing. While there used to be big box music stores and more movie theatres than you could shake a stick at, those days are over. Streaming movies is the new black as more Vancouverites are choosing to stay home and take in the latest flicks rather than pay extravagant prices for over-salted popcorn. But when you are home day after day with the kids it can terribly monotonous, watching the same movie over and over. You know the one that is the magic pill that calms baby down? Yeah, that one. You know it by heart, and you can't stand it anymore. Busting out of your rut is what to do in Vancouver.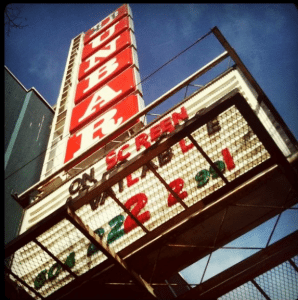 What if you could go out to the movies and take your little one with you? And what if the movie was for you and not another animated animal rescue film? Movies for Mommies is relaunching in Vancouver after finding a brand new, stable home in the Dunbar Theatre. With movie theatres closing in droves they had a tough time securing space but on June 12, 2013 the wait is over.
Babies up to eighteen months old are welcome. Or, if you're certain they'll sleep or it's around nap time, toddlers are okay, too. Enjoy a romantic comedy or drama in the comfort of a darkened theatre. I'm told that although some babies cry during the film, more often than not, they settle and fall asleep quite easily. It's worth a try, right?
Tips for New Movies for Mommies Members
Movies for Mommies is what to do in Vancouver to enjoy an afternoon of decadence in a baby-friendly way. What does that mean? It means their films run with reduced sound levels – loud enough to hear, but soft enough to protect sensitive little ears. If it's your first time taking your little film critic to see a movie, here is some info to make you're outing awesome.
1) Arrive a few minutes early so you have time to receive your membership card, and all your free samples.
2) Don't be shy! If you don't have a friend to go with, lots of moms come with their babies and meet other new moms at the show.
3) Dads and grandparents are people too! Movies for Mommies welcomes all parents, grandparents, friends and caregivers.
When you're wondering what to do in Vancouver, or you really want to check out a first run flick, Movies for Mommies at the Dunbar Theatre is your answer.
Movies for Mommies
www.moviesformommies.com | Facebook
Dunbar Theatre, 4555 Dunbar Street

Lee-Anne Ekland
Leeanne Ekland is a stay-at-home mom of one, who's on a mission to rediscover love, wellness, and neighbourhood happenings and to have a ton of fun. She's also a lover of wine and yoga and believes that sharing her experiences at www.MomParadigm.com brings her closer to living her best life. Having started the parenting experience much later than most, she offers a unique perspective on the challenges and all that is amazing about being a mom over 40.