Where to Eat in Vancouver: Salt Tasting Room in Kits
The clever folks at Heather Hospitality Group, who brought us the funky Irish Heather Gastropub, have recently opened a sister establishment to another of their roster of bustling local bars, Salt Tasting Room.  I don't take much convincing to try out a new local bar so myself and some fellow moms made a beeline there on a recent girls night out, hoping it would fit the bill for where to eat in Vancouver.
Where to Eat in Vancouver for Grown-Ups
Salt Kitsilano offers the same winning concept as its Blood Alley counterpart.  Guests have the opportunity to choose a tasting plate from a changing selection of ten small-batch cured meats, ten artisanal cheeses and ten condiments and to wash it down a 'flight of wine' from their extensive wine list. The flight is comprised of three 2oz glasses of different wines.  Salt's knowledgeable servers will gladly make the selection for you to compliment your food choice or simply choose three wines you like the sound of and take it from there.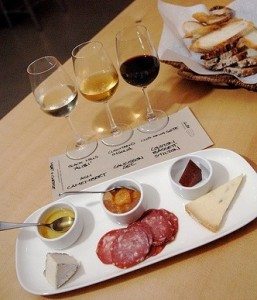 There is plenty more to choose from if wine isn't your thing. Aside from a selection of beers they also specialise in sherries. Next time I visit I may make the most of their undeniable expertise and pluck up the courage to sample some, hopefully shaking off the image I have of sherry as an old fashioned tipple reserved for Grannies on Christmas Day, and trifles. Interestingly they also stock a selection of Osake – Junmai Sakes, award winning, hand-made Sakes produced using organic rice in an artisan studio on Granville Island, definitely something else to add to my 'to drink' list for my next trip. This time round though my fellow mom pals and I stuck to some deliciously crisp local BC Rose. Salt Kitsilano is also home to a production kitchen that serves other Heather Hospitality Group establishments.
A Warm Welcome
My mom pals and I were warmly welcomed into the modern yet relaxed bar. The trendy but unfussy décor adds to the atmosphere of a casual and fun night out, guests are all seated on stools at long tables that encourage chatter. Add to this the flights of wine and tasting plates and all the ingredients are there for an enjoyable and informal evening. It's the perfect answer for where to eat in Vancouver for a chat with good friends over a glass of wine or two. The only thing that was lacking was other people. Perhaps it was because we were there on a Thursday night or perhaps word hasn't quite spread of this new local gem but the bar was surprisingly quiet for such a promising place.  It won't remain undiscovered for long, my friends and I had a great, fun, night out but a bustle to match their successful Gastown location would have been the icing on the cake.  If you are looking for a great place for a night out in Vancouver, head to Salt Tasting Room Kitsilano and start the trend.
See Also
Salt Tasting Room Kitsilano
www.salttastingroom.com | Twitter | Facebook
2585 West Broadway, Vancouver, 604-428-0339
Tuesday-Sunday, 4:00pm-Midnight
Jo Ramsay
Jo Ramsay is a producer, director, writer, Brit abroad, mom of two mischievous bundles of fun, a newly converted yoga obsessive and lover of all things comedy. Jo blogs at Titchy Jo and tweets as @JoRamsay1.