What to do in Vancouver: Snowy Fun on Grouse Mountain
The snow has arrived! And with it comes opening day on all the local mountains. On Grouse Mountain, it happened on November 13, 2012. It's hard to believe the winter sport season has arrived already as fall flew by faster than an Olympic ski cross medal event. It's time to wax those boards, sharpen those skates, polish up your goggles and don your best winter gear to take to the slopes of one of the best local mountains in Vancouver: Grouse Mountain. Playing in the snow is what to do in Vancouver this winter.
Snow Conditions
There's only just over 120cm of natural snow on Grouse Mountain right now, with the Paradise run the only one open. But, there is snow in the forecast and it won't be long before there's plenty of powder to be found. To be sure, check the Current Conditions report, or call the Snowphone at 604.986.6262. If you're a fresh powder addict, text SNOWALERT to 333777 to find out when 10 cm has fallen.
The Snowshoe Grind: A Fast Growing Sport on Grouse Mountain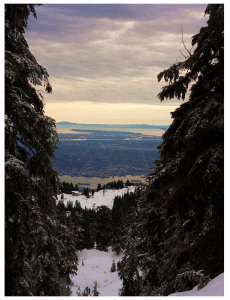 While many people think of winter sports like skiing and snowboarding at this time of year, there are others who are anticipating the opening of another kind of winter fun, namely the Snowshoe Grind. Have you ever done the Grouse Grind, a.k.a. Mother Nature's stairmaster, in the warmer months? It shuts down fairly early in the season due to wintry conditions but where that left off the Snowshoe Grind takes over. Whether you are looking for a way to continue the intensity of your summer and fall workouts or are looking for a way to enjoy the outdoors with your family, Grouse Mountain has much to offer.
What to do in Vancouver in Any Season
With an annual family pass for $189.00, two adults and two kids have access to the mountain and its amenities all year. You can rent your first set of snowshoes for free I'm told and then head over to the Peak Chalet which is a short distance from the entrance of Munday Alpine Snowshoe Park, home of the Snowshoe Grind.
The Snowshoe Grind: Four Trails
With four trails to choose from, Munday Alpine Snowshoe Park offers beginner, intermediate and advanced snowshoers he opportunity to enjoy the mountain at their own pace. The best are those who have proved themselves worthy of Dam Mountain, an intense loop of pristine trails. If your competitive spirit gets the best of you, the Grind timer is available for purchase and it's good for both the Grouse and Snowshoe Grind. From beginner to advanced race prep clinics, drop-in training nights to ladies-only clinics and private snowshoe tours available to choose from, there's something for everyone. It's definitely worth adding to your list of what to do in Vancouver during the cold months.
The Annual Snowshoe Grind Race
Prepare yourself and have a blast at the annual Snowshoe Grind race, suitable for all levels. Whether you are looking to put your hard work to the test and race against other snowshoers or want to enjoy a social and fun event this race has it all. The Snowshoe Grind race takes place every February at the Peak of Vancouver. Don't miss it!
If racing isn't your style, go at your own pace anytime, you can go as often as you like with your annual pass. Stick to the less intense groomed trails and stop often along the way to enjoy the view with the family. Just, bring enough warm apple cider in a thermos for everyone and you'll stave off the desire to stay home and cuddle up indoors. There's time for that later.
Go outside and play! Snowshoeing is what to do in Vancouver this winter, and Grouse Mountain is a great place to do it.
Grouse Mountain
Lee-Anne Ekland
Leeanne Ekland is a stay-at-home mom of one, who's on a mission to rediscover love, wellness, and neighbourhood happenings and to have a ton of fun. She's also a lover of wine and yoga and believes that sharing her experiences at www.MomParadigm.com brings her closer to living her best life. Having started the parenting experience much later than most, she offers a unique perspective on the challenges and all that is amazing about being a mom over 40.