Kid-Friendly Vancouver: Let's Play Volleyball!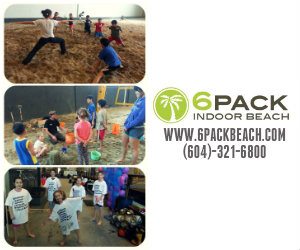 When you're wondering what to do in Vancouver for some quality family time, you probably think of the more popular attractions and activities around our fair city. Things like a trip to Granville Island, a visit to the Vancouver Aquarium or Science World, or an afternoon at the planetarium. If the weather's nice you may pack up the kids and head to the beach; if it isn't, you may head to the pool or the library. We think all of these are fabulous ways to spend a kid-friendly Vancouver day. But if you'd like to shake things up a little, we have another idea for you: play volleyball.
It turns out there are a lot of benefits to playing volleyball with your kids. Today, we'll be highlighting just four.
Kid-Friendly Vancouver: Four Benefits of Playing Volleyball
1. Spend Time Together
Volleyball is a team sport, which means that you're playing it with other people. When those other people are your family, what you're getting is a whole lot of family togetherness. You may think your kids are too young for volleyball, but with a few modifications kids as young as five or six can enjoy this sport. Volleyball Canada has developed an initiative called Mini-Volley, which uses larger, lighter balls, different numbers of players, smaller court sizes and lower nets to help kids play. If your children aren't ready for the real thing, you can start with a beach ball, for instance. Your kids may surprise you, making for a great, kid-friendly Vancouver activity when you want to spend more time together.
2. Physical Fitness
Volleyball is active. You're running, jumping and lunging. You're also using your arms to serve, volley and spike. In the process, you're enjoying yourself and getting a great workout. We've all heard the news reports about how everyone – adults and kids alike – needs more active time. By playing a sport like volleyball you're making sure that your fitness routine is varied, that it's fun, and that you're able to enjoy time with your friends or family while you get some exercise.
3. Teamwork and Sportsmanship
There are a lot of important life lessons that you can learn on a volleyball court. For example, as you play you pick up lessons on how to lose (and win) graciously. You learn how to work with your teammates, as you seek a common goal. You learn how to persevere through difficulty. All of these are lessons that most of us are striving to teach our kids every day. If you're looking for a kid-friendly Vancouver activity to underscore the big stuff you want your kids to learn, a sport like volleyball is a great choice.
4. Affordability
Let's face it – when you're deciding what to do in Vancouver with your family, cost is a factor. Volleyball is a great choice because it's very affordable. Most beaches in the City of Vancouver have areas for beach volleyball. Some even have permanent posts you can hang a net from, which you can sign out for free from a lifeguard if you leave your credit card or ID. For the price of a ball, you can enjoy a friendly game. If you have your own net, you can set up in your backyard or in many parks around the city. If the weather isn't cooperating, there are indoor courts, leagues and drop-ins. If you'd like to play on sand even in the rain, places like 6Pack Indoor Beach have affordable drop-ins, including specials like a Thursday Ladies' Night when women play free. If you're looking for an affordable kid-friendly Vancouver activity, volleyball is a great option.
Do you play volleyball with your kids? What do you like about it?

This article was sponsored by 6Pack Indoor Beach. With over 700 metric tons of sand covering five full sized volleyball courts, 6Pack caters to just about every type of beach-themed idea possible! No rain, no sunburns, no glass or bottle caps; just top quality sand and tons of great times for people of all ages. It's the perfect, kid-friendly Vancouver solution no matter the weather. Plus they offer day camps!
Amber Strocel
Amber Strocel is a writer, aspiring math teacher, suburbanite, wife and mom of two. She believes in the power of the Internet to connect people, and she believes that numbers are the poetry of the universe. You can often find her knitting, sewing, volunteering, working in her garden, and sneaking chocolate when no one's looking. She blogs at Strocel.com and shares her photos on Instagram as @AmberStrocel.