Momma and Papa Bears: Skiing Lessons at Mount Seymour
Skiing Lessons at Mount Seymour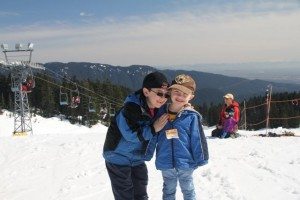 The year before last my oldest son and I took skiing lessons together but separately at Mount Seymour. It was part of their inaugural Momma and Papa Bears and Bear Cubs. This was the first year that Mount Seymour opened up lessons for beginner or rusty parents while the kids were in their own classes. Over two days my then five-year-old and I learned how to ski. I was able to move out of the snowplow to almost being able to parallel ski, and my son was able to pass his first level of skiing and was getting good at stopping with his pizza. I want my boys to learn to ski properly and be able to have fun on the mountains. I want to be able to keep up with them.
Nervous About Skiing Lessons
I was a little nervous about how the skiing lessons would go. I knew that my son would have fun, and once he let go he would learn quickly. I was much more nervous about how I would do. I am from Nova Scotia and the little things we call ski hills are not nearly so big as the local mountains in Vancouver. I hadn't been skiing in well over 20 years, so I was more than a little rusty. I was also excited to have the opportunity to get out and have fun going down the slopes, so I went for it. At the end of the weekend despite being bruised I had a great sense of accomplishment and so did Aidan. He was so proud of all he achieved and he was ready to go skiing again.
Lots of Options for Skiing Lessons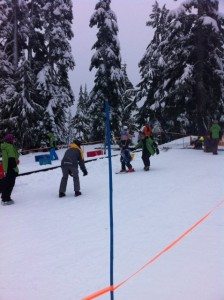 Are you a rusty skier who would like to get your child on the slopes? Are you someone who has always wanted to learn to ski but haven't had the time? Maybe Momma and Papa Bears are for you. The Bear Cub Camps are for ages four to seven. They also have camps for seven to twelve year olds in the Mountain Riders Club. The Bear Cubs have a small park near the Bears Den and they don't tend to venture too far outside the park. The Mountain Riders go all over the mountain according to skill. Lessons start December 15, 2012 and go till the end of March. For those of you will school aged skiers and who live on the North Shore, the Alpine club might be more to your liking.
See Also
Have you tried skiing lessons with your kids? Leave a reply and share your experiences.
Mount Seymour
Gwen Floyd
Gwen Floyd is a by all accounts a marvellous chauffeur to her two sons ages 4 and 7. When she isn't getting her kids to various ballet and theatre classes she can be found on twitter or her blog or out actually talking to real live grown ups.While she doesn't have the PhD that her husband has, she does have a vast knowledge of Buffy the Vampire Slayer and a tonne of YA lit. You can find her on Twitter as @GwenFloyd or on her blog leftcoastmama.net