Featured Vancouver Mom: Tara Hungerford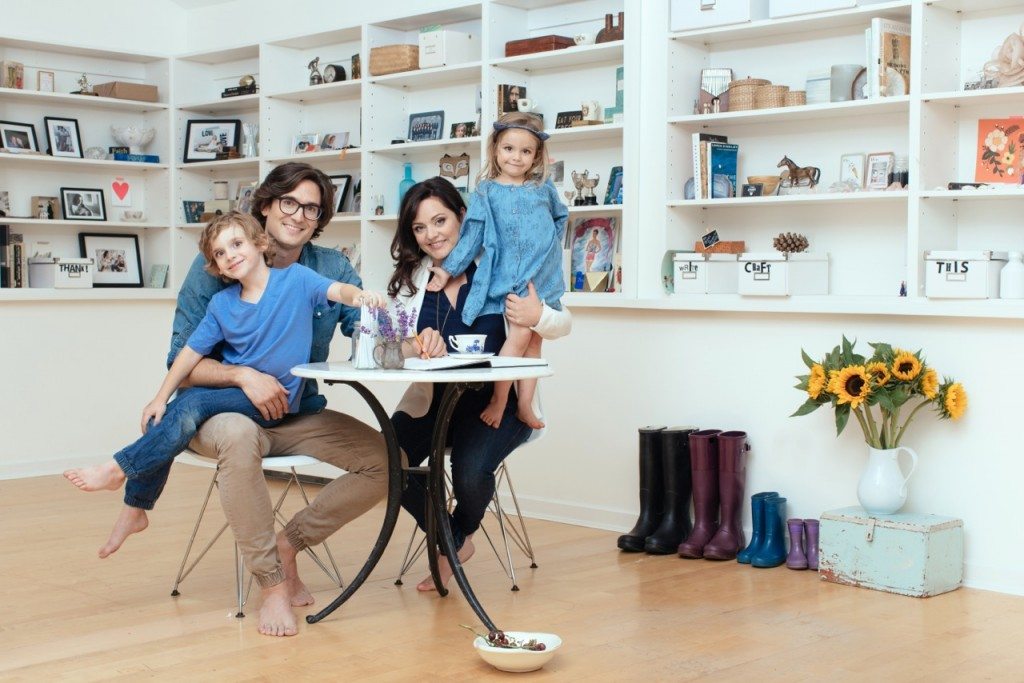 This busy TV producer and mom of two will be speaking at Leading Moms this month. Early Bird Tickets are a steal at $40.
I live next to Musqueam Park and close to the Fraser River in Southlands with my husband, Eric Hogan and our two children, Wilfred (6) and Paris (3). Eric and I are a directing and producing team. We run a production company called Two Story Productions Inc. The four of us like to keep it pretty simple when it comes to excursions. Eric and I recently created a kids' nature detective series for CBC that was inspired by our family's outdoor adventures. The series is called Scout & the Gumboot Kids and it will start to air October 19, 2015 on Kids' CBC.
Tara's favourite spots around Vancouver

Southlands Heritage Farm
The Southlands Heritage Farm is a home away from home for us. This farm feels like a quaint, magical place that belongs to an imaginary, generous and free-spirited relative. We always feel at ease here and we love checking in on the goats, the chickens and the horses. We also love to admire the gardens (veggie mostly). It's a very special place and I think it's one of Vancouver's best-kept secrets!
6767 Balaclava St, Vancouver
Dr. Sun Yat-Sen Classical Chinese Garden
Rain or shine, we love going to the Dr. Sun Yat-Sen Gardens after having a delicious meal in Chinatown. This trip to the gardens is an inspiring mini-trip that transports you into a beautiful sanctuary in the middle of the city (no jetlag or plane travel required). We love to wander around the gardens and spot koi and frogs in the pond. It's so peaceful here and our little ones often fall asleep in the car on the way home.
578 Carrall St, Vancouver

Rocky Mountain Flatbread & Co
When we don't know what to do with our Friday night, we often stumble into the Rocky Mountain Pizza Place on west 1st Avenue in Kits. The servers are so patient and great with chaos. This place is used to young families hanging out here. There is also a play area at the back for when the little ones. The food is all local, fresh, fresh, delicious and they are so very accommodating with food allergies. This is a great place to take grandparents, friends with kids, cousins, the whole gang.
1876 W 1st Ave & 4186 Main St, Vancouver

The Aquabus tour
The Aquabus is a fun little mini-boat cruise. It's simple, it's easy, it's reasonably priced and you feel like you've had a relaxing adventure without having to pack. You can go for a tour of False Creek from the Granville Island. You leave from the dock in front of the Granville Island Arts Club Theatre. It's a lovely little excursion all year round.
333 Johnston St, Vancouver
Kits Beach Playground
My husband and I are happy at any playground in Vancouver especially if we have a cup of East is East chai in hand. Our children's favourite playground is the one at Kits Beach. It's really well designed, the slides and swings are fantastic, and it feels like a "playground party" all year round.
1499 Arbutus St, Vancouver
Nat Bailey Stadium
This is a family friendly venue. The tickets are reasonably priced and the setting is really special and beautiful. Even if you are not a baseball fan, there is something for everyone at the Canadians Games. There are bouncy castles, fireworks, entertainment, mascots, music and of course, the baseball game to enjoy.
4601 Ontario St, Vancouver
Camosun Bog Walk
The Camosun Bog at Pacific Spirit is a wonderful short nature walk. It's in the Dunbar area and you can do this little walk in around 12 minutes with little ones. You can also go for a longer walk and explore the forest trails beyond the bog. Sometimes if our family is up for a quick burst of nature without exerting too much energy, walking this wooden boardwalk around the bog is a great solution. It's really interesting to observe this walk during each of the seasons.
W 20th Ave, Vancouver
Find more great places for moms just like you. Download JellyBeen, the social mobile app to find the best places to shop, eat and play with kids.
Image credits: Tara Hungerford, Erin McGann, Rocky Mountain Flatbread, The Aquabus, 
Erin McGann
Erin McGann is the former Managing Editor for Vancouver Mom and Toronto Mom Now. She drinks just a bit too much coffee, is a bit obsessed about sourcing local food, plays the cello moderately well, spends too much time on Twitter, keeps honeybees on a rooftop, and has a thing for single-malt whisky. Erin is working on a novel set in turn-of-the-century Vancouver, which her husband, son and dog have to hear about all the time, and also blogs at Erin at Large.