Vancouver Mom Style: Spring Fashion on a Budget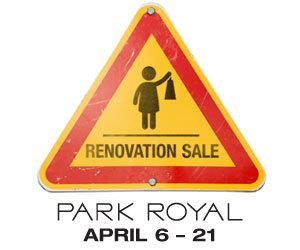 With April in full swing, there's no denying that spring is here. As the world around us bursts into bloom, many of us are ready to ditch our darker winter clothes for some fresh fashion. But how can you keep the whole family current without breaking the bank? In this Vancouver Mom Style update, we have five tips to help you outfit the whole family on a budget. You'll all look great, and you'll have enough money left over to stop for lunch on the way home.
Vancouver Mom Style on a Budget
1. Shop Your Own Closet
It's a familiar story. You buy something for yourself (or your partner, or your kids), put it in your closet, and promptly forget about it. Before you head out to buy new pieces, acquaint yourself with what you have already. This is also a good time to clean out any clothes you don't wear anymore, or that your kids have outgrown. Once you know what everyone in your family needs, you can make up your shopping list so that you don't find yourself with too many sweaters and not enough shoes.
2. Invest in Flattering Basics
When it comes to Vancouver mom style, simple is often best. It can be tempting to go all-out with a one-of-a-kind piece, but if you only have so much money to spend, you'll get more bang for your buck with flattering basics that you can mix and match. The same thing applies to the rest of the family. With bright colours all the rage this spring, go bold while sticking with pieces that will still look good – and be in style – next season and next year.
3. Shop the Sales Rack
Have you ever tried to buy a new bathing suit in August? Not so easy, is it? This is because retailers tend to stock their shelves before a season even starts. By the time that late spring rolls around, they're already gearing up for summer, and trying to clear out their spring stock. If you're willing to hold off, and you don't have your heart set on a particular piece, you can find some good deals by shopping the sale racks later in the season.
4. Excuse the Mess
Retailers renovate from time-to-time, to keep their stores looking fresh. If you're willing to put up with the mess, you can often find deals while renovations are ongoing – or before they even start, as they clear out stock to make space for the work crew. So don't pass a store by just because they have a "Please Excuse Our Mess!" sign in the window. Stop in and update your Vancouver mom style (or family style) while saving money. In fact, if you stay tuned until the end of the article, we have the inside scoop on a renovation sale happening right now at Park Royal.
5. Accessorize
Accessories like belts, scarves, jewellery and handbags are often cheaper than clothing pieces. So, look for fashionable accessories to update your existing wardrobe. This season black and white geometric patterns, florals, bright colours and metallic tones are particularly hot. You'll be rocking a chic Vancouver mom style, while affordably refreshing your wardrobe.
How are you updating your family's look this season, while keeping to your budget? Leave a reply and share your Vancouver mom style tips!
This article was sponsored by Park Royal, where a renovation sale is running now until April 21, 2013. The first phase of their new expansion will open this fall, with 20 new retailers joining the existing 280 stores and services that currently call Park Royal and The Village at Park Royal home. Those amazing new stores will be announced at the end of April. If you're looking for family fashion on a budget, visit them during the renovation sale. Deals include 20% off one item of your choice at H&M, $19 spring sweaters from Hangers, a $10 off coupon when you spend $50 or more at Old Navy, 20% off at L'Occitane, buy one get the second pair of shoes 50% off at Aerosoles, 50% off all diamond jewellery at Fame Diamonds and up to 50%-70% off select merchandise at Wear Else.

Amber Strocel
Amber Strocel is a writer, aspiring math teacher, suburbanite, wife and mom of two. She believes in the power of the Internet to connect people, and she believes that numbers are the poetry of the universe. You can often find her knitting, sewing, volunteering, working in her garden, and sneaking chocolate when no one's looking. She blogs at Strocel.com and shares her photos on Instagram as @AmberStrocel.