Moisturizer Review: Optimera Night and Day Cream
To wear or not to wear? Moisturizers are marketed as the key to maintaining our youthful glow and reducing fine lines, wrinkles and age spots. There are natural or organic moisturizers and natural and organic moisturizers and moisturizers with ingredients that sound like a big bad science experiment.  When do we need to start worrying about moisturizing our skin and wearing not just a day cream but a night cream as well?
Having Babies Gives Women Wrinkles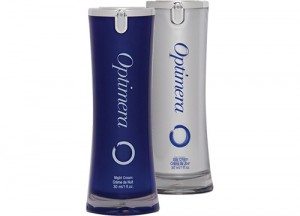 I brought my moisturizing questions to my meeting with Nerium International, the creators of the Optimera skin care line (newly introduced in Canada) and skin scientist Marie Bertrand and learned that regardless of age, moms in particular need an effective skincare regimen. When Marie told me that the more kids you have the more fine lines and wrinkles you get, I just assumed she meant that the stress of children perpetuates the physical signs of aging. Shocker, I know. But there's more science to it then that.
Marie informed me that collagen is a protein that makes up nearly 30% of the protein content in the human body. It is collagen that gives our skin firmness and plumpness.  As a woman's body gets ready for delivery, enzymes that break down collagen (called collagenases) are released in the body to allow the uterus to expand and facilitate delivery. This excess of collagenases also affects the amount of skin collagen in areas like your face, leading to more wrinkles.  Following this logic. the more pregnancies a woman has had, the more wrinkles. Yikes.
Moisturizer Magic in a Bottle?
My medicine cabinet is full of moisturizers and according to Nerium International I can toss them all away and simplify my skincare routine by using only the Optimera Day and Night Cream. So what makes Optimera so special? Optimera is the only line of skincare products on the market containing the patent pending SAL-14 extract which improves the appearance of lines and wrinkles, discolouration, uneven skin texture, enlarged pores and helps the skin appear firm and youthful. These results were found through clinical trials which also revealed that 93% of participants had improvement in the appearance of their wrinkles and 97% had an improvement in their skins radiance. Optimera is not an organic product in order to give it a longer shelf life but it is formulated without parabens, gluten, propylene glycol, sulfates, DEA, or synthetic colours.
My Verdict
To be honest I've had many skin care companies promise me amazing results through the use of their product so I approach any new cream-all with a healthy dose of skepticism. I've been using the Optimera Day and Night Cream for almost a month now and this is what I found. My lines and wrinkles have not improved. Can we just accept that while we can take preventative measures against lines and wrinkles, once they are there, they are not going any where without a little nip and tuck?
I have noticed an improvement in my skin colour and skin texture. My skin in general looks more bright and less red. I would even use the word glowing. I was also very pleased to see that my pores do look smaller. I like the idea that the night cream repairs, restores and renews my skin when every part of my body feels stressed and over worked after a crazy day with kids. When I put on the night cream I know I've made it to the end of the day and now I can rest. I wake up and my skin feels soft and smooth. The only thing with the night cream is that while Optimera doesn't use perfumes, the natural smell of the ingredients in the night cream take a little getting used too.
The application instructions for Optimera recommend 4-5 pumps, which ends up being a lot of moisturizer on your face. I noticed I was breaking out which is very unusual for me so I reduced the amount of moisturizer on my face to two pumps and that seems to do the trick. The verdict: Optimera is a great skin care product. it's not magic but it has improved the appearance of my skin and at the end of the day, that's all I can ask for in a moisturizer.
Other Interesting Skincare Information from Marie Bertrand
Optimera does not contain SPF. Marie says that SPFs tend to be a marketing gimick and studies are showing that people can exhibit more skin damage when using them. A true SPF 30 would be a teaspoon of product on your face and people rarely apply that much so in reality they are only getting an SPF 10-15. Thinking their skin is protected, they stay in the sun for longer and therefore get more skin damage.  If you're going to wear an SPF with Optimera, Marie recommends Clinoderm which is a non-scented, mineral sunscreen that can be found at your local Shopper's Drug Mart.
Certain foods are more likely to age your skin because they cause inflammation. If you want to be stringent about the health of your skin avoid red meat, sugars, dairy, gluten and bad fats. So pretty much everything. And this isn't just true for moms. Optimera is meant for men and women. The bottles are gender neutral and men can also benefit from moisturizer in their routine.
Optimera Night Cream $125 | Optimera Night Cream + Day Cream $188 | www.neriumproducts.com/myneriumby/en-CA
Michelle Gadd
Michelle Gadd is an urban dwelling, Vancouver housewife and mother of two rambunctious boys. She has a passion for discovering, and writing about, ways to engage kids in city culture. Michelle created www.elasticpantcity.com as an outlet to write about life, from parenting to city living, fashion to frugality, food to faith, no subject is off the table. Michelle invites readers to take a glimpse inside her life and be inspired by the beauty of art in the every day.