Going Greener? Join the Vancouver Cycling Community
Last September I decided to get out on my bike more, and I made the effort to join in the Vancouver cycling community at my son's new school. I wanted to become a little bit more fit and I also wanted to make a dent in the amount of time I spent in my car. Since my son's new school was closer to our house and to my younger son's preschool we made a few preparations. We managed to cycle for most of the fall, and we are getting back on the bike post the winter rainy season.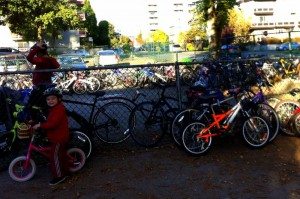 Choosing a Bike
If you are trying to be a little greener and use your car less, cycling to school can be an easy way to start. All is takes is a few things to get started. First and foremost you need a bike. If you have an old one that you haven't ridden in a while and you are not in the market for a new one, I suggest taking it into a bike shop to get it tuned up. A tune up will usually cost about $100 or so to get new brakes, cables and the chain cleaned up. Having a bike that is working properly makes a huge difference in making your Vancouver cycling more enjoyable. If you have young children that are not able to ride on their own yet, a trail-a-bike is a great investment. There are always used ones on Craigslist or another used goods sites or a bike store like Community Bikes on Main, or Ride On Again.
Find Your Vancouver Cycling Route
Once you and your kids have bikes, I suggest taking a couple of dry runs before you head to school. Is the way you walk or drive the best way to get to your school? Are there any points in your commute that will cause you problems? Is there a bike route that has lights to get across major routes? If you are unsure you can check out HUB (formerly the Vancouver Area Cycling Coalition) for resources, maps and links to events like Bike to School Week. They also run Vancouver cycling classes if you need a refresher course on street riding. Vancouver City has bike route maps so you can plan your route. You can also check to see if your school has a bike committee that may run bike trains. If not, check out the people who are already biking to school and pick their brains about routes, or maybe join them in their commute.
Kids Not Ready to Ride?
Are you looking forward to riding with your kids, but they aren't ready yet? Pedalheads run camps throughout June after school, and through July and August for all levels from beginner to learning to use gears effectively. A bike camp saves your back and if your kids are anything like mine they are more likely to learn from someone else. It's a great introduction to kid-friendly Vancouver cycling.
Get on Your Bike
The best piece of advice I can give you is to just start. Once you actually get on the bike you will start to feel better. Plus, cycling is proven to help children concentrate in school and it will save on gas for the car. Have fun and get fit as Earth Month winds down and summer approaches!
Gwen Floyd
Gwen Floyd is a by all accounts a marvellous chauffeur to her two sons ages 4 and 7. When she isn't getting her kids to various ballet and theatre classes she can be found on twitter or her blog or out actually talking to real live grown ups.While she doesn't have the PhD that her husband has, she does have a vast knowledge of Buffy the Vampire Slayer and a tonne of YA lit. You can find her on Twitter as @GwenFloyd or on her blog leftcoastmama.net