Get Engaged with Visual Art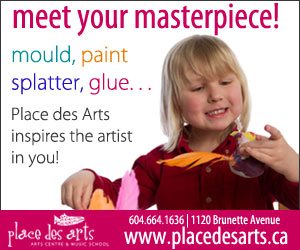 When you say the word art, the first thing that comes to mind is probably visual art like painting, drawing and sculpting. This is the art you find on display in galleries, and that people go to art school to learn about. But while visual art can be highly refined, it needn't be stuffy. To find out more about how to engage yourself and your kids in visual art, we connected with Michelle Chan, a Fine and Performing Arts Programmer at Place des Arts.
Michelle is in charge of the Coquitlam arts centre's visual arts classes and workshops, as well as the exhibitions on display in their gallery. This means that she decides what sorts of visual arts classes to offer. We asked her what makes a really great class for kids. "We're looking for something that's exciting and fun, and something that children want to take." They have an ongoing list of client requests, where parents and families ask for specific classes. When they're considering what to offer, they consult that list.
Visual Art for Kids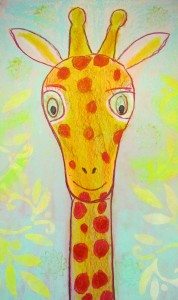 Michelle explains how parental input has impacted their offerings. "We've had a lot of interest in photography classes. Currently we only offer them in our Summer Fun Art Camps, and over Spring Break. Because of all the interest we've actually hired a new teacher to teach photography throughout the year." So if your children would like to see something specific, let your local arts centre know.
One example of a really fun and engaging class for children is cartooning and animation at Place des Arts. Michelle says, "Kenten Bowick is the heart and soul of our cartooning and animation program, and he offers a wide range of classes. He has everything from stop-motion animation with clay, to basic cartooning classes, to one that looks at anime and manga, to a class that looks specifically at creating comics." Kids from three to seventeen years old participate in Kenten's classes, in summer camps and ongoing classes.
Visual Art for Adults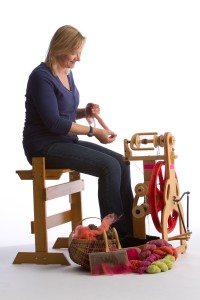 Visual art isn't only for kids, though. While there aren't any cartooning and animation classes for adults at Place des Arts, there are plenty of other great options. Michelle says, "We have a very large pottery program. It includes wheel-throwing, hand-building and sculpture. We have one of the best facilities in the Lower Mainland. We have pottery students who have come back for 10 years or 15 years. The other very unique program that we have for adults is the fibre arts department. We have floor looms, table looms, spinning wheels – the whole bunch. We have a spinning and dyeing class with Felicia Lo, who is the founder and director of Sweet Georgia Yarns. We also have a table and floor loom weaving class." In addition, you'll find a wide range of fine arts classes at Place des Arts, with high-quality programming at affordable rates.
The spring session is starting up the week of April 7, 2013 at Place des Arts. There's still time to get in on that if your kids want to do some cartooning or other visual arts programs – or if you want to get in on the fun. This is also a great time to think about summer camps. Summer camp registration starts on April 28, 2013 at Place des Arts, and is already underway at some places in Vancouver. If your kids would like an art-filled summer, make your plans now.
This article was sponsored by Place des Arts Art Centre & Music School. Have fun and bring home your very own masterpiece! With 40 years of experience, Place des Arts provides quality arts education for all ages and abilities in visual art, music, dance, theatre and creative writing. Small classes ensure individual attention. We inspire the artist in everyone!
www.placedesarts.ca | Twitter | Faceboook
1120 Brunette Avenue, Coquitlam, 604.664.1636
Amber Strocel
Amber Strocel is a writer, aspiring math teacher, suburbanite, wife and mom of two. She believes in the power of the Internet to connect people, and she believes that numbers are the poetry of the universe. You can often find her knitting, sewing, volunteering, working in her garden, and sneaking chocolate when no one's looking. She blogs at Strocel.com and shares her photos on Instagram as @AmberStrocel.