Tsawwassen Mills: VancouverMom.ca's Insider Scoop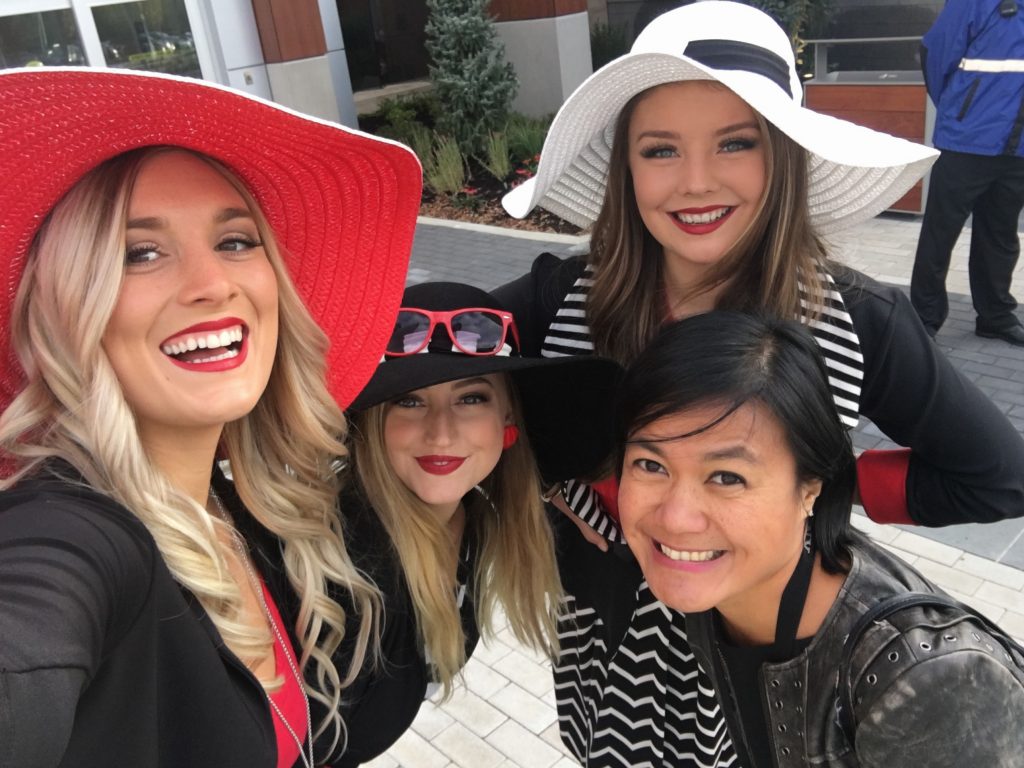 Scroll down for a chance to win a $100 shopping spree at Tsawwassen Mills.
Dying to check out Tsawwassen Mills? We can't blame you. At 1.4 million square feet – roughly the size of Granville Island – and with first-to-market stores like Saks Off 5th, DSW and Michael Kors Outlet, Tsawwassen Mills stands as the shopping mecca of Metro Vancouver.
VancouverMom.ca went on a shopping spree during the Tsawwassen Mills Grand Opening. Here's a peek at how it went and what we scored:
Worried about navigating the store with small kids in tow? Here's everything you need to know about making the most of your first jaunt to Tsawwassen Mills.
1. Why Tsawwassen Mills Is Worth It
Tsawwassen Mills has several stores you won't find anywhere in Metro Vancouver including Saks Off 5th, Lululemon Athletica Outlet, Bass Pro Shops and more. You won't want to miss the 25,000 square feet of shoes at DSW, the fish tank and themed bowling alley at Bass Pro Shops or the skate park at West 49.
2. Download the App
Avoid wandering around the mall aimlessly. Download the Tsawwassen Mills app and map out the stores you'd like to visit during your trip. Use the app to plan your route ahead of time and park near the most efficient entrance. (Pro tip: the app will also save your location for you.) Save your steps: plug in any store's name in the app while you're at the mall and you'll get walking directions from your exact location.
3. Grab a Friend and Get a Sitter
If you can, treat yourself and make your first trip to Tsawwassen Mills an outing with a friend – or even just yourself. To say the mall is huge is an understatement. With 200 stores in five distinct shopping "neighbourhoods", you'll want to take your time. Avoid having to navigate nap times and melt downs and leave your kiddo at home.
4. Family Resources
If leaving the kids with Grandma isn't an option, Tsawwassen Mills is super family friendly. Kids will enjoy watching – or trying! – the indoor skate park at West 49. You can also check out the themed bowling alley at Bass Pro Shops. Toddlers can climb about in the West Coast-inspired play area found in the Nature neighbourhood. Family amenities include a family washroom (equipped with a toddler-sized toilet) and a nursing room. Be sure to bring a stroller, but even if you forget, you can rent one for $8. Family parking and emergency baby supplies are also available.
5. Divide and Conquer
If you are making the trip a family affair, take turns minding the children. One of you can head to the kids play area, while the other gets lost in DSW or Saks Off 5th. Tsawwassen Mills has installed a Sports Court, a seating area inspired by stadiums and large televisions installed near entrance 6. Splitting up means you'll be able to cover more ground faster.
6. Take Advantage of Guest Services
Keep the day going by using Tsawwassen Mills' Stow-and-Go service: You can store your parcels at Guest Services for free. When you're ready to depart, pick up your checked items from the comfort of your vehicle from Parcel Pick Up located at Service Court 3D. Tsawwassen Mills staff is also available by text; you can have your questions answered while on the go. Phone died? Leave it with them and have it charged while you're on the go.
7. Rest and Refresh
Rejuvenate at one of the six seating "courts" in the mall. In addition to the sports seating area, also check out the Bird Court seating area in the City Neighbourhood for a quick selfie. Or find a quiet spot in guest services if you want to simply get a way from the noise. Fuel yourself at the 1,100 seating food court. Or if you're looking for something small, skip the line and grab some trail mix and a water at the Shoppers Drug Mart near entrance three. Wear comfortable shoes – you'll need them. Make it a workout and wear your Fitbit; you'll easily blow your step-goal out of the water that day.
Enter To Win
Tsawwassen Mills
5000 Canoe Pass Way, Tsawwassen, BC
Christine Pilkington
Christine Pilkington has over 15 years of digital and interactive media experience. Breakfast Television has dubbed her a Baby Product Guru and she frequently appears on CBC and CTV. She lives with her husband, three daughters and a Lagotto Romagnolo in East Vancouver, about 10 minutes from where she grew up. Christine is also the CEO of Crisp Media Inc, which develops digital marketing strategies for businesses.