What to do in Vancouver: Three Things to do Over Christmas Break
While the holiday season is probably one of the busiest times of the year, it also an opportunity to relax and rediscover what to do in Vancouver. With the last day of school – and for many people, the last day of work for the year – many Vancouver families are looking forward to the Christmas break. If your kids love the sights you take in together, buying yearly passes for your family is one way to make this season really special. If you're still deciding what to do in Vancouver during your time off, we have three suggestions
What to do in Vancouver Over Christmas Break
1. The Vancouver Aquarium: Luminescence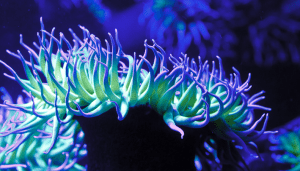 Whether you're wondering about how aquatic animals like anemones, jellyfish and corals glow in the dark, or marvelling in the the world of bioluminescence in the dark depths of the oceans, visiting the Vancouver Aquarium tops this list of wonderful ways to spend your Christmas break in Vancouver.
Don't miss The Polar Express 4-D Experience, a sensory adventure like no other. "Giggle and gasp as the theatre comes to life with sights, smells, sounds and vibrations from this holiday favourite!"
You can also witness Scuba Claus swimming with the sharks! Well, actually he's in a tank full of fish that are very tame but if you're lucky you can get a photo alongside as he visits his fishy friends.
Buy an annual pass for around $150 and two adults and up to four kids under 18 can visit as often as they like. There is always something amazing to experience at the Aquarium.
Luminescence runs until January 22, 2013
2. The Peak of Christmas: Grouse Mountain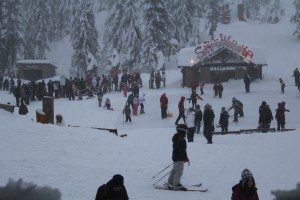 Celebrate the magic of the Christmas season at The Peak of Christmas on Grouse Mountain with visiting reindeer Dancer and Vixen. Sing Christmas carols on a magical sleigh ride tour, go ice skating and have family photos snapped with Santa in his workshop. You could also have breakfast with the big guy in red and visit a gingerbread village. When it's time to warm up there are cafes and restaurants serving up steaming hot chocolate and yummy treats.
The VSO Soul Gospel Choir brings Christmas classics and gospel music to round out your Peak of Christmas experience. And, if you buy the yearly family pass for $199.00, two adults and up to two youths can visit as often as you like all year round. It's what to do in Vancouver to experience winter fun over the Christmas break.
The Peak of Christmas runs until December 24, 2012, so hurry!
3. Skating in Robson Square
Get bundled up and head to the heart of Downtown Vancouver. Robson Square offers skating with your family and friends, and this tradition that is bound to become a perfect photo-taking opportunity. Skating on Vancouver's only outdoor ice rink is free if you bring your own skates. Skate and helmet rentals are available and the concession stand serves up warm drinks to take the edge off the cold this winter. It's what to do in Vancouver to create family Christmas memories and erase the stress that comes with the hustle and bustle of the season.
Open until the end of February, 2013, 9:00am-9:00pm Sunday to Thursday, 9:00am-11:00pm Friday and Saturday
Happy holidays!
Lee-Anne Ekland
Leeanne Ekland is a stay-at-home mom of one, who's on a mission to rediscover love, wellness, and neighbourhood happenings and to have a ton of fun. She's also a lover of wine and yoga and believes that sharing her experiences at www.MomParadigm.com brings her closer to living her best life. Having started the parenting experience much later than most, she offers a unique perspective on the challenges and all that is amazing about being a mom over 40.