Kid-Friendly Vancouver: Educational Birthday Parties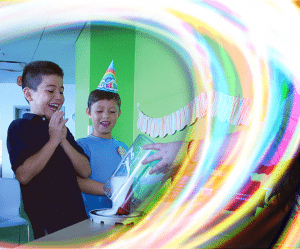 When you're planning birthday parties for your children, your goals are probably modest. Make sure the kids have a good time. Make sure you remember the food. Make sure your home is still standing at the end. Sure, blowout birthday parties are great, but when little kids are involved it's best not to overextend yourself or them. What if we told you that there were great options that are not only lots of fun for everyone, but that would actually teach your child and their guests a thing or two? It isn't just a pipe dream. Today we're sharing the scoop on some educational birthday parties that kids will love. Really.
Fun and Educational Birthday Parties
Scintillating Science
Science World is a kid-friendly Vancouver favourite for good reason. They're not just a great answer for where to take your kids on a rainy Vancouver day, though, they're also a great choice for educational birthday parties. They offer a whole host of party options for kids up to age twelve, from insects to chemistry to shindigs just for toddlers. You and your guests will get an all-day admission, plus a private demonstration from one of their science facilitators. Most birthday parties also include a meal for each person. You can purchase add-ons like an OMNIMAX® film and loot bag, too. Plus, members get a discount.
DIY Engineering Party
Do you have a budding engineer in your family? Our Publisher threw an engineering-themed birthday party for her daughter that included games like building Lego towers, making boats out of tin foil and seeing whose could hold the most marbles, and creating bridges out of pasta. Do you want to continue the construction theme at meal-time? Guests can build their own pizzas, or put fruit or cheese on sticks. This one requires you to either host the kids at home or rent a space, but most of the materials are very affordable, making it not only a good time but also budget-friendly.
Literary Birthday Parties
Does your child have a favourite book? Or is your little one a born story-teller? If so, a literary birthday party may be just the ticket. From going all out with Dr. Seuss inspired decorations and food to creating a story together with your guests, there are many ways to spin this. Our Managing Editor created a children's story on the fly by having the children dress up and act out a story, which she photographed and made into a book that they donated to their school library. If you decide to build a story with your guests great party favours include pencils, journals and dress-up items.
See Also
This article was sponsored by Science World. Because birthday party planning shouldn't feel like rocket science…that's what rocket science is for! When you book a party with Science World, we take care of all the details: food, activities and decorations—so you don't have to. On top of that, we'll spark the natural curiosity and sense of wonder that lies within your birthday child. For a limited time only, we're offering an exclusive birthday party theme inspired by our new feature exhibition, LIGHT: Illuminating Science & Art. In this Light Party, discover light's amazing properties by playing with kaleidoscopes, colours, mirrors, black lights and rainbows! For ages 3–12. Learn more.
Vancouver Mom
Would you like to write for us? We welcome well-written guest submissions with a local interest slant. Share your tips, review local businesses and highlight hot trends for Vancouver moms. Get all the info on our Contributor Page!