Three Benefits of Summer Learning Programs 
Summer is a break from school, so it seems almost cruel to think about 'educational' camps and classes over those lovely sunny weeks. But there's some good reasons to think about enrolling your kids in some learning opportunities through the summer.
Focusing on one thing at a time
Summer programs are usually on one subject, so your child can focus on one thing for a stretch of time. Instead of leaping from subject to subject in a school day, kids have a whole day to work through it in a summer program. It's a great opportunity to really nail down the basics, or come at a subject from a different angle. Working on a particular subject over the subject will also give your child more confidence to tackle it when the school year starts.
Meeting new people
Older kids particularly can feel a bit boxed in by their peers. In a new group of kids, there's room for reinvention and a chance to open up. It's a good opportunity to connect with kids who share interests, especially if the program isn't one offered at school. What better way to connect and share the best way to build the next addictive mobile game than at digital media program?
Exploring a career path in depth
There's a lot of pressure to know where you're going early on in high school. A summer program can give kids a taste of a particular industry, helping them decide if it feels like a good fit for post-secondary. For example, the three week intensive Masters of Digital Media program at the Centre for Digital Media is taught by instructors from the post-secondary program with support from Electronic Arts. It's a great way for kids to get some insights into the kinds of jobs available in digital media in Vancouver, and get some mentoring from people in the industry.
Consider including some learning camps in the mix this summer, as well as all that running, jumping, and popsicle eating.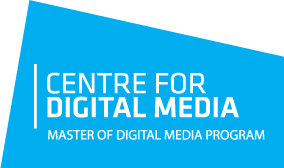 This post is sponsored by the Centre for Digital Media Tomorrow's Masters of Digital Media Program. The Centre for Digital Media (CDM) and the Master of Digital Media program (MDM) are proud and excited to re-launch Tomorrow's Masters of Digital Media Program (TMDM). This groundbreaking intensive summer boot camp for youth, interested in mastering the art of digital media, is now calling for students entering grades 9-12 to apply.
Erin McGann
Erin McGann is the former Managing Editor for Vancouver Mom and Toronto Mom Now. She drinks just a bit too much coffee, is a bit obsessed about sourcing local food, plays the cello moderately well, spends too much time on Twitter, keeps honeybees on a rooftop, and has a thing for single-malt whisky. Erin is working on a novel set in turn-of-the-century Vancouver, which her husband, son and dog have to hear about all the time, and also blogs at Erin at Large.