Summer in Vancouver: Klahowya Village
If you visit the Stanley Park Miniature Train right now, you might notice that something special is happening, as it's been transformed into the Spirit Catcher Train. It's all part of Klahowya Village, which immerses visitors in British Columbia's fascinating and thriving Aboriginal cultures. General admission so this attraction is free, and in addition to the train visitors can watch cultural performances, shop the Artisan Marketplace or participate in a craft workshop. Group tours are also available for groups of 20 or more.
Journey of the Salmon at Klahowya Village
The story 'Journey of the Salmon' debuted on June 21, 2014 at Klahowya Village, and it runs until September 1, 2014. This story focuses on the significance of the salmon in Aboriginal culture as they celebrate the four-year cycle of the returning salmon. 2014 is considered a dominant salmon run year, with approximately 15 million sockeye salmon expected to return home after two years out in the Pacific. Salmon bring positive impacts on both the broader environment and economy for First Nations throughout the province. The 'Journey of the Salmon' at Klahowya Village provides guests with the opportunity to learn more about the vital fish's importance.
"We are pleased to offer a selection of new and improved features and tour options for this year's Klahowya Village in addition to its already popular programming," says Keith Henry, CEO of Aboriginal Tourism BC. "Salmon have always been an integral staple to First Nations from across BC. This year's theme will provide a fresh and exciting way to showcase Aboriginal culture."
Kid-Friendly Cultural Experience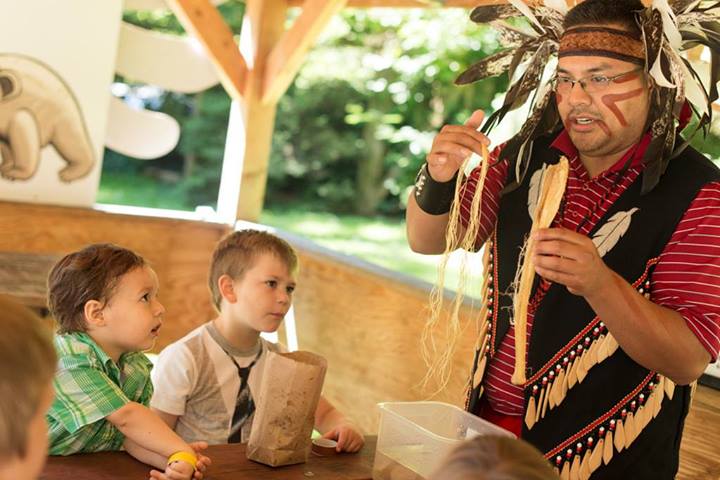 This kid-friendly Vancouver cultural experience is now in its fifth season. This year Klahowya Village features more than 20 interactive and visual displays linked to a passport that includes a download code for the audio story of the 'Journey of the Salmon' on iTunes, a season pass to ride the miniature train, admission to a craft workshop, colouring pages, and an area to collect stamps from interactive display stations.
For more information, visit KlahowyaVillage.com or check out their Facebook page.
*Photos courtesy of Klahowya Village
Vancouver Mom
Would you like to write for us? We welcome well-written guest submissions with a local interest slant. Share your tips, review local businesses and highlight hot trends for Vancouver moms. Get all the info on our Contributor Page!