Spring Break Camp: Four Ways to Get Creative in Vancouver
Spring Break is coming up fast – kids in Vancouver will be away from school from March 16-April 1, 2013. If you're wondering what to do in Vancouver during those two-plus weeks, you may be considering Spring Break camp. Day camps are a great way to keep kids busy and engaged while school is out. We have four suggestions (plus a bonus idea) that will also help them to explore their creative sides.
Four Creative Spring Break Camp Options
1. Collage Collage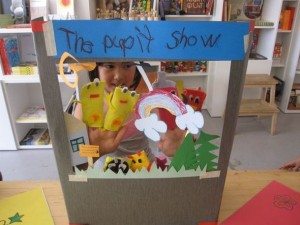 The East Vancouver art shop and studio will host two week-long Spring Break Day Camp sessions. Crafters will participate in an afternoon camp featuring drawing, painting, and – of course – collage, among other things. Children will participate in big and small projects, allowing them to explore different materials and learn about a few artists and designers to boot. These artist-led day camps draw heavily from the store's amazing book collection, with time each day to read and explore together. Five-to-eight-year-olds will participate in Spring Break camp the week of March 18-22, 2013, from 1:00-3:15pm daily. Nine-to-twelve-year-olds will have their turn the week of March 25-29, 2013, from 1:00–3:15pm each day.
collagecollage.ca | Twitter | Facebook
2. Place des Arts
Vancouver moms in Burnaby, New Westminster and the Tri-Cities may want to check out what's on offer at Place des Arts in Coquitlam. While the sessions for kids from kindergarten to grade five are almost all full, there's still space in their innovative programs for students in grade six and up. The Spring Break camp options for grades six to nine feature four different week-long intensives, each running for half a day. Art Boot Camp for Teens and Spring Break Pottery Intensive run from March 18-22, 2013, in the morning and afternoon, respectively. The Fibre Arts Sample and Animation & Cartoons run March 25-28, 2013. Teens in grades nine through twelve are invited to Study with the Pros in four day-long workshops: Acting for the Camera on March 25, Beating up Actors on March 26, Makeup for Stage & Screen on March 27, and Directing for the Theatre on March 28.
placedesarts.ca | Twitter | Facebook
3. Christianne's Lyceum
Christianne's Lyceum is looking at art with fresh eyes in a series of Spring Break camp offerings. The workshops encourage young people to expand their ideas of what constitutes art to encompass everything from mosaic tiling to pisanki eggs to community murals. They'll also be adding poetry to paintings and creating stop motion animated shorts. Their programs run from March 18-24, 2013, and include a number of all ages offerings. Whether you're looking for a day of fun, or a week-long Spring Break camp to keep your kids busy while you work, you're likely to find something.
www.christiannehayward.com | Twitter | Facebook
4. 4Cats
With locations all across Vancouver, and Spring Break camp sessions for kids from ages three to twelve, there's something for almost any kid at 4Cats. Options and dates vary by studio, but you can expect to find offerings that invite your kid to explore the work of Georgia O'Keeffe, get inspired by Harry Potter and play with mixed media. They'll get creative, and have a whole lot of fun doing it. Check with your local studio to see what's on offer, and get ready for a great time.
www.4cats.com | Twitter | Facebook
Bonus Creative Spring Break Fun
If you'd like to get your art on with the whole family, stop by the Vancouver Art Gallery during Spring Break. They're offering special extended Weekly Family Programs from 12:00-4:00pm during Spring Break. Join their team of Art Agents to learn more about the current exhibitions in a fun, family-friendly approach. Check out The Making Place and try a range of hands-on activities inspired by what you have seen in the gallery. And get inspired by being around all that art. It's all free with your gallery admission.
vancouverartgallery.ca | Twitter | Facebook
What about you – what are your favourite creative Spring Break camp sessions in Vancouver? Leave us a reply and let us know what we missed!
*Images courtesy of Collage Collage.
Amber Strocel
Amber Strocel is a writer, aspiring math teacher, suburbanite, wife and mom of two. She believes in the power of the Internet to connect people, and she believes that numbers are the poetry of the universe. You can often find her knitting, sewing, volunteering, working in her garden, and sneaking chocolate when no one's looking. She blogs at Strocel.com and shares her photos on Instagram as @AmberStrocel.