Rainy Day Fun: Stay Active Indoors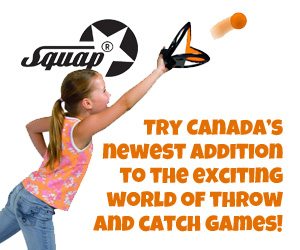 Winter has arrived in Vancouver, which means that we're well into the rainy season. At this time of year it can be a challenge to find ways to keep everyone happy and engaged indoors. It's even harder to keep your kids active. Of course, we all know how important it is for little ones to move their bodies, but when the weather isn't cooperating, staying active is a challenge. Fear not, Vancouver moms, because we're here to help. Today we're sharing four ideas for rainy day fun that won't only keep your kids busy, but will also give them a chance to move their bodies. And, for a few extra bonus points, they won't destroy your home while they're at it.
Four Ideas for Active Rainy Day Fun
1. Dance Party!
Dancing is great exercise, as anyone knows. It also doesn't require any special equipment, outside of a way to play music. Turn up your kids' most-loved tunes, or introduce them to some of your favourite music. To keep it interesting, switch things up. Ask them to dance like an elephant, dog, cat, lion or monkey. Teach them a new move or two. Or play freeze, by turning the music off randomly and asking your kids to freeze until it comes back on again. If your kids are older you can make them do something special if you catch them moving, like five jumping jacks.
2. Sweep the Floor
Okay, okay, this one may not seem like a lot of fun at first blush. However, cleaning is actually pretty active, and little kids often get a real charge out of sweeping, using the vacuum or dusting. Write down all those little cleaning tasks you've been putting off on pieces of paper and put them in a bowl, then ask your kids to pull one out to see what you're doing next. If you're working together you'll enjoy family togetherness, plus at the end of this rainy day fun your house will be clean. What's not to love?
3. Indoor Games
There are a lot of indoor games that you can buy for some active rainy day fun. Twister is a classic that many kids love, that will have you bending and twisting and probably laughing out loud. Squap is a new throw-and-catch game in Canada that kids can play alone, in pairs or in a group. Exercise balls, ride-on toys, balance boards and other equipment also offer active, indoor fun that won't completely destroy your house.
4. Hide and Seek
This classic game is easy, requires absolutely no special equipment, and will have your kids moving as they search for places to hide and bend and stretch their way into tight spots. If you're not up to hiding or seeking yourself, you can also mix things up by turning it into a treasure hunt. Choose a small object, like a toy or a button, and hide it somewhere in a room for your kids to find. If they need a hint play hot-and-cold by telling them they're getting warmer or cooler, depending on whether they're moving closer or further away from the object they're searching for.
What about you – what are your favourite ideas for active rainy day fun? Please share them with us!
This article was sponsored by Squap. Squap is an award-winning throw-and-catch game that is designed to get kids moving. Although arriving in Canada for the first time this fall, Squap has already sold over one million units worldwide! Great for both indoor and outdoor use by kids and adults, Squap can be played by yourself against a wall, in pairs or in a group. Just put the ball into the Squap mitt and open your hand as quickly as possible. The ball launches and then soars through the air! Catch it by snapping the Squap mitt closed around the ball. Squap encourages active play between a wide range of ages, and helps to increase hand-eye coordination! You can also visit Squap online at squap.com.
Vancouver Mom
Would you like to write for us? We welcome well-written guest submissions with a local interest slant. Share your tips, review local businesses and highlight hot trends for Vancouver moms. Get all the info on our Contributor Page!