Quick Guide to Halloween in Vancouver
Halloween is almost here. If you've been dragging your feet and you need help getting ready, or if you could just use some tips to help you kick up your game, we've got you covered. From costumes to candy to events to shopping, we've rounded up all the spooky goodness in our Quick Guide to Halloween in Vancouver. Read on … if you dare!
Quick Guide to Halloween in Vancouver
What to do this Halloween in Vancouver
Looking for local events? We've rounded up some great suggestions for Halloween 2014. Read more.
The Perfect Pumpkin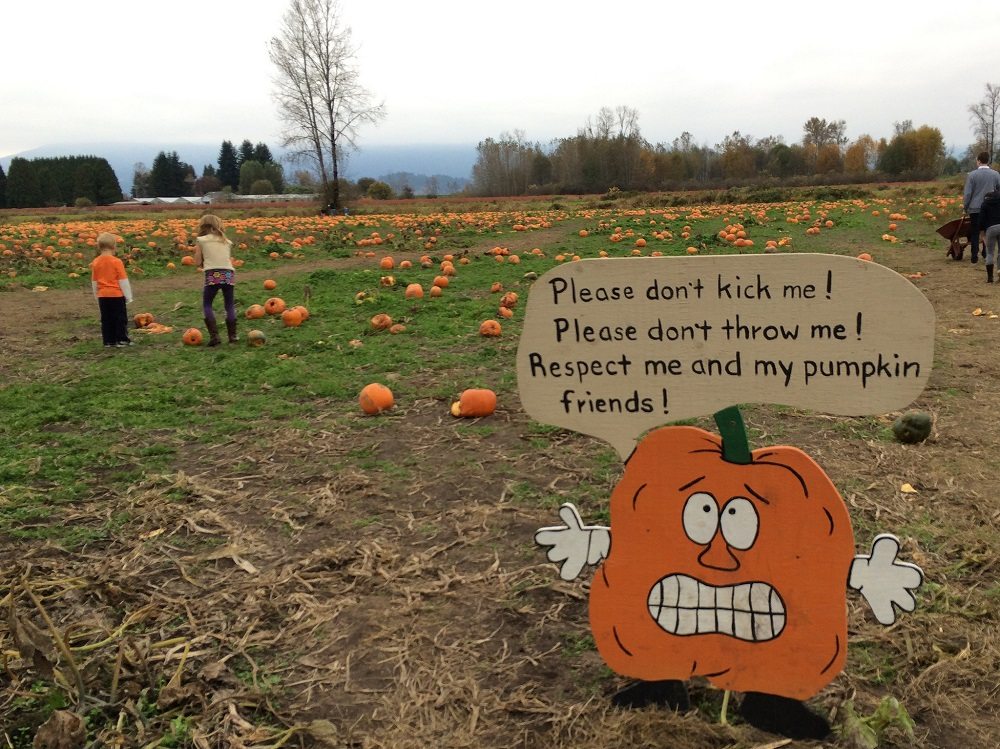 For many local families, it isn't really Halloween in Vancouver without a trip to the pumpkin patch. We have suggestions for where to go in search of the perfect pumpkin (or three) to turn into a jack-o-lantern.
Westham Island Herb Farm is an annual favourite for Heather Maxwell Hall and her family. She shared, "This awesome, family-friendly farm is a spring-to-fall favourite… The highlight each year is definitely the pumpkin patch, where you can grab a wheelbarrow and head out into the fields to pick the perfect pumpkin with your own little pumpkins… [T]hey also have a selection of pre-picked and cleaned pumpkins, as well as unusual gourds and uncommon pumpkin varieties." Read more.
Guest contributor Anna Silver prefers Richmond Country Farms. She wrote that "the Pumpkin Patch offers much more than just pumpkins. Tractor rides, a corn maze, and live music are among the official attractions on offer, but this all ages event provides a host of sights and experiences that most city dwellers don't come across every day." Read more.
Our Managing Editor Amber Strocel adds Laity Pumpkin Patch to her family's Halloween in Vancouver list every year. She said that her kids "especially enjoy the fairy tale themed displays, panning for 'gold' and visiting with the animals. Bring your rubber boots and plan to make an afternoon of it." Read more.
A couple of other local pumpkin patches to check out this Halloween in Vancouver are Southlands Farm, which, unlike the others, is located inside the city limits. And we also like Art Knapp's Funland in Port Coquitlam. It's not an actual farm, but there's lots of fun going on, and you can pick up a clean and dry pumpkin without having to brave a muddy field.
Halloween Costumes
Do you need help choosing the perfect costume? Need to know where to shop for the spookiest look? Read on for some suggestions.
Guest contributor Donna Dobo, founder of Just Imagine, shared last minute costume ideas. Read more.
Speaking of Just Imagine, contributor Lee-Anne Ekland paid them a visit and found a treasure trove of Halloween goodness. Read more.
Lee-Anne also found lots of great costume pieces at that Halloween in Vancouver staple, Party Bazaar. Read more.
Amber Strocel found some seriously adorable costumes at Pottery Barn Kids. They're a little spendy, but the quality is evident. Read more.
In 2012 our readers shared what their kids were going as for Halloween. While there were fewer Frozen-inspired costumes than you'll likely see this year, it's a great source of inspiration. Read more.
Halloween Treats and Decor
Looking for a kid-friendly Halloween treat that won't have you slaving away over a hot stove? Jackie Bateman recommends zombie heads. Get the recipe.
Want to deck out your home in spooky style? We have tips on where to shop for seasonal decor this Halloween in Vancouver. Read more.
Keep it Safe, Healthy and Fun
Halloween in Vancouver is a candy free-for-all, it's true, but that doesn't necessarily need to mean that we throw wellness to the wind.
Dr. Maureen Piché, a Vancouver mom and dentist, shares her perspective on Halloween candy. What's the best way to indulge to protect your teeth? Read more.
When little kids are taking to the streets at night, you want to make sure they do it safely. We have five tips to help. Read more.
Halloween can be scary for little ones. Julie Miller shares her tips to make sure you don't lose sleep to spooky movies. Read more.
Finally, make Halloween in Vancouver a learning opportunity with these fun family literacy tips. Read more.
Happy Halloween!
Vancouver Mom
Would you like to write for us? We welcome well-written guest submissions with a local interest slant. Share your tips, review local businesses and highlight hot trends for Vancouver moms. Get all the info on our Contributor Page!