Birthday parties at Funtopia

Indoor playground and climbing space Funtopia makes a great winter birthday spot. Lots of space to run and climb, and a dedicated party room.
Climb the walls
There is some serious climbing at Funtopia: their FunWalls area has pretend buildings to clamber up (with harnesses and ropes), crates to build a giant tower, and even a dark climb with glow-in-the-dark handholds. There's even an incredible (yet very safe) free fall slide, if the kids are having enough of climbing up.

Soft play
If you're planning a party for smaller people, Funtopia also features a giant soft play structure, with twisty slides, soft landings, high-up lookouts, and lots of room to explore. Good visibility from the outside means parents can see what's happening without having to duck around, or, my least favourite, crawl in there too.
>>Check it out
Pizza, hot dogs, and drinks included
All the party packages at Funtopia include pizza or hot dogs, pop, and all the plates, cutlery, and napkins. The fewer things you have to tote to the party venue, the better!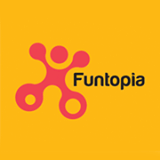 This post was sponsored by Funtopia. We strongly believe that staying fit and healthy is important for having a high quality of life. Climbing, stretching, jumping… these are all great sports activities we turn them into a great way of having fun while keeping fit.
Image Credits: Funtopia
Find more great places for moms just like you. Download JellyBeen, the social mobile app to find the best places to shop, eat and play with kids.
Erin McGann
Erin McGann is the former Managing Editor for Vancouver Mom and Toronto Mom Now. She drinks just a bit too much coffee, is a bit obsessed about sourcing local food, plays the cello moderately well, spends too much time on Twitter, keeps honeybees on a rooftop, and has a thing for single-malt whisky. Erin is working on a novel set in turn-of-the-century Vancouver, which her husband, son and dog have to hear about all the time, and also blogs at Erin at Large.