Laity Pumpkin Patch: Halloween in Vancouver
Which is the best pumpkin patch in Vancouver? Every Vancouver mom likely has a different answer. Much of it probably depends on family tradition and where you live. Each local pumpkin patch has its own merits, its own pros and cons. For my family, though, the answer is clear. Every year we pay a visit to Laity Pumpkin Patch in Maple Ridge. While I'm sure that other pumpkin patches have a lot to offer, my kids have such a soft spot for Laity Pumpkin Patch that we'd never dream of going anywhere else. As soon as October rolls around, they're asking me when we can visit.
More than Pumpkins
Of course, Laity Pumpkin Patch has pumpkins and has become so popular, it now has two patches (north and south!). Lots and lots of pumpkins, in all shapes and sizes. However, there's also a whole lot more on this farm in Maple Ridge. My kids especially enjoy the fairy tale themed displays, panning for 'gold' and visiting with the animals. Bring your rubber boots and plan to make an afternoon of it, because there's lots to see and do.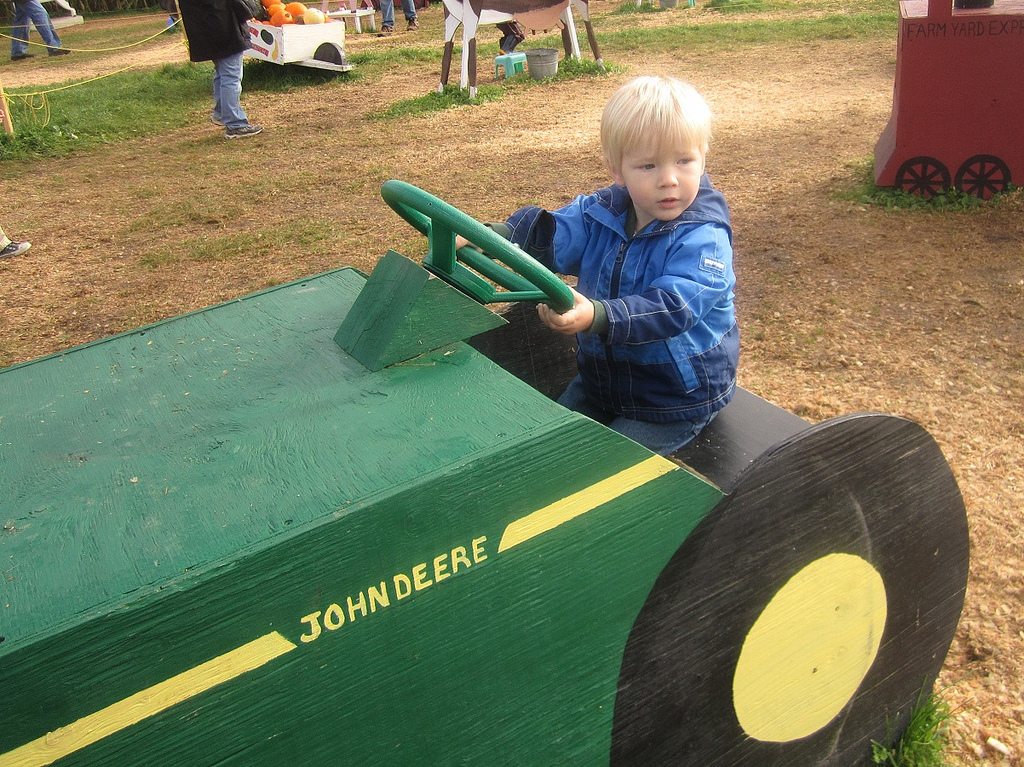 When you enter the farm be sure to pick up a wheelbarrow. If you don't you'll have to go back for one later, which is no fun (I learned this the hard way). Once you've crossed that off your list, look for the interactive wooden farm animal display. Kids can search for eggs in a chicken coop, milk a cow, feed animals, drive a tractor and even make their own pizza with wooden vegetables. While my kids still enjoy this area at six and nine years old, it was an especially big hit when they were toddlers and preschoolers. Think of it as a big, kid-friendly play area where your kids can burn off some steam after the long drive to the pumpkin patch.
Interactive Attractions and Enchanting Displays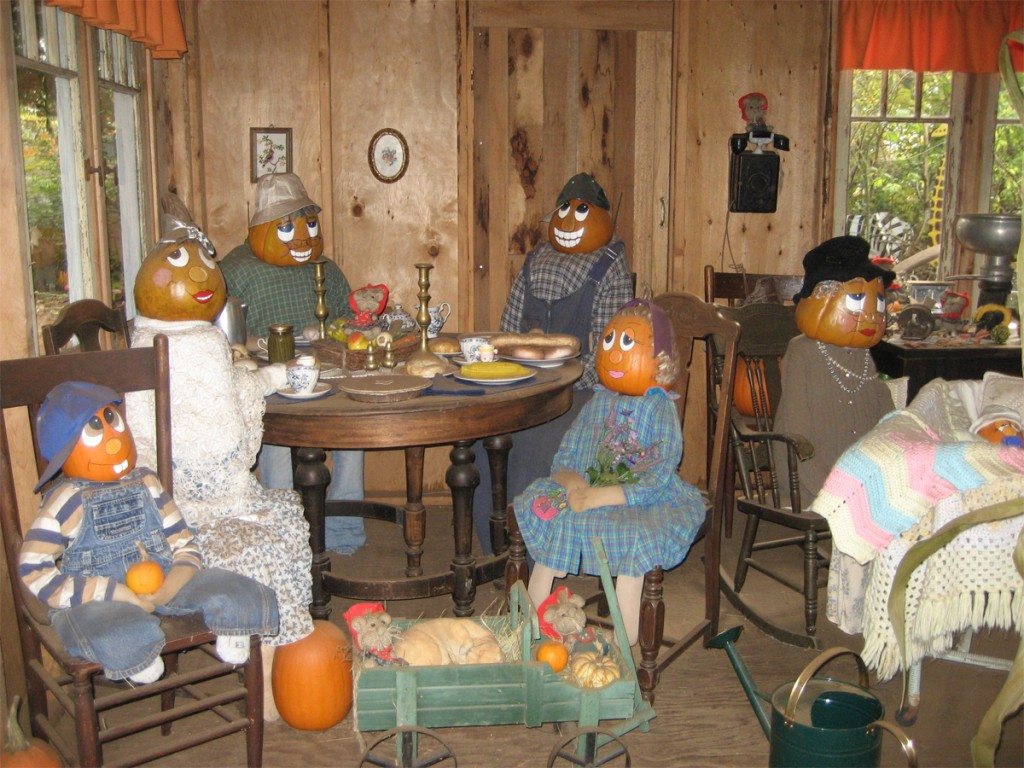 You'll find a wide range of interactive attractions at Laity Pumpkin Patch. There's a tractor-wagon ride, a short corn maze and 'gold'-panning. There are also a lot of displays that my children love. The themes range from fairy tales and nursery rhymes, to dinosaurs, to a frontier town, to the pumpkin zoo, to the mushroom forest. All of the displays incorporate pumpkins in some way.
Laity Pumpkin Patch is a farm, so you can also learn more about where your food comes from. Check out the vegetable garden, and see the live farm animals – many of them eating pumpkin. There are also lots of photo ops, with displays set up that your kids can get up close to for a great Halloween shot. And if you're hungry, there's a snack bar on site. And bathrooms – which is important with kids.
Pick a Pumpkin
Of course, the reason you visit a pumpkin patch is to find a pumpkin, right? As I mentioned, pick up a wheelbarrow to make hauling the pumpkins back to your car easier. You can wander the fields to find your ideal pumpkins. Or if you'd like to make things a little easier, there are a variety of clean and dry pumpkins located near the farm's entrance to choose from. Pumpkins are sold by size, so the bigger your pumpkin the more you'll pay. They start at $2 for the smallest pumpkins and go up from there – we usually pay $5-$7 each for our medium-sized pumpkins.
For 2017 Laity Pumpkin Patch is open from 1:30-5:00pm on weekdays, and 9:30 am-5:00 pm on weekends and holidays and the October 20th Pro-D day. Admission is free for under 2s, $5 for adults and kids aged three years and up or $20 per family.
Laity Pumpkin Patch
laitypumpkinpatch.com
21145 128th Avenue, Maple Ridge, 604-467-4302
Amber Strocel
Amber Strocel is a writer, aspiring math teacher, suburbanite, wife and mom of two. She believes in the power of the Internet to connect people, and she believes that numbers are the poetry of the universe. You can often find her knitting, sewing, volunteering, working in her garden, and sneaking chocolate when no one's looking. She blogs at Strocel.com and shares her photos on Instagram as @AmberStrocel.