VancouverMom.ca on Global TV: What to do During the Teachers Strike
Many of us were hoping that our kids would be back in class today. Unfortunately, with no resolution in the labour dispute between BC teachers and the provincial government, that's not happening for public school students. So what can Vancouver parents do during the teachers strike to keep their kids active, engaged and happy? Our own Christine Pilkington recently appeared on Global TV to share some ideas.
What to do in Vancouver During the Teachers Strike
So, what can you do in Vancouver during the teachers strike? Some parents are opting to just extend the summer break. Others are planning vacations now that the rates are a little cheaper. Others are signing up for day camps or checking out their childcare options. Watch the video to get some ideas.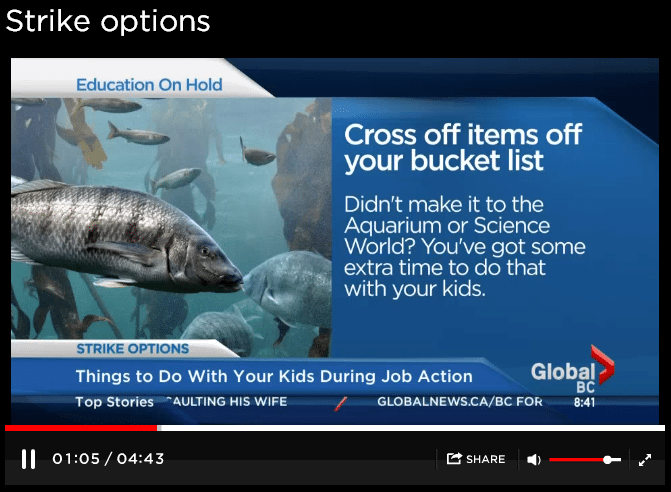 Stay in the Loop
While the kids may not be heading back to school today, we know it will happen sooner or later. When the labour dispute is settled, schools will open very quickly. This means that it's important to stay in the loop. Of course, you can stay up-to-date by tuning in to local media outlets – they're covering the teachers strike heavily. One of the better ways to stay in the loop, though, is to visit the school board's website at vsb.bc.ca. They will not only keep you up-to-date on the job action, but they'll have up-to-date information when back to school happens. Here's a snippet from their latest update, from Superintendent Steve Cardwell:
See Also
"While we remain hopeful that an agreement can be reached in the near future, Vancouver public schools will unfortunately not be able to open as normal on Tuesday, September 2 and for the foreseeable future…This is disappointing news for our staff, and especially our students and families…We have an outstanding public education system in British Columbia and I am proud of the hard work and support provided by all staff in this complex school district. It is my hope that the labour impasse is resolved quickly and that our school district can soon return to normal operations and our staff and students can return to teaching and learning."
What about you – what will you and your children be doing during the teachers strike?
Vancouver Mom
Would you like to write for us? We welcome well-written guest submissions with a local interest slant. Share your tips, review local businesses and highlight hot trends for Vancouver moms. Get all the info on our Contributor Page!