Fall Birthday Party Ideas in Vancouver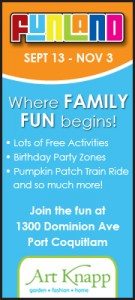 If your child was born during the warm, summer months, you've won the birthday party lottery. You can choose pretty much any location you want, indoors or out, knowing the odds of good weather are high. Consider it payment for being nine months pregnant during the dog days of summer. If your child was born during the fall, however, you know that rain is much more likely. Many outdoor venues close during the autumn months as well, further limiting your choices. So what's a Vancouver mom planning a fall birthday party to do? Today we have suggestions to help you plan the perfect autumn birthday party in Vancouver.
Fall Birthday Party Ideas
Fall Themed Crafts and Activities
There are lots of great fall activities that you can incorporate into an indoor birthday party, whether at home or elsewhere. Think of carving or painting pumpkins, making autumn leaf placemats (collect the leaves, then place them between two clear sheets of contact paper), bobbing for apples and Halloween-inspired games like "pin the nose on Frankenstein". If you need help collecting ideas, head to Pinterest. It's a cornucopia of crafts, activities, decorations and food for all seasons. Speaking of which …
Fall Themed Food
This is arguably the best time of year for party food, with the harvest season in full swing. Anything that incorporates pumpkin, apple or corn as an ingredient has a definite seasonal flair. Think candy apples, pumpkin cookies, or corn on the cob. You may also want to look to classic Halloween treats like candy corn, caramels and popcorn balls. If you decide to embrace the Halloween theme regular food becomes a lot more fun if you give it spooky names. Red fruit punch is now vampire juice, grapes are eyeballs, pasta is blood and guts, and so on.
Lace up Those Skates
Over the summer, many local rinks are ice-free. Now that September is here, skating season has returned to Vancouver. Why not take advantage by planning a birthday party at your local ice rink? As birthday parties outside of the house go, this is a fairly affordable option, especially if your guests already have skates and helmets. To find out more about planning a birthday party on the ice, drop by your local rink, either online or in person. The weather's always the same on the ice, so rain won't ruin your day.
Art Knapp Funland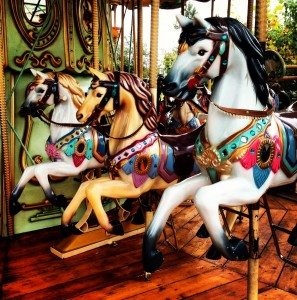 For a seriously fall-themed experience, consider heading to Art Knapp Funland in Port Coquitlam. The fall-themed fun zone is open from September 13 – November 3, 2013. With three private party zones under a large covered area, there's lots of space to spread out on a rainy day. Each birthday party at Funland includes a pumpkin patch train ride, and a party host to keep the fun hopping. There are tons of free activities, including a jungle gym, sandbox excavator, zip line and tire swing. There are also great carnival rides, including a vintage carousel, new this year. You can bring your own food and goodie bags, or buy one or the other (or both) with their food and goodie bag packages.
What are your favourite fall birthday party ideas? Leave a reply and let us know!

This article was sponsored by Art Knapp. Art Knapp is a BC heritage brand that originated in 1953. Wim Vander Zalm and his wife Rose own two locations. Their flagship store in Port Coquitlam boasts over 100,000 sq ft of diverse shopping. Their second store in downtown Vancouver on Hornby and Pacific offers a funky, bright and friendly downtown atmosphere. Known for the very best in quality plant material, Art Knapp also offers an extensive selection of pottery, decorative garden and home decor, plus a new fashion department that includes Vero Moda clothing, scarves, shoes and jewelry and more.
Amber Strocel
Amber Strocel is a writer, aspiring math teacher, suburbanite, wife and mom of two. She believes in the power of the Internet to connect people, and she believes that numbers are the poetry of the universe. You can often find her knitting, sewing, volunteering, working in her garden, and sneaking chocolate when no one's looking. She blogs at Strocel.com and shares her photos on Instagram as @AmberStrocel.