Creating Holiday Traditions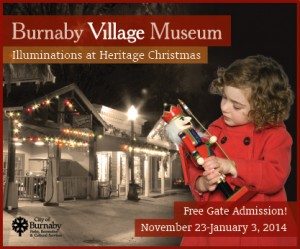 One of the best part of the holiday season is sharing annual traditions with your family. Even very young children eagerly anticipate things like picking out the Christmas tree, hanging the wreath on the front door, visiting Santa, or going out to look at holiday lights. In a city like Vancouver, with families from all across Canada and all over the world, it can be a struggle to build those holiday traditions. Perhaps you're far from home, missing the holiday traditions of your youth. Perhaps you don't have a lot of family around to celebrate with. Or perhaps now that you have children of your own you're working to build your own holiday traditions.
The good news is that whether this is your first Christmas in Vancouver – or your fortieth – you can still create new holiday traditions. Here are our suggestions for how to get started.
Creating Vancouver Holiday Traditions
1. Traditions Mean Continuity
Something becomes a tradition when you do it not just once or twice but time after time, year after year, even generation after generation. If you're doing something for the first time, it will feel more like a tradition if you add something old-fashioned or traditional to the mix. For example, perhaps you could talk to an older relative and find out how they celebrated as a child, or see if your grandmother is willing to pass along a special ornament. Stringing popcorn to decorate the tree will feel more special if you know that your great-aunt used to do this when she was a little girl – or even that this was a way that people decorated their trees in decades past.
2. Write it Down
Something feels more special when you record it, whether in a scrapbook, a photo album or even on a blog or Facebook. Recording the activities your family enjoyed this year will also help you remember when you're re-reading it next year. Over time, holiday traditions will be born, as you make time each year to do things you all enjoy as a family. Making the holiday scrapbook can become a holiday tradition in its own right, as well, especially as children get older and are able to contribute their own words and ideas.
3. Explore the City
There are a lot of great Vancouver holiday traditions, from Bright Nights at Stanley Park, to the Heritage Christmas at Burnaby Village Museum, to Canyon Lights at the Capilano Suspension Bridge, to the Festival of Lights at Van Dusen Gardens, to the Santa Claus Parade. There really is no end to annual events that you can visit with your family. Visit a few that you think your kids might enjoy, based on their ages and temperaments. When you find one you enjoy, make time to go back each year. It's a great way to connect with the city while building holiday traditions and memories your children will cherish.
4. Little Things Matter
When it comes to holiday traditions, bigger isn't always better. Not only with the little memories be some of the most treasured, they'll be a lot easier to orchestrate. Some families present their children with special pajamas each year on Christmas Eve. Others serve a special breakfast each Christmas morning. Still others forgo breakfast and let their children eat oranges and chocolate for one morning a year, while Mom and Dad head back to bed for some much-needed rest after being woken up to open Christmas presents well before dawn. Don't overlook all these little moments when you're creating your holiday traditions.
What about you – what are your favourite Vancouver holiday traditions? We'd love to hear – leave a reply and let us know!

This article was sponsored by Heritage Christmas at Burnaby Village Museum. It's a sparkling winter wonderland, open from November 23, 2013 – January 3, 2014. The favourite illuminated displays featuring multi-coloured lights on the huge sequoia tree by the carousel, the tree-wraps in the Farmhouse orchard, the lacy white lights on the maple tree near Hill Street, and warm-white lights across the bridge are back. New this year, you can create your own magical holiday show with more than 400 twinkling sound-reactive lights at the bandstand. Enjoy the new menagerie of transformed eco-sculptures, stroll through the streets of the Village to enjoy the traditional sights and sounds of Christmases past and pick up your Twelve Days of Christmas Scavenger Hunt sheet and start exploring for the answers. Father Christmas will also be back again this year. Check the online schedule for special seasonal entertainment including live theatre shows, carollers, artisans, musicians and more.
Amber Strocel
Amber Strocel is a writer, aspiring math teacher, suburbanite, wife and mom of two. She believes in the power of the Internet to connect people, and she believes that numbers are the poetry of the universe. You can often find her knitting, sewing, volunteering, working in her garden, and sneaking chocolate when no one's looking. She blogs at Strocel.com and shares her photos on Instagram as @AmberStrocel.