Choosing Music Classes for your Kids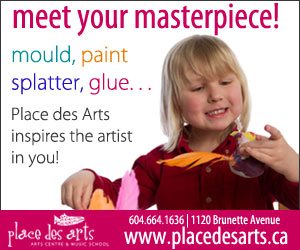 Choosing music classes for your kids can be daunting. How do you decide on the instrument, the method and the teacher? And some music classes are very expensive – so how do you pay for all of it? And at what age should your kids start? We recently connected with Andrew Hildred at Place des Arts to get some insight. He's a Fine and Performing Arts Programmer, with a specialization in music. He's also a father of two. He seemed like the perfect person to chat with about music classes.
Starting Music Classes
To some extent, the question of when to start music classes depends on the instrument that your child is most interested in. Andrew shares his own story as an example, saying, "As a kid I took guitar lessons. But you don't start guitar until you're a little bit older, because guitars are a large instrument. I actually started when I was eight years old." With his own children, music was very important. So, instead of waiting until they were older and starting them on the guitar, he put them into group music classes in the summertime. He shares, "Usually there are places that offer week-long classes. You can just try them out and see what they're like. My older daughter was around three years old, and we found an instructor we just really loved. We were able to continue on with that, and it really worked for us."
Paying for it All
If you've ever investigated music classes for your children, you may have experienced sticker shock. So how can you introduce your kids to music without breaking the bank? Andrew has tips. "Group classes, if you can find them, are really, really useful. Another thing that Place des Arts has that's really good for parents of young children is our junior piano teacher program. They're taught by students who are going through our piano teacher classes, and they're way less expensive." Sometimes you can try a few classes before committing, as well. "We have what we call trial lessons, where the parents and the child can have one lesson before they decide if they want to continue on with that."
What Method Makes Sense?
One of the other big questions is what kind of music classes to choose. Andrew suggests that the instructor is more important than the method. "How does the instructor bond with your kids? How are your kids enjoying the class? When my daughter found an instructor she liked, it created a really great atmosphere to learn. For me it's more important to find something that works for your child." And don't be afraid to chat with a music school to before signing up to make sure everyone's on the same page. Andrew says, "The best thing I would recommend is to talk to the staff and explain what your child is interested in and what your expectation is. Then they can help direct you as to what may be a good choice."
Sign up for Summer Camp
With summer camp registration coming up soon, it's a great time to try music classes with your kids. Place des Arts is offering private music lessons over the summer from July 2 through August 9, 2013. If you sign up for something for a week you can try it out with low commitment, and see how your kids do. And then, come September, many local music schools offer open house events where you can drop in and see what's on offer. Take a trial class, and make sure you have a good fit. After all, music classes are about cultivating a love of music. Taking the time to make sure you have a good fit, and that you're spending your money wisely, is a good way to go.
This article was sponsored by Place des Arts Art Centre & Music School. Have fun and bring home your very own masterpiece! With 40 years of experience, Place des Arts provides quality arts education for all ages and abilities in visual art, music, dance, theatre and creative writing. Small classes ensure individual attention. We inspire the artist in everyone!
www.placedesarts.ca | Twitter | Faceboook
1120 Brunette Avenue, Coquitlam, 604.664.1636
Amber Strocel
Amber Strocel is a writer, aspiring math teacher, suburbanite, wife and mom of two. She believes in the power of the Internet to connect people, and she believes that numbers are the poetry of the universe. You can often find her knitting, sewing, volunteering, working in her garden, and sneaking chocolate when no one's looking. She blogs at Strocel.com and shares her photos on Instagram as @AmberStrocel.