Britannia Mine Museum: Explore, Discover, Learn
We all know and love the giant yellow dump truck on the Sea-to-Sky Highway. But don't just drive past it – the Britannia Mine Museum is an internationally recognized education destination for the whole family. It was revitalized in 2010 with a multi-million redevelopment project, making it an exciting (and entertaining) adventure centre. You can visit this non-profit legacy site seven days a week. And everyone gets to wear a hard hat, which is exciting in itself.
The Mine and Train Ride
Your Britannia Mine Museum ticket includes an underground train, taking you deep into a mining tunnel. The tour guide makes a few stops, teaching you about all the drills and machines that the miners used between 1904-1974 – and what life was like down there. It's geared towards the whole family, so it's fine for young kids. Just hold their hand when they turn off the lights to show you how dark it could get!
Historic Mill Building and Visitor Centre
You can venture inside the 20-storey national historic building set into the cliff-side. This is the part of Britannia Mine Museum that you can see from the Sea-to-Sky. You won't believe the number of stairs the miners used to have to climb to reach the top. There's also an exhibit centre with theatrical mining displays, gallery, theatre space, a gift shop and hall of fame. And yes – kids can press down a pretend explosive lever and 'make the noise'… again… and again.
Gold Panning
There's a lovely cedar-post covered area where you can pan for real gold. Everyone is given a pan to use, and a little zip-lock to keep your findings. Imagine how exciting that is for a kid (and for big kids too).
More Kid-Friendly Fun
In addition, there's an exhibition centre showcasing stories from old; a machine shop that houses historic machines and equipment; an archive of rock core samples; a water treatment plant – and a lovely, sunlit play area for families, where you can have fun in a Super Haul truck and zoom around with toy diggers, trucks and hoppers.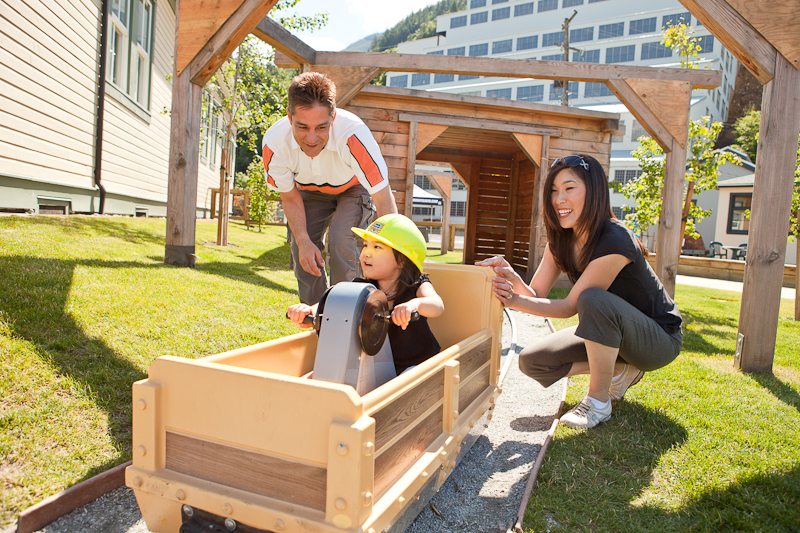 Where to Find Britannia Mine Museum
Halfway between Vancouver and Whistler, and only 10 minutes from Squamish, the Britannia Mine Museum is a perfect stop whilst travelling along the Sea-to-Sky – as well as a destination itself. Look for the yellow truck! Adult admission is $25, 13-18 year olds are $21, children 5-12 are $17 and kids 4 and under are free. Or purchase a family day rate for up to two adults and three kids for $92, or an annual membership for $115. The Britannia Mine Museum is open seven days a week from 9:00am-5:30pm.
Britannia Mine Museum
Jackie Bateman
Jackie Bateman is an author and copywriter based on the North Shore. She has two children and several eye-bags. In between picking up goldfish crackers and making grilled cheese sandwiches, she writes dark, psychological thrillers. Drop by her website at www.jacbateman.com or follow her on Twitter where she's @jacbateman.