8 weekend events for families in Metro Vancouver July 6 & 7 2019
The Canada Day Long weekend is done for another year, but it's summer in the city, which means plenty 'o fun for the fam! There are tons of festivals from downtown Vancouver to Whistler all with family/kids zones or a complete dedication to all things kid. There's also art-making, roller skating and theatre. Enjoy!
Khatsahlano Street Party (& Kid's Zone) *Free*
Saturday, July 6 2019 Vancouver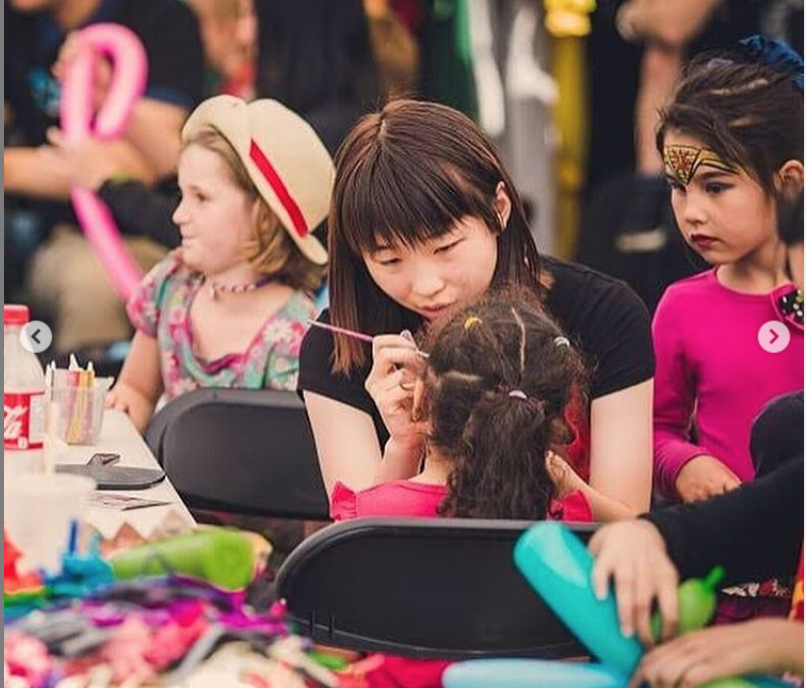 If you and the fam are looking for a street party, head to Kitsilano's West 4th Ave for an epic 10-block street fair from Burrard to MacDonald. Listen to a few of the 50 slated Vancouver's bands, and take the kids to the Family Zone at 4th & Trafalgar for kids' entertainers, face painting, bean bag games, bouncy castles, hoola hooping, arts and crafts and more!
Vancouver Symphony at Sunset Beach
Sunday, July 7 2019, Vancouver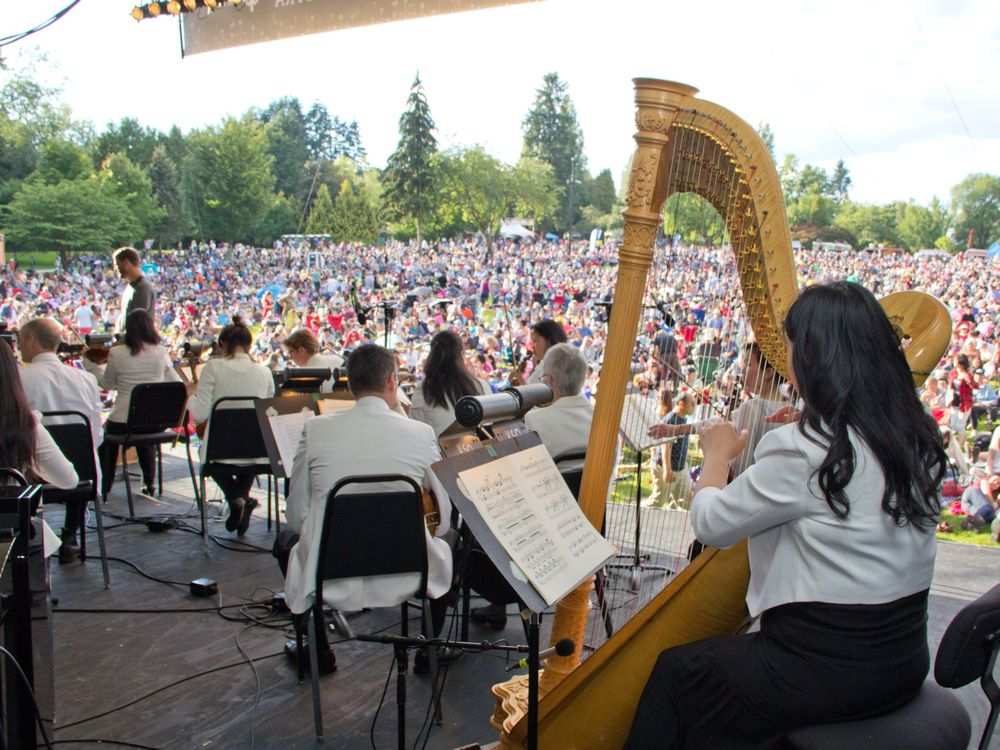 The VSO is also presenting its second concert on Vancouver's Sunset Beach. Talk about a magical setting. Bound to be jam-packed (attracted 14,000 people last year) free concert.
Car-free days on The Drive *Free*
Sunday July 7 2019, Vancouver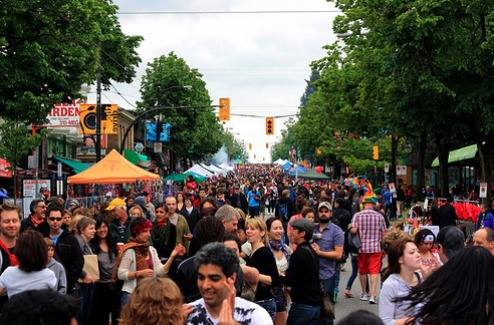 Stretching across 15 blocks, the fest features amazing local artisans, musicians, community activities, delicious food, tons of entertainment and activities for all ages. As the place that Car Free Day began, Commercial Drive stays true to its grassroots beginnings with a message of advocacy and activism for providing car free spaces and green culture for the community.
>> Car-free Day on Commercial Drive
Whistler Children's Festival
July 5-7, 2019 Whistler
Thinking about visiting Whistler this summer but not totally sure what do to with the littles? If you want a slam dunk, guaranteed family fun weekend, head up the Sea to Sky for the Whistler Children's Festival. It all takes place on July 5-7, 2019 with hands-on arts activities, live theatre, toe-tapping dance and music, and magical performances at Whistler Olympic Plaza.

>> Whistler Children's Festival
Pop-Up Roller Rink – All 80s!
Sat­ur­day, July 6 2019, Vancouver
Put on your red leather jacket and start up the DeLoren, because these roller skaters are going back to the 80s! Throwbacks start at 12 pm with the All-Ages Family Skate followed by the Me Generation. Rental skates available, but sizes are limited. Use the promo code MINIPOPS to get 25% off for families of 3 or more. PS: Bring a helmet!
>> Pop-Up Roller Rink – All 80s!
Carnaval del Sol
Saturday & Sunday July 6 & 7 2019, Vancouver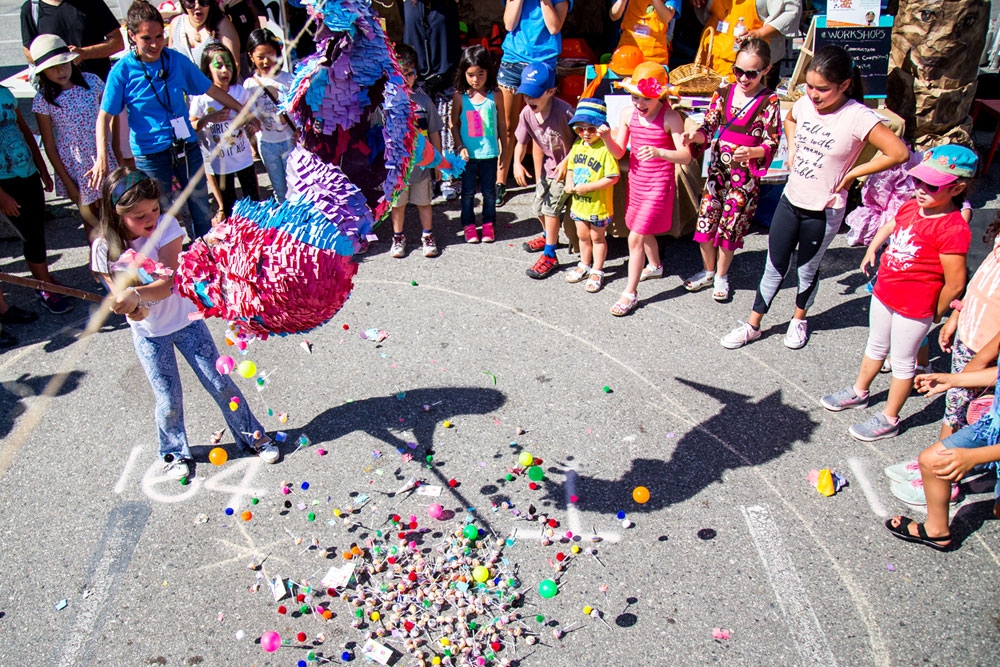 Get your Latino on this summer at the sprawling Carnval del Sol featuring more than 450 artists who will perform at the main stage and plazas. Explore cuisine from Mexico, Caribbean Islands, Brazil, Spain, Colombia, Venezuela, El Salvador, and more. The Kids Plaza will have arts and crafts, puppet shows, magic, pinata-making workshops, and balloon art.
Bard on the Beach Family Day
Saturday July 6 2019 at Vanier Park in Vancouver
Expose your kids to the epic poems of the most famous Bard of all in a child-friendly atmosphere. Arrive at the Village early for the PIXSTAR photobooth and an exclusive pre-show talk designed just for kids. Then enjoy a performance of the hilarious Wild-West love story, The Taming of the Shrew. PS: Receive $10 off each adult ticket for each youth ticket purchased.
>> Bard on the Beach Family Days
ArtStarts Explores *Free*
Saturday July 6 2019, Vancouver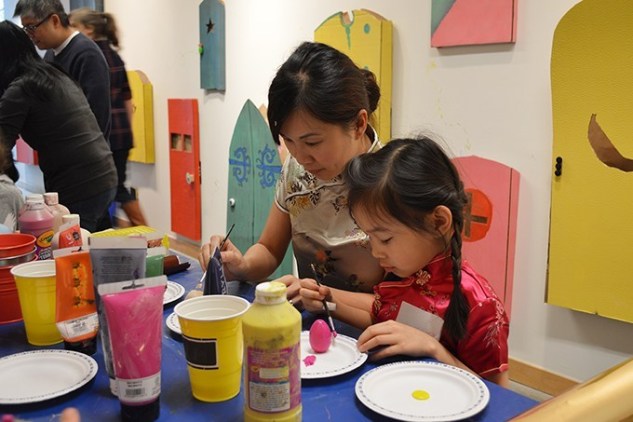 This fun, free drop-in program invites families to investigate and discover the world around them through observing, touching, drawing, moving, getting messy, and listening to inspire creative learning. PS: There are now "Daily Explores" from Tuesday–Friday, from 10 am–4:30 pm all summer long!
Find more weekend events …
Find even more events like Shadows and Strings and Other Things, The Enchanting Theatre of Puppets at the MOA event on our VancouverMom Family Events Calendar!
Harriet Fancott
Harriet Fancott is the Editor and Social Media Manager for Vancouver Mom. She has over 20 years experience in the arts, tech and mom-based blogging arenas. She lives in East Vancouver with her husband and son where they enjoy exploring all that Vancouver has to offer from festivals and events to playgrounds and beaches to sushi and ice cream (although not together).