Baby Guide: Three perfect Vancouver outings to take with baby
"TGIF!" said someone, somewhere, who had a concept of what day of the week it was! If you're on maternity leave or have a young child, the days probably all blur together, but that's no reason not to get out and about on the weekend. We know what a challenge it can be just to get out the door, so enjoy all or a part of one of these three baby and family friendly Vancouver activities.
Three perfect Vancouver outings to take with baby
Explore your senses at Granville Island
One visit won't be enough. This little hub of sweet sights, sounds and smells will amaze your little one and get all their senses going! For the adults, get a coffee to go from Off the Tracks Espresso Bar & Bistro, stroller or wander your way to Bread Affair for a mouth-watering almond croissant, and wander your way around all the little shops, and then through the famous Granville Island Public Market to pick up some sweet smelling flowers, produce for the weekend or fresh pasta for dinner (be warned it does get busy on weekends, so there may be some stroller traffic). If you're looking for a change table, find the family bathroom towards the west end of the market between the food and fresh produce sections.
If the crowds are too much, head south-east and find yourself meandering past a little duck pond and enjoy a stretch of the Vancouver Seawall in either direction. If baby needs a stretch, a feed or change before you embark on a walk or heading home, stop in at False Creek Community Centre (east of the duck pond and right of the park) where you can find comfy couches in the back rec room and bathrooms with change tables.
Splash & play at Hillcrest Aquatic Centre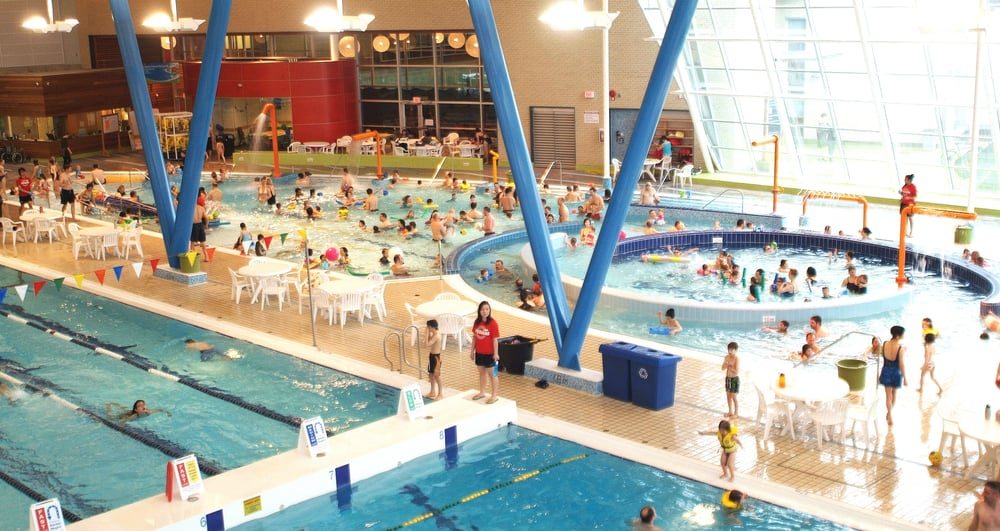 Baby swimsuits are way too cute to reserve just for summer. Make use of those little suits before they're tucked away forever and head to the pool at Hillcrest Aquatic Centre, rain or shine. There's an ample size kids pool that includes fountain features, a lazy river, and lots of engaging water features to keep everyone engaged. The water temperature is baby friendly and the pool's all day and evening hours are bound to work with all nap schedules. The price is right with a family rate of $3.01 per adult (children under 3 are free!), plus there's a café bistro on site so that you can fuel up.
In addition to your usual baby day out haul bring: a swim diaper, bathing suit, extra diapers, long sleeve and pants (in case baby is a bit chilled after the water), an extra towel and a quarter for the lockers. Free parking is right next to the community centre.
Stroll along the scenic Kits Beach seawall
Does an activity seem nearly impossible at this stage? Pack up the basics and get yourself out the door, carrier or stroller in tow. Be snap happy as you enjoy this picture perfect route that also conveniently offers several bathroom facilities along the way, (not as picture worthy!), as well as a park with baby swings, and lots of benches or grass spots to lay down a blanket if the rains have held off. Baby will delight in the fresh air. Find pay parking at the Easy Park lot right by the beach, or free street parking on one of the residential streets nearby.
Tired or no time to eat? Start with a visit to Starbucks located at Yew & Cornwall to do a diaper change and get yourself a treat before venturing. Walk down to the beach and head east along the paved pathway beyond the Boat House Restaurant. Follow the path for as long as you like, tucking into HR MacMillan Space Centre if the weather turns, or continue onwards to the Burrard Civic Martina where you can get a quick sip of water (washrooms only open Monday to Fridays). Head back to Kits Beach to enjoy one of Yew Street's many eateries, or keep going to reach Granville Island (30-40 minutes one way).
Banner photo by Liana Mikah via Unsplash
Renee Janzen
A connector by nature, Renee loves to bring people together and is fueled by thoughtful conversations, family style meals and perfecting details. Hikes for the views, thinks variety is the spice of life, and is always up for an adventure with her husband and their two young daughters. A fulltime marketer by day, Renee recently moved back to the North Shore where you can find her busy with work Zoom calls, home renos, and enjoying the great outdoors with her family.