Rowena's Inn, a perfect blend of nature and comfort
https://www.instagram.com/p/B14L6haA7Ka/
https://www.instagram.com/p/B0XHclQgSvv/
There are two types of Vancouverites: those who camp and those who don't. Camping is well loved by both adults and kids but what about those of us who want a little rustic zen without giving up modern day luxuries like wifi or Netflix? This summer we stayed at Rowena's Inn in Harrison and loved that the new waterfront luxury cottages combined the best of both.
6 reasons to experience Rowena's luxury cottages in Harrison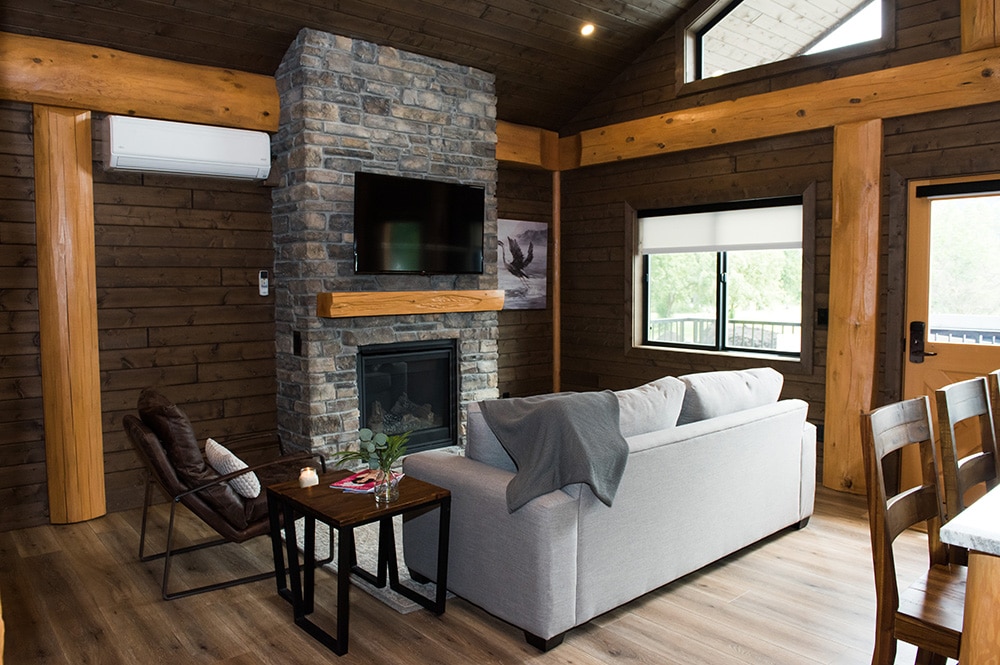 Cabins are surrounded by nature
There's so many known benefits when you're at one with nature, calmer kids and mama, for one! But with younger kids (hello diaper blowouts!), camping can be a bit…basic. No parent wants to clean dirty bums in a cold, dimly lit forest potty. Modern day luxuries like running water is s convenient to have. Also available: cable TV, wifi, dishwasher, fridge with freezer.
Waterfront view
Picture this: You wake up before the kids. You make a fresh cup of java and sneak outside to the large porch. Or maybe you unroll your yoga mat and practice a few sun salutations. Or take a walk through the wildflower field and head towards the lake. Nothing can beat that fresh and crisp morning air.
Explore the trails
Go for a family stroll amongst the trees. If someone trips in the mud, it's all good because the large bathtubs make bath-time extra fun!
#Poolside
It's hard to say no to a pool – you certainly can't find that at a campsite.
Pro Tip: This would also be a great stay for a weekend getaway or a bachelorette party!
Affordable eats
Cooking can have its challenges when camping (anyone else leave behind a whole cooler of food at home before?). The Clubhouse Restaurant is just steps away from the luxury cabins. They have daily specials for lunch and dinner and their breakfast buffet is a favourite, especially picky eaters! 
Pro Tip: The cabins also have full-sized fridges and microwaves if you prefer to pack your own grub.
Give yourself a break too
If you're into golfing, hit the green early before the rest of the fam wake up. Runners can also take advantage of the trails in the trees or run lakeside. There's also plenty of space in front of the antique barn to do a circuit workout.
The author received a complimentary stay at Rowena's Inn.
Reg Lok Von
The blogger behind Nourish Through Movement, Reg Von Lok writes about DIY and style, nourishment through movement and integrates it all with motherhood, family and life's curveballs. She lives live in the Metro Vancouver area with my husband and two girls.