Look out, Clark W. Griswald; there's a new amateur recreational saucer sled racer in town. That's right; it's snow time! The Snowmaggedon has arrived, and one thing is for sure: now that it's here, everyone you've ever met will be at the local sledding hill. So don't wait until the last minute (save that time for frantically searching your house for long underwear), and arm yourself with this list of the top 10 places to go sledding and snow tubing in Metro Vancouver. We've also added some sledding safety tips because getting hurt is snow laughing matter.
Pro Sledding Tips
Check your equipment – before your kids hop on their sleds, check to ensure the sled is intact. It likely hasn't been used since last winter.
Wear a helmet – admittedly, it's easily forgotten, but it's good practice to wear one when sledding. While a snow sport helmet is best, any properly fitted helmet will do.
Bring extra gloves – cue scene from Dumb & Dumber. Wearing wet gloves is the quickest way to wrap up a sledding session prematurely, so bring an extra pair!
Wear googles/sunglasses – There is such a thing as "snow blindness." It's essentially a sunburn for your eyes (read: Avoid. Avoid. Avoid).
Remind your kids to move quickly out of the way once they've reached the bottom of the hill; they should walk back up the hill on the side and steer clear of the middle.
Teach them to roll sideways off the sled before running into an obstacle.
Go early – you'll never regret being one of the first on the hill. You'll always regret circling the block ten times to find parking.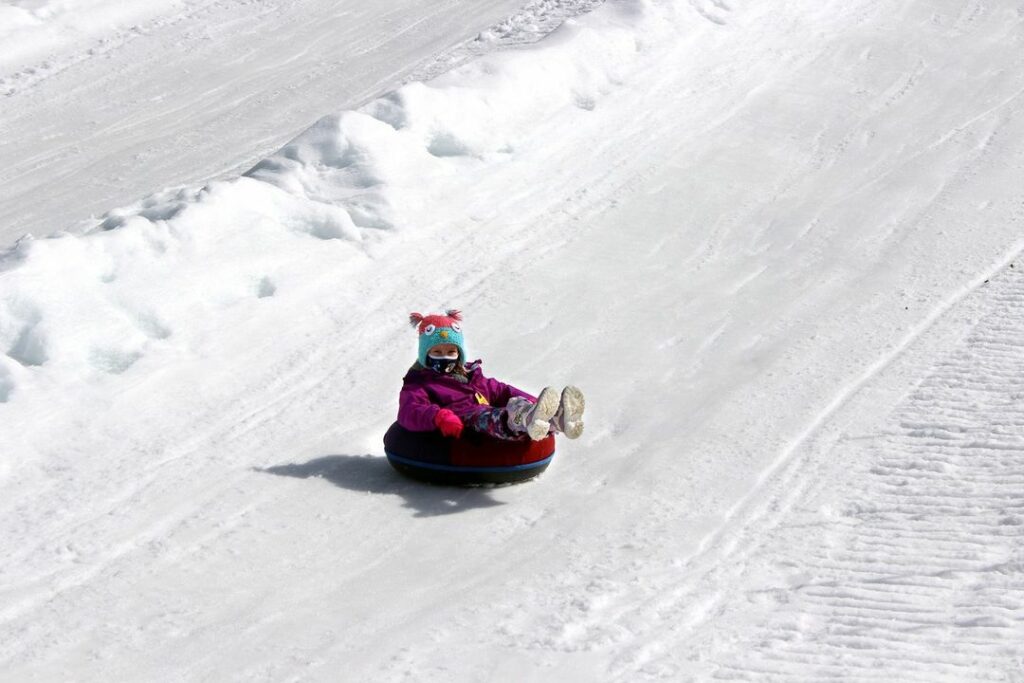 Mountain Resort Sledding
For those who want the full tobogganing and tubing experience, check out what our local mountains have to offer.
Gnarly's Tube Park, Cypress Mountain 
6000 Cypress Bowl Road, West Vancouver
Break out your inner 80's surf slang and get ready for the totally tubular Gnarly's Tube Park at Cypress Mountain Resort. The park is located in the Nordic Area and features six lanes that are about 100 metres long. And once you've shred some serious tubing gnar, there's a tube tow to bring you back to the top of the hill. For those under age six, there's a separate sliding area with a gentle slope nearby (bring your own non-inflatable sled). The tube park is so rad that it's recommended you pre-book your two-hour time slot well in advance. Tube sessions cost $32 while entry to the sliding area is $10, and kids under 10 must be accompanied by a paying adult. Can you say, awesome?
Sliding Zone, Grouse Mountain
6400 Nancy Greene Way, North Vancouver 
If you're looking to plan a day of snowy sledding fun, then check out the Sliding Zone at the top of Grouse Mountain. You'll find two groomed sliding lanes just west of the skating pond. As the slope is fairly short, this is a good option for littles ones. Sleds must be rented from Grouse Mountain ($5 each) and because you're already having to purchase a gondola ticket ($26-$51), be sure to take advantage of your time on the mountain. Go for a spin on the outdoor skate pond, initiate a family-friendly snowball fight, soar down the Sliding Zone, and grab a hot chocolate. A day well spent.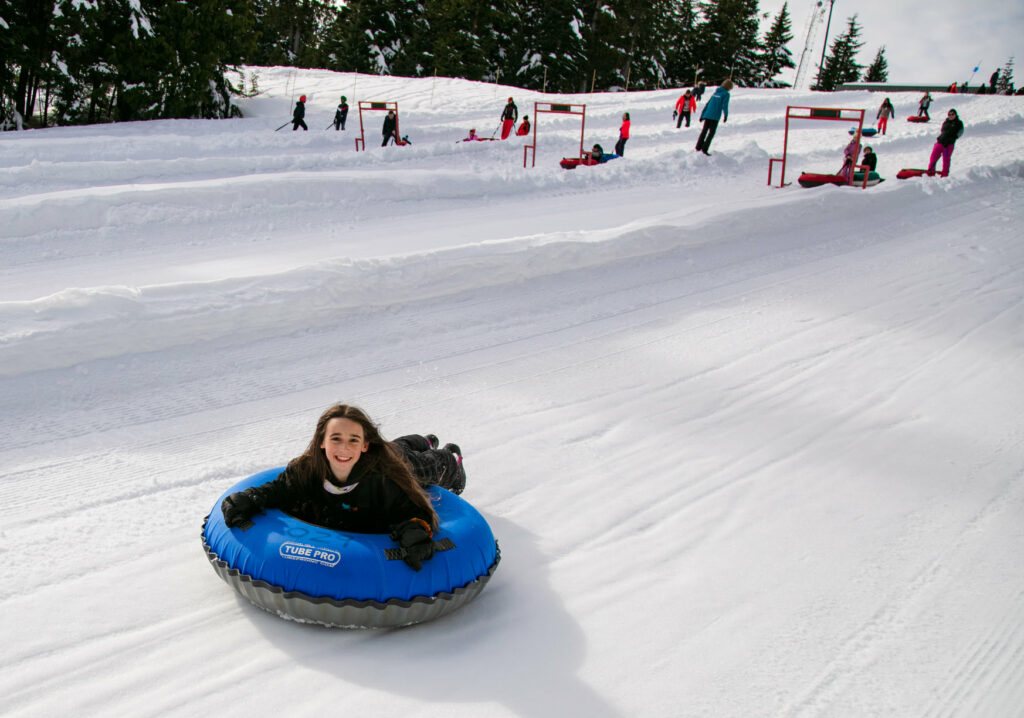 Toboggan and Snow Tube Park, Mount Seymour
1700 Mt Seymour Road, North Vancouver
Tobogganing and tubing unite in the ultimate sledding experience at Mount Seymour. The Toboggan Park is fun for all ages and features several groomed lanes for sledding. Bring your own non-inflatable sled or toboggan, or buy a sliding mat onsite for $10. And if you want to take it up a notch, head over to the Snow Tube Park where you'll find lots of lanes to ride down as well as a tube tow to take you back up the hill. Tubing costs $25 for a two-hour session and includes the use of a specially designed tube. Admission to the Toboggan Park is $10-$15 depending on the day of the week. While there are no age restrictions in either park, the tube park requires that all riders must be 122 cm or 4 ft. tall. 

>> Mt. Seymour
City Sledding
For those who want to sled in the city when the next major snowfall hits, check out these spots around Metro Vancouver.
Burnaby Mountain Conservation Area 
100 Centennial Way, Burnaby
There are those sledding hills meant for kids of all ages and then there's Burnaby Mountain Park. The mountain's high elevation and steep slopes lead to ideal sledding conditions for thrill-seekers. This option is best for older kids and adults, but wear a helmet as obstacles such as rocks and trees can be difficult to see when sledding at a high speed. FYI: the City of Burnaby does not encourage sledding on the mountain. Take caution if you decide to go and also be prepared for crowds as this is one of the more popular spots for sledding. 
>> Burnaby Mountain Conservation Area
Carisbrooke Park, North Vancouver 
Lonsdale Avenue and Osborne Road East, North Vancouver
One of the lesser-known spots, Carisbrooke Park is an excellent option for kids of all ages. The park is tucked away at the top of Lonsdale Avenue and has a gentle slope, making it ideal for little ones who may be new to sledding. In comparison to some of the other sledding spots in North Vancouver, the higher elevation at Carisbrooke Park also means that it's likely to get more than a sprinkle of snow.
China Creek North Park, Vancouver
1001 East 7th Avenue, Vancouver
Are you stoked to go sledding but would rather skip having to drive in the snow? For a transit-friendly option, check out China Creek North Park, which is a short walk from the VCC-Clark SkyTrain Station. The park has a large open field with a short but steep hill – just the right length to satisfy kids of all ages. As this spot is in a central area, expect it to get busy quickly.
Coquitlam Crunch, Coquitlam 
2635 Runnel Drive, Coquitlam
The Coquitlam Crunch is known as a less intense version of the Grouse Grind so you know it has serious sledding potential. You'll find a wide-open slope below the trail's hydro power lines – a popular spot for daredevil sledders as soon as the snow hits. Kids love to soar over the many jumps but be weary of icy conditions because falling on hard-packed snow isn't so cool (get it?).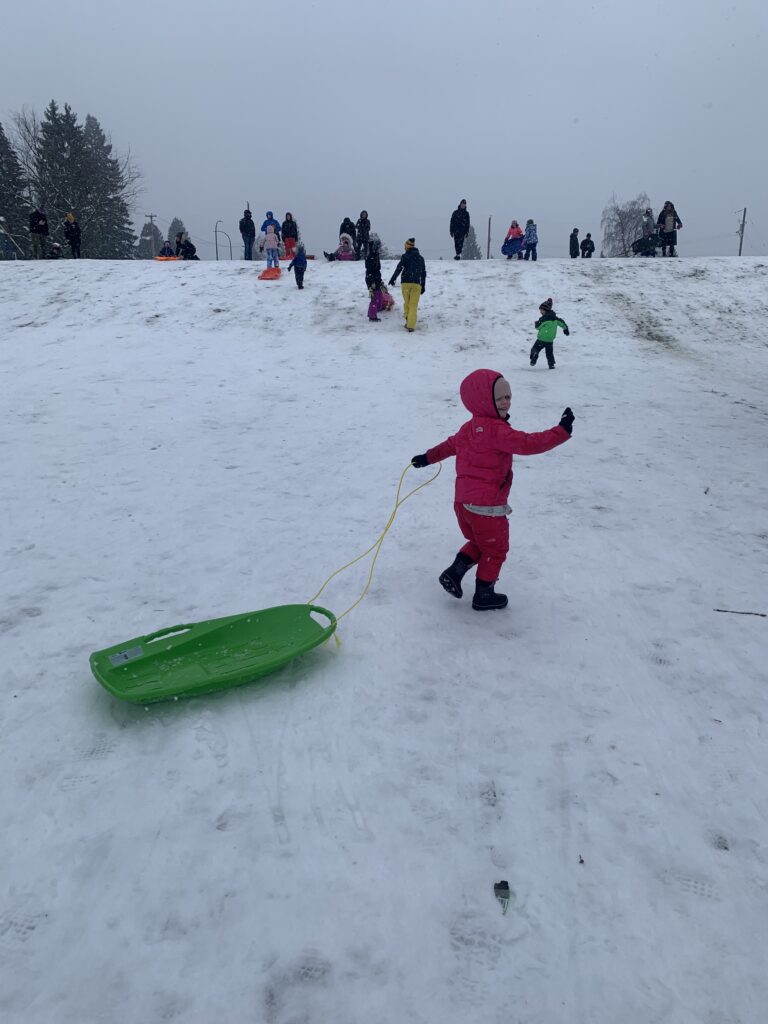 Diefenbaker Park, Delta
5579 1 Avenue, Delta
To Tsawwassen locals, Diefenbaker Park is a hands-down favourite spot for sledding. But for those that have never been, the park gains major points for having a large, wide-open hill with a gentle slope. There's lots of room for everyone, even on a busy day. And be sure to take advantage of the nearby playground and duck pond while you're there. Bonus: plenty of accessible parking but aim to get their early to snag a spot.
Queen Elizabeth Park, Vancouver
West 33rd Avenue and Cambie Street, Vancouver
It doesn't get much better for city sledding than Queen Elizabeth Park – after all, it is the highest point in Vancouver! There are lots of options – from gentle slopes to steeper hills – to satisfy everyone in the family. You'll be snow happy you came. However, be prepared to walk as parking can be challenging on a busy snow day.
Ray Perrault Park, North Vancouver
1310 Grand Boulevard East, North Vancouver
Head down Grand Boulevard in North Vancouver and you can't miss Ray Perrault Park. The sprawling park has a short yet steep hill with ample space for sledding. Keep in mind that this is a more popular spot so may not be the best option if you're looking to avoid crowds. Bonus: there's a great playground on 13th Street East for when kids want to take a break in between sledding sessions.
Whether you set your sights on a ski hill or playing at a nearby park is your preference, there are countless spots for sledding fun in Metro Vancouver. Stay safe and remember to check snow and road conditions before you go, and be sure to bring a mask if required.
Want to know our top picks for tobogganing in Vancouver?
>> Best Sledding Hills in Metro Vancouver


Lindsay Marett
Born and raised on the North Shore, Lindsay loves calling this picturesque part of the world home. After having spent more than 12 years working in a PR agency, Lindsay hung up her heels and stepped back to focus on life at home with her husband and two girls. She's still figuring out what she wants to be when she grows up, but you can bet it will involve writing … and eating cookies.