Where to Eat in Vancouver: Nelson the Seagull
Amongst the awesome scenery of Gastown there is this really amazing little place to go and grab a healthy, and most of the time both local and organic, brunch. Before you and your girlfriend or family head out to do your shopping this is just one of those random little places you must take the time to check out and add to your list of where to eat in Vancouver. Nelson the Seagull provides a really amazing, incredibly open, vintage space for you to enjoy either a sunny or rainy day here in the city.
Run by an amazing group of friends, Nelson the Seagull is one of the most unique places to visit that I have seen in a really long time. Vancouver is filled with amazing little surprises and this is definitely one of them. They pride themselves on doing their best to source local and organic produce that you can feel great about eating for all their lovely nibbles and drinks. Even their amazing coffees use organic milk and you can taste the difference it makes to your cappuccino.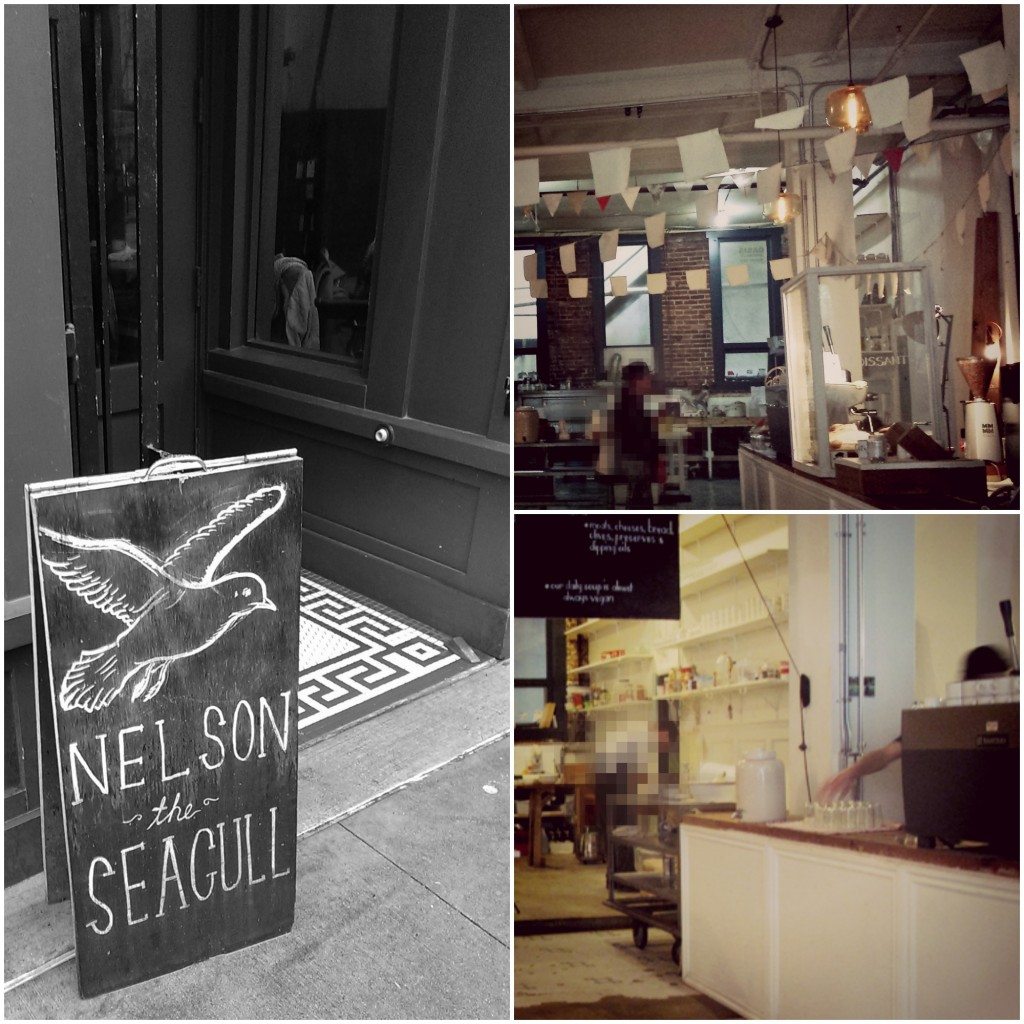 Where to Eat in Vancouver While People Watching
Personally I love to hit up Nelson the Seagull when I'm doing a downtown trip all on my own. It is a great place to people watch, enjoy a light meal, have an amazing cappuccino and find some inspiration. I usually always order their "Avo on Toast", which is lovely ripe sliced avocado on top of specialty bread sprinkled with salt and pepper. It is light and always hits the spot for me while I'm enjoying the space to its fullest. Nelson the Seagull doesn't have any available highchairs but this is a very welcoming and big space so strollers, car seats, children and breastfeeders are always greeted with a huge smile. This is where to eat in Vancouver to escape the rain with your family and have a nibble.
When going with a friend or your family I suggest their picnic board. It's a totally drool-worthy collection of local and organic nibbles, enough that you can all dive in and share. It would also be incredibly easy to keep nibbling while you had your little one latched and eating too! They give you a really large selection of breads to try, meats, cheeses, fresh and dried fruit along with an array of yummy spread and dips that I can't rave about enough. It's also very toddler-friendly.
Did Someone Say Lemonade?
To wash your meal down, if you aren't into or can't drink coffee, I suggest you spend the two dollars on their lovely house made lemonade. It is just sour enough to be thirst quenching.  I have never been a fan of lemonade that is really sweet and this is the perfect balance. In fact both my boys enjoy this when we stop in and they will share one.
The love that this family of friends has put into Nelson the Seagull really shows in everything that they do.  Each ingredient has been tested, hunted down, and prepared lovingly by them every day. Make sure you add it to your list of where to eat in Vancouver and enjoy what this place has to offer!
Nelson the Seagull
Twitter | Facebook
315 Carrall Street, Vancouver, 604-681-5776
Eschelle Westwood
Eschelle Westwood is the writer of Mumfection and is a dedicated young mother to two wonderful (though mischievous at times) boys. In between school drop offs, scraped knees, and milk spills you can usually find her on Twitter or on her hilarious Facebook page.