Where to Eat in Vancouver: Earnest Ice Cream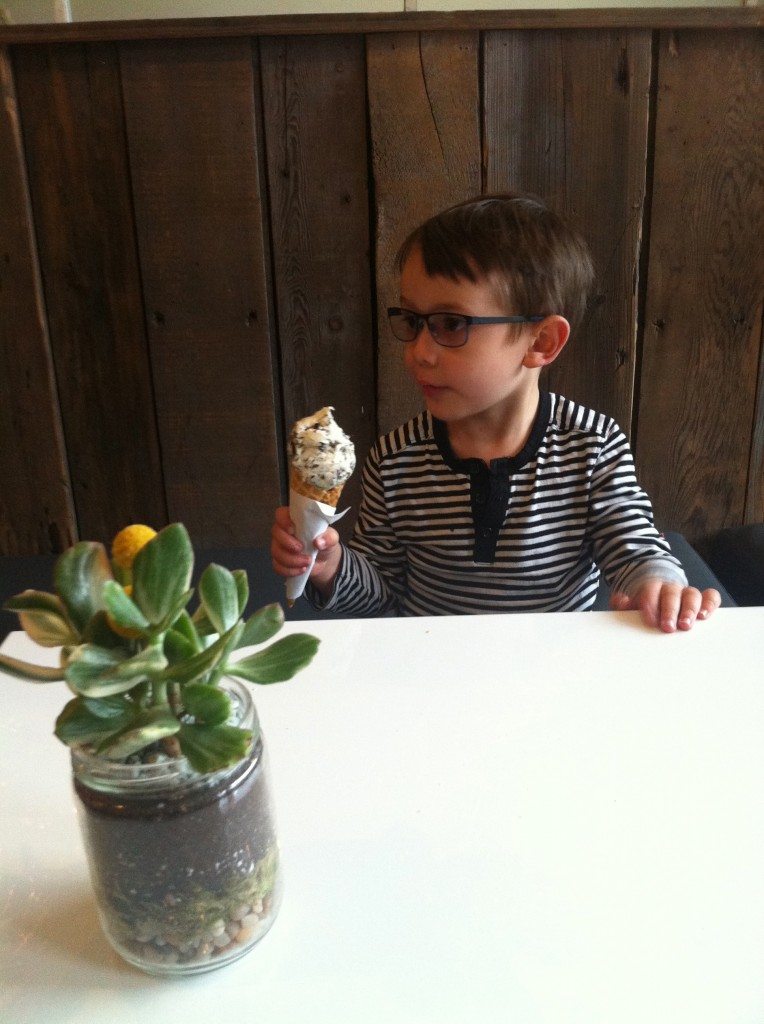 At the beginning of the summer I tracked down a jar of salted caramel Earnest Ice Cream in the fridge of Harvest Union Foods in Strathcona. Let me tell you, there was a battle at our house when it came down to the bottom. I was so thrilled to hear they were opening their own storefront and ice cream parlour. I immediately added it to my list of where to eat in Vancouver.
Where to Eat in Vancouver for Ice Cream and Coffee
Beautifully spare in creamy whites and dark weathered wood, the space on Fraser Street feels like a West Coast design blog come to life – terrariums on the tables, metal pipes for fixtures and simple lights. Their menu is refreshingly spare – ice cream and Matchstick coffee. That's it.
Up to eight flavours are available in a cup or waffle cone, or in an affogato, a wonderful Italian invention where a shot of hot espresso is poured over ice cream. There always seems to be a vegan flavour on offer as well. Jars of take home ice cream are in the fridge just past the counter.
The Good Stuff
A single scoop is $5, a double is $7 and the pint jars are $11. It isn't Dairy Queen, that is for sure, but ice cream can be so full of artificial ingredients and fillers, it's worth paying for the good stuff. Starting with local milk, cream and eggs, you can figure out the rest from the flavour. The folks at behind the counter are happy to tell you what's in each one.
With big bench seating and spinny stools, it's an easy place to take mobile little ones. We asked for a small scoop and were given a 'children's cone' for $4, though it's not on the menu. There are no high chairs, but it's not a place you would be sitting for much over 15 minutes anyway.
"I Can't Stop Eating It!"
I took my son to try it out, and he was slurping his way through a scoop of cookies and cream. I asked for a taste and he looked at me. "Mummy, I love you a lot, but no. This is just so yum, I can't stop eating it!" So there you are. It even trumps Mum. My salted caramel was amazing too, and I even shared it.
It's worth noting that they take cash and credit cards, but not debit cards, and they're open Thursday through Sunday.
Earnest Ice Cream
earnesticecream.com | Twitter | Facebook
3992 Fraser Street & 829 Quebec Street Vancouver Vancouver
Erin McGann
Erin McGann is the former Managing Editor for Vancouver Mom and Toronto Mom Now. She drinks just a bit too much coffee, is a bit obsessed about sourcing local food, plays the cello moderately well, spends too much time on Twitter, keeps honeybees on a rooftop, and has a thing for single-malt whisky. Erin is working on a novel set in turn-of-the-century Vancouver, which her husband, son and dog have to hear about all the time, and also blogs at Erin at Large.