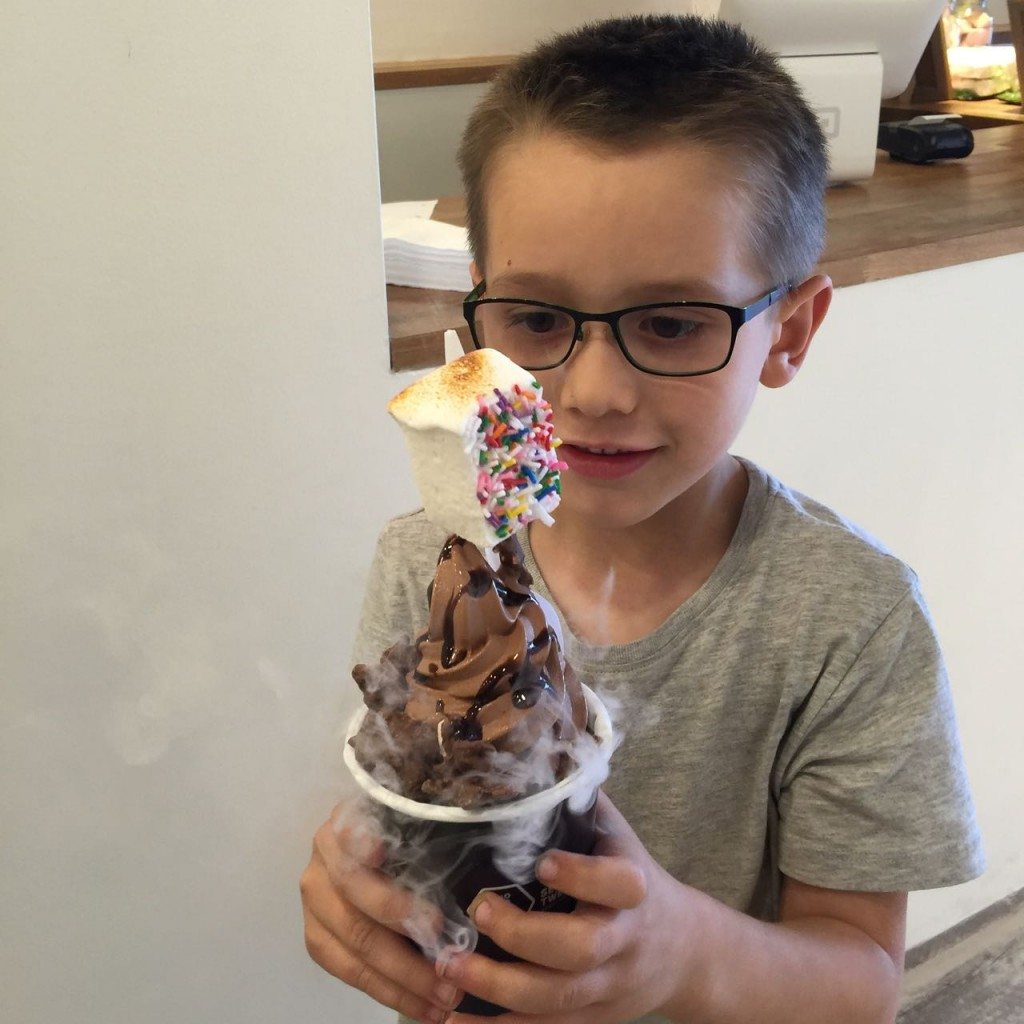 A new ice cream treat place on the west side? You know us, we couldn't keep hearing about it and not check it out ourselves. For you, of course. Of course!
Smoking sundaes, literally
As we approached 720 Sweets, other pedestrians were stopping to ask the two girls outside about their ice cream. Soon we found out why. Each sundae is presented in a double cup arrangement, with a piece of dry ice cleverly contained under the inner cup – so your ice cream appears to smoke! It is mesmerizing. My 6 year old was having a great time, and the little guy in the buggy who came in afterwards couldn't take his eyes off it.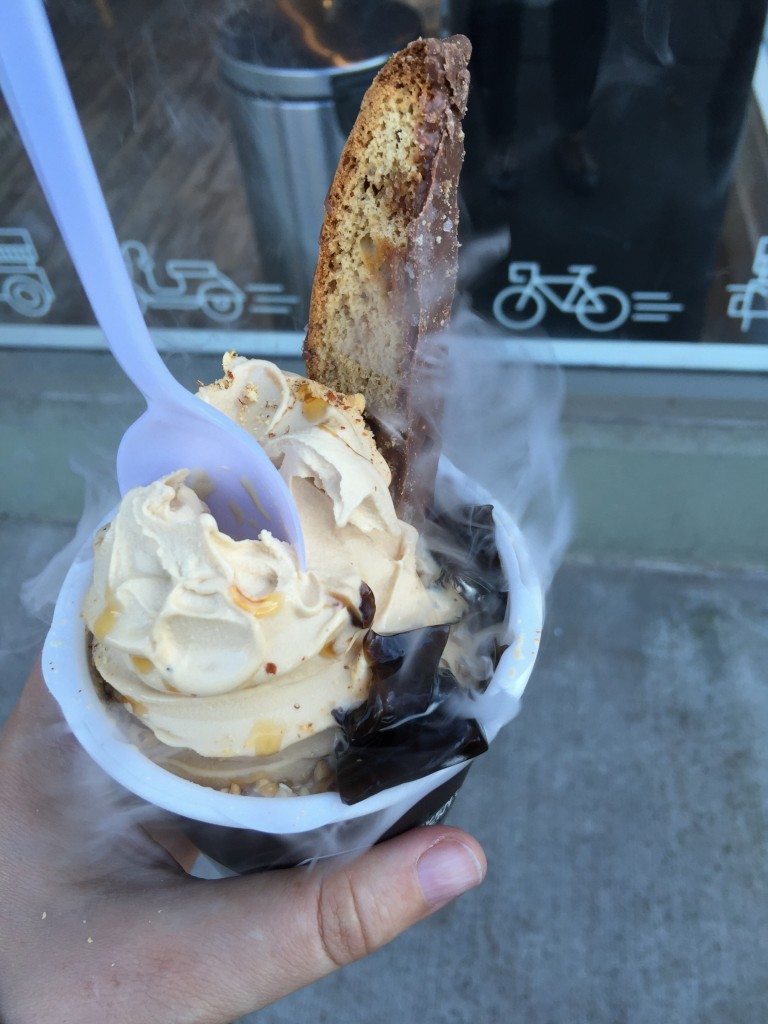 Plan to stand
There are only a few seats, and they're all tall stools. There's not much room to maneuver a buggy either, so if you've got small ones with you, plan to go for a walk. There are benches on quite a few corners in this neighbourhood, so it might be best to hightail it as soon as everyone has their ice cream. It's also worth noting they are only open Wednesday through Sunday, from 3pm to 10pm.
Towering options
This little shop has only been open a matter of weeks, and they've cleverly stuck to a small menu to start with. From the five options on their website, four were available when we visited, and then they were having trouble with one of those, so we were down to three. My son went for the S'mores with toasted artisan marshmallow, chocolate corn flakes, crunchy almond stick, dark chocolate drizzle, and chocolate soft serve. We were warned that the chocolate was on the bitter side when we ordered, but my son was keen anyway. He loved the marshmallow, which they toasted in front of us with a brûlée torch, and all those chocolate corn flakes. He liked the chocolate soft serve at first, but powered out about halfway through. Good thing, considering the finished product was nearly as big as his head.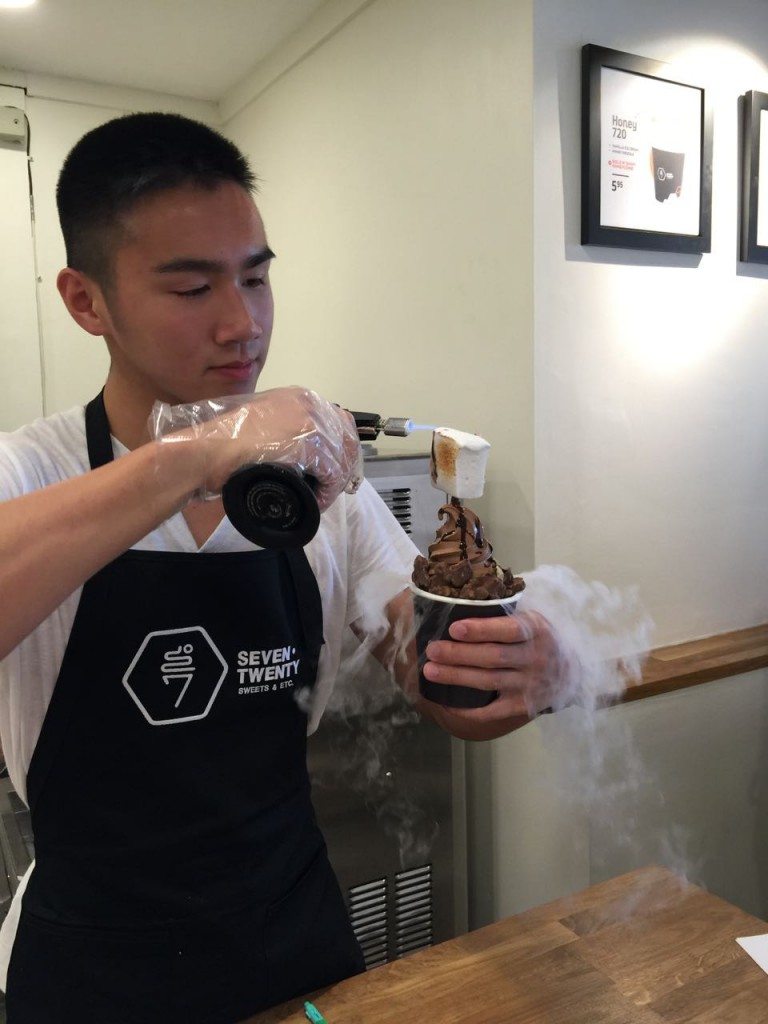 > Check it out
Some of favourite ice cream places in Vancouver
Grown up tastes
I had the Milk'ee – milk tea soft serve, crushed walnuts, caramel drizzle, espresso jelly cubes, and an almond biscuit. It was good, but all the things going on overwhelmed the delicate flavour of the milk tea soft serve. The different textures between crunchy nuts, espresso jelly, and the soft serve was neat. And it's hard not to stand there and marvel at the dry ice cloud for ages anyway. We were disappointed at the lack of their Cloud Nine treat, which features a puffball of cotton candy on top, according to the website.
It's a fun stop if you're in the neighbourhood, for the dry ice alone, but definitely share one sundae between two of you.
720 Sweets | 3278 W Broadway, Vancouver
Find more great places for moms just like you. Download JellyBeen, the social mobile app to find the best places to shop, eat and play with kids.
Erin McGann
Erin McGann is the former Managing Editor for Vancouver Mom and Toronto Mom Now. She drinks just a bit too much coffee, is a bit obsessed about sourcing local food, plays the cello moderately well, spends too much time on Twitter, keeps honeybees on a rooftop, and has a thing for single-malt whisky. Erin is working on a novel set in turn-of-the-century Vancouver, which her husband, son and dog have to hear about all the time, and also blogs at Erin at Large.