Mom needs her coffee, and when the kids are in tow, these cafés  hit the spot with quality java hits and happening play areas.
The Professor and The Pigeon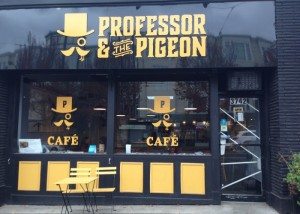 This new coffee shop has ample space for fitting strollers and a designated play area with plenty of toys to go around. The café also has a change table.
3742 W 10th Ave, Vancouver, (604) 558-1665
Whole Foods
This play area is small, with few toys, but it keeps the kids entertained long enough to enjoy a coffee and muffin.
510 W 8th Ave, Vancouver, (778) 370-4210
Kokopelli Cafe
This café is a little cramped for strollers but has a very clean play area and bathrooms with change tables. Kokopelli also serves up delicious sandwiches. Top of the list: The Roast Turkey and Cranberry sandwich.
4593 Dunbar St, Vancouver, (604) 228-0818
Sweet Salt
This family-focused bakery and café is aesthetically pleasing to parents and tots with its bakery inspired playscapes and play area featuring a miniature kitchen to inspire future chefs. Baking classes are also available.
3497 Fraser St, Vancouver, (604) 877-1141

Image credit: Mark Mogatas (pic of SweetSalt)
Find more great places for moms just like you. Download JellyBeen, the social mobile app to find the best places to shop, eat and play with kids.
See Also
Michelle Gadd
Michelle Gadd is an urban dwelling, Vancouver housewife and mother of two rambunctious boys. She has a passion for discovering, and writing about, ways to engage kids in city culture. Michelle created www.elasticpantcity.com as an outlet to write about life, from parenting to city living, fashion to frugality, food to faith, no subject is off the table. Michelle invites readers to take a glimpse inside her life and be inspired by the beauty of art in the every day.