Unique summer camps with Pear Tree!
Looking for something a bit different for a summer camp this year? What about photojournalism, graphic novels, sleuthing, or plants & pollinators?
Mix up your child's camp experiences this summer with a bit of something new. Pear Tree Education has some really cool and unique options for kids aged 5-14.
Get into science
There are a few different options for science summer camps at Pear Tree. Marine Biology focuses on beach life, with field trips to examine subjects in the wild. Sports health takes on kid-sized kinesiology with sports health, food nutrition, and developing a digital training regime. Super Scientists goes the traditional route, with kids learning about the scientific method, doing experiments, and documenting outcomes.
Little performers
Are you frequently the audience while your child produces an entire stage play in the living room? Pear Tree has you covered. Drama 101 lets younger children explore different roles in a safe environment. Medieval Times goes all knights and castles, with role playing, crest creation, shields, and more. Performers pulls out all the stops and goes full-on musical theatre.
Creating something new
For those kids who love to draw and create, there are some different options there too. Graphic Novels has kids making their own comics, from concept to finished book. TV Reporters gives older kids the opportunity to produce their own TV segments.
Unique camps
My favourite camp, speaking as a beekeeper, is their Plants & Pollinators one. Kids get to learn about the relationship between different pollinators and our local plants – not just honeybees, but bumblebees, butterflies, and more. A close second is the Ancient Olympians camp: Greek myths, food, buildings, and a mini Olympics at the end of it.
Every camp at Pear Tree Education includes outdoor play time, and there are hot lunch options as well. So get your future detectives, marine biologists, and kinesiologists ready to go to camp this summer.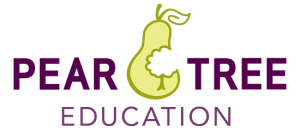 This article was sponsored by Pear Tree Education. If your child has never taken a course with Pear Tree, we're about to change your understanding of education! Pear Tree Education is Vancouver's one and only 21st century learning centre for children aged 5-14. Pear Tree offers after-school enrichment classes, tutoring, spring camps, summer camps, and ESL for Kids. All of our courses use Pear Tree's unique method of education, which we call Education 3.0.
Erin McGann
Erin McGann is the former Managing Editor for Vancouver Mom and Toronto Mom Now. She drinks just a bit too much coffee, is a bit obsessed about sourcing local food, plays the cello moderately well, spends too much time on Twitter, keeps honeybees on a rooftop, and has a thing for single-malt whisky. Erin is working on a novel set in turn-of-the-century Vancouver, which her husband, son and dog have to hear about all the time, and also blogs at Erin at Large.