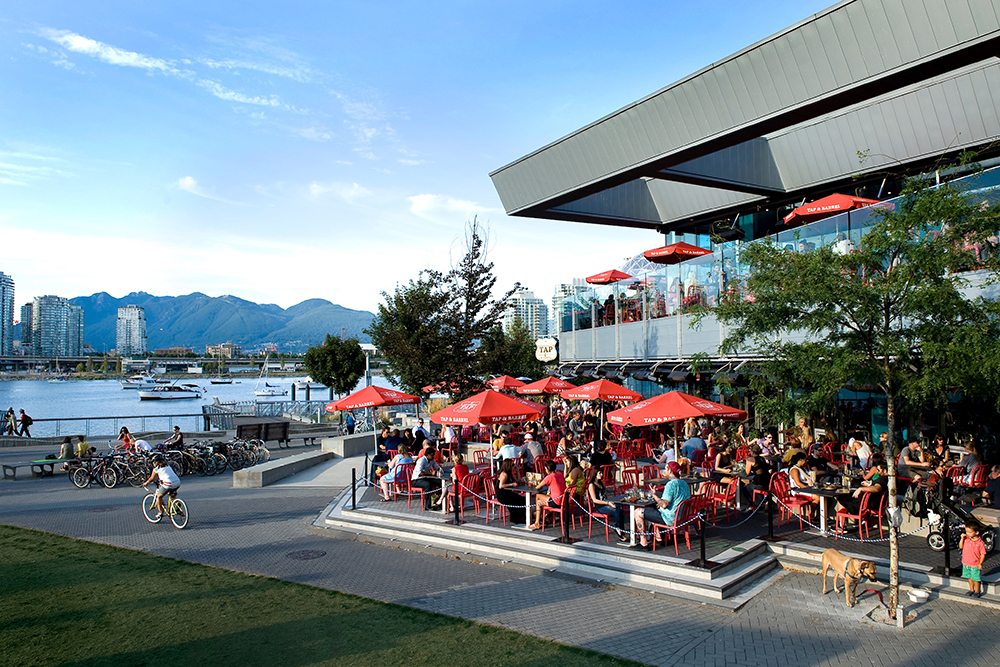 It's hard to argue with the incredible views from Tap & Barrel in Olympic Village. There's the well-curated wine and beer lists, and an excellent kids menu (wood-fired cheese pizza, macaroni and cheese).
Running room
If it's warm enough to be on the patio, you've got a great built-in space for kids to burn off some steam in the plaza and the edge of the seawall right next to the tables. Inside the restaurant there isn't really room to roam, but it's worth knowing that upstairs is much quieter than downstairs.
> Check it out
Free or nearly free things to do around Olympic Village

Off the kids menu
The kids menu, as I mentioned, is pretty good – but if nothing appeals there's the cheeseboard, warm pretzel, hummus and flatbread all on the Sharing part of the menu that are pretty kid-friendly. For grown-ups, the mushroom pizza is very, very good, as are the burgers. If you're feeling a rice bowl, the Asian-inspired dishes are better than you'd expect from a beer-and-burger place.
Out of towners
Tap & Barrel is a good bet for that dinner with out of town relatives, but also with children in tow. They get a stunning view of the city, a selection of local beer and wine, and you don't have to do the dishes. Win win, really.
Tap & Barrel Olympic Village
1 Athlete's Way, Vancouver | Website | Facebook | Twitter
Find more great places for moms just like you. Download JellyBeen, the social mobile app to find the best places to shop, eat and play with kids.
Image credits: Tap & Barrel, Erin McGann
Erin McGann
Erin McGann is the former Managing Editor for Vancouver Mom and Toronto Mom Now. She drinks just a bit too much coffee, is a bit obsessed about sourcing local food, plays the cello moderately well, spends too much time on Twitter, keeps honeybees on a rooftop, and has a thing for single-malt whisky. Erin is working on a novel set in turn-of-the-century Vancouver, which her husband, son and dog have to hear about all the time, and also blogs at Erin at Large.