FIVE ways to keep your kids SAFE online
Should my child be using a public or private server to play Minecraft? Is anyone moderating the uploaded user content on Roblox? Can someone please recommend an internet browser that provides child-appropriate, filtered search results? (The answer is yes!)
Limiting screen time and turning off devices a couple of hours before bedtime are good rules of thumb for children and parents alike. But the reality is we live in a digital world and our kids need to know how to surf safely.
Five ways to keep your kids SAFE online
Model it
The best way to teach our children safe and healthy online behaviour – including when to unplug – is by modeling it. To be a trustworthy source of knowledge for our kids, we begin by educating ourselves. The Canadian Centre for Child Protection, MediaSmarts, and PREVnet are great places to start. In addition to being an outstanding internet safety resource for families and educators, Common Sense Media has an extensive library where parents can read reviews about movies, games, apps, websites and more.
Talk to your kids
One of the most important ways to protect our children from unsafe online situations is by engaging in open and honest conversations about internet safety on a regular basis. Ask questions, be patient, and listen carefully. Be a safe place to come to when they experience something that makes them uncomfortable.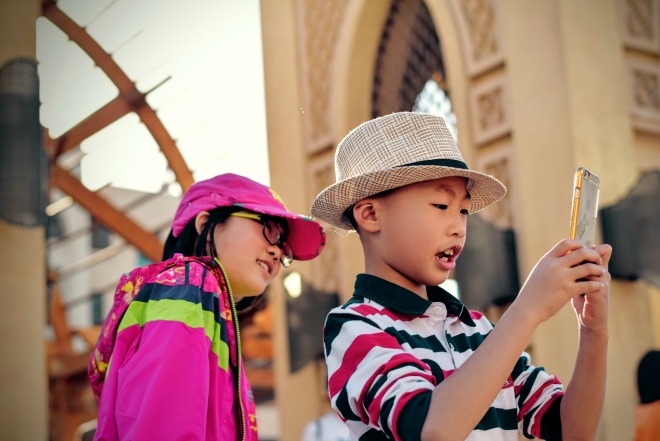 Review family safety rules
Fundamental online safety includes using a nickname whenever possible and never giving out personal information (name, age, gender, phone number, address, school or work locations, passwords, etc.). Set appropriate privacy boundaries around photo sharing sites (e.g. Instagram, Poke, Tumblr, and Snapchat), and remember that digital footprints are permanent (and recoverable, even after a "Snap" has expired or a "Tweet" has been deleted). Most importantly, never accept friend requests or engage in private chats with people they don't know, and never agree to meet someone. Tell your child that if they're in any doubt they should talk to you first.
Monitor their device usage
There are a variety of apps available to help parents child-proof a device, including Famigo and Kid-Mode. Once installed, only family-friendly and parent-approved apps are displayed on the device, while internet access, clickable ads, and the option to call or text are blocked. Video Monster is a great kid-appropriate app if you want to filter YouTube videos while blocking ads and links to inappropriate content. For more comprehensive web activity monitoring software, try Qustodio or Net Nanny 7. Before giving your child access to a device, it's always a good idea to apply parental controls, check privacy settings, and turn off unwanted location tracking (e.g. Snapchat's new mapping feature). Lastly, be aware of deceptive apps (e.g. Secret Calculator) that hide device content, browser history, and anonymous social sites (e.g. Yik Yak, Whisper).
Talk to your kids
This is so important it deserves repeating. Start discussing internet safety at an early age. Become a "friend" and "contact" on all of your child's apps and games so you can view their posts. Know their passwords and vet their app downloads. If you're not familiar with an app, go online and investigate, then ask your child to show you how it works. Discuss potential risks and involve your child in the decision-making process. We may not always be there to supervise, but we can take steps to teach our kids to be internet savvy and let them know that we've got their backs – whether they like it or not.
Resources
Cyber Safe BC
The Canadian Centre for Child Protection
MediaSmarts
PREVnet
Common Sense Media
Jeanine Wasik
Jeanine is a teacher, writer, and mom to two active and curious toddler boys. She has a passion for education and outdoor adventures. She loves to discover and share the best hidden parks, playgrounds, and beaches in Greater Vancouver. When she isn't writing, you'll find her and her boys playing in the dirt or peeking under logs in the forest.