Trending: Christmas Craft Fairs 2015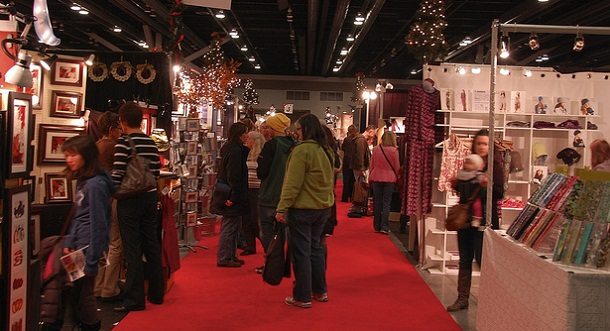 Get your Christmas list filled out with local buys at one of the craft fairs – from tiny to huge, there's everything. We've picked out three to get you started. Visiting craft fairs in one of my favourite beginning of the season Christmas activities to really get me in the mood. Wear comfortable shoes, bring your own bags, and get ready to finish your shopping early this year.
The really big one: Circle Craft Market
Fashion accessories, sculpture, home decor, art, food: this one has everything. This show can get overwhelming, so pace yourself and make a list before you go. Beautiful jewelry is always on offer, as are quirky mugs, nice scarves, and gorgeous leather goods.
11-15 November, Vancouver Convention Centre West

The indie one: Got Craft?
Helpfully late in the season, you can mop up all the stocking stuffers and people you forgot at the city's biggest indie craft fair. Count on cute cards, jewelry, kids clothes, and dolls, but this market is particularly good for small, local food gifts – local jams, chocolates, and cocktail kits. Stockings stuffed!
12-13 December, 115 Victory Ship Way, North Vancouver
See Also
The quirky one: Homesteader's Emporium Christmas Market
The shop that supplies local urban beekeepers, backyard chicken farmers, dyers, and soap makers is holding a Christmas market. Besides their own great stock (sauerkraut kit! cheesemaking!), there will be tables from local textile dyers, handmade wreaths, naturally leavened croissants, cards, candles, and more.
28 November, 649 East Hastings, Vancouver
Image credits: Delish General Store (visit them at Got Craft?)
Erin McGann
Erin McGann is the former Managing Editor for Vancouver Mom and Toronto Mom Now. She drinks just a bit too much coffee, is a bit obsessed about sourcing local food, plays the cello moderately well, spends too much time on Twitter, keeps honeybees on a rooftop, and has a thing for single-malt whisky. Erin is working on a novel set in turn-of-the-century Vancouver, which her husband, son and dog have to hear about all the time, and also blogs at Erin at Large.