Remembrance Day Ceremonies against the backdrop of COVID-19
Due to COVID-19, most Remembrance Day Ceremonies will be virtual or televised. So take a moment of silence to honour and remember the men and women who have served, and continue to serve Canada during times of war, conflict and peace and take in the pageantry online.
Remembrance Day Ceremonies in the Lower Mainland
City of Vancouver, Victory Square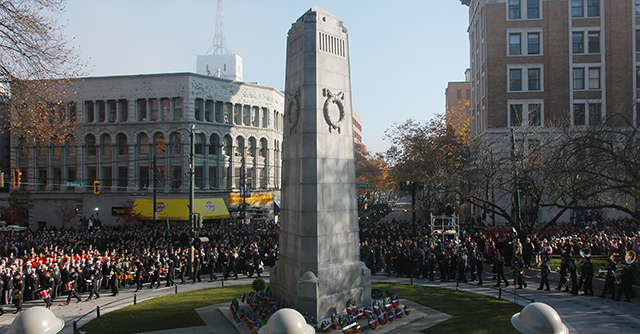 This year's ceremony will be available for viewing on Global TV. Victory Square will be closed to the public with no parade or screens for viewing the ceremony onsite. A limited number of official wreaths will be placed. No other wreaths will be placed this year, and members of the public should not gather after the ceremony to place their poppy on the Cenotaph.
Burnaby South – Remembrance Day Ceremony
Watch the Burnaby South Remembrance Day Ceremony via Facebook. Other options to remember include wearing a poppy, and taking a minute of silence on your own on Nov. 11 at 11:11 am.
>> Burnaby South Remembrance Livestream
Coquitlam, Physically Distant Remembrance Day Ceremony
Coquitlam's traditional Remembrance Day ceremony on Nov. 11 – which typically attracts thousands to the Blue Mountain Park cenotaph – will not take place this year in order to protect public health and comply with the Provincial Health Order banning gatherings of more than 50 people.
Recognizing the importance of the day, the City of Coquitlam is providing a variety of safe options for residents, including sponsoring a meal for veterans, displaying poppy posters, submitting messages and letters of remembrance, and supporting the Coquitlam Royal Canadian Legion Branch 263.
Maple Ridge, Virtual Ceremony
Maple Ridge Legion Branch #88 will host an online, livestream presentation in place of the in-person parade and gathering in Memorial Peace Park. The broadcasted commemoration from Maple Ridge will be much smaller, with invited guests only.
New Westminster, Virtual Ceremony
In partnership with the New Westminster Royal Canadian Legion, The Royal Westminster Regiment and other community organizations, Remembrance Day for 2020 has been re-imagined to meet COVID-19 safety requirements and to provide the community with a safe way of honouring our veterans and their sacrifices.
>> New Westminster Virtual Ceremony
Surrey Remembers, Virtual Ceremony
A small group from the Cloverdale Legion will lay wreaths in an intimate ceremony to commemorate the day. In the interest of COVID-19 safety, the public is not invited to gather at Victory Square. Instead, pay your respect by watching the small, live event on Facebook.
>> Virtual Surrey Remembrance Day Online
Stanley Park War Memorial, Live and Virtual
The Stanley Park ceremony (at the Japanese Canadian War Memorial) is limited to wreath layers and speakers only and is not open to the public. To commemorate the Cenotaph's 100th anniversary, the viewing event will include pre-recorded tributes that include the 100th anniversary of the cenotaph; a display of the original Honour Rolls; and light refreshments. Join the event at the 5,000 sq. ft Japanese hall to honour and give thanks.
>> Live Stream at Japanese Hall
White Rock Virtual Ceremony
The traditional Remembrance Day ceremony that takes place at the Cenotaph at White Rock's City Hall is going virtual this year due to COVID-19. The City is working with the Royal Canadian Legion, Branch 8, to record a ceremony, complete with the traditional songs, readings and two minutes of silence. The City is also encouraging people in the community to show their support for veterans and those in active service by putting poppies in your front windows in the days leading up to Remembrance Day.
>> White Rock Virtual Remembrance Day
UBC Remembers, Virtual Ceremony
2020 marks the 69th year that UBC has hosted a Remembrance Day ceremony. This year, due to COVID-19, the Remembrance Day ceremony will be a virtual event, featuring a live broadcast from War Memorial Gym. All UBC faculty, staff, students and community members are invited to watch—to honour and remember all those who served in times of war, military conflict and peace.
Harriet Fancott
Harriet Fancott is the Editor and Social Media Manager for Vancouver Mom. She has over 20 years experience in the arts, tech and mom-based blogging arenas. She lives in East Vancouver with her husband and son where they enjoy exploring all that Vancouver has to offer from festivals and events to playgrounds and beaches to sushi and ice cream (although not together).