Where to Eat in Vancouver: Chewies Steam & Oyster Bar
Seafood places are everywhere in Vancouver. Finding one that really marries together amazing food, a great atmosphere and one incredible Caesar selection is something that has to be shared.  Chewies Oyster Bar is definitely the kind of place that needs to shared, especially with all your girlfriends.  With their amazing southern style food to warm your heart and fill your belly you really can't go wrong when you add this place to your list of where to eat in Vancouver.
Where to Eat in Vancouver for Great Service
We were warmly welcomed by some really sweet staff, seated in a great spot for people watching, and quickly taken care of drink-wise.  We couldn't have been happier to say the least.  Browsing the menu was making both my husband and I salivate. We were dying to dive into a couple nibble plates to share before our movie.  With so many delicious choices it wasn't easy to settle on just two. I wanted to eat it all but sadly could not. Each choice was clearly not going to disappoint. Thankfully the staff were more than happy to give us their two cents on some of the menu items, confirming of course that our choices were definitely going to be the best ones.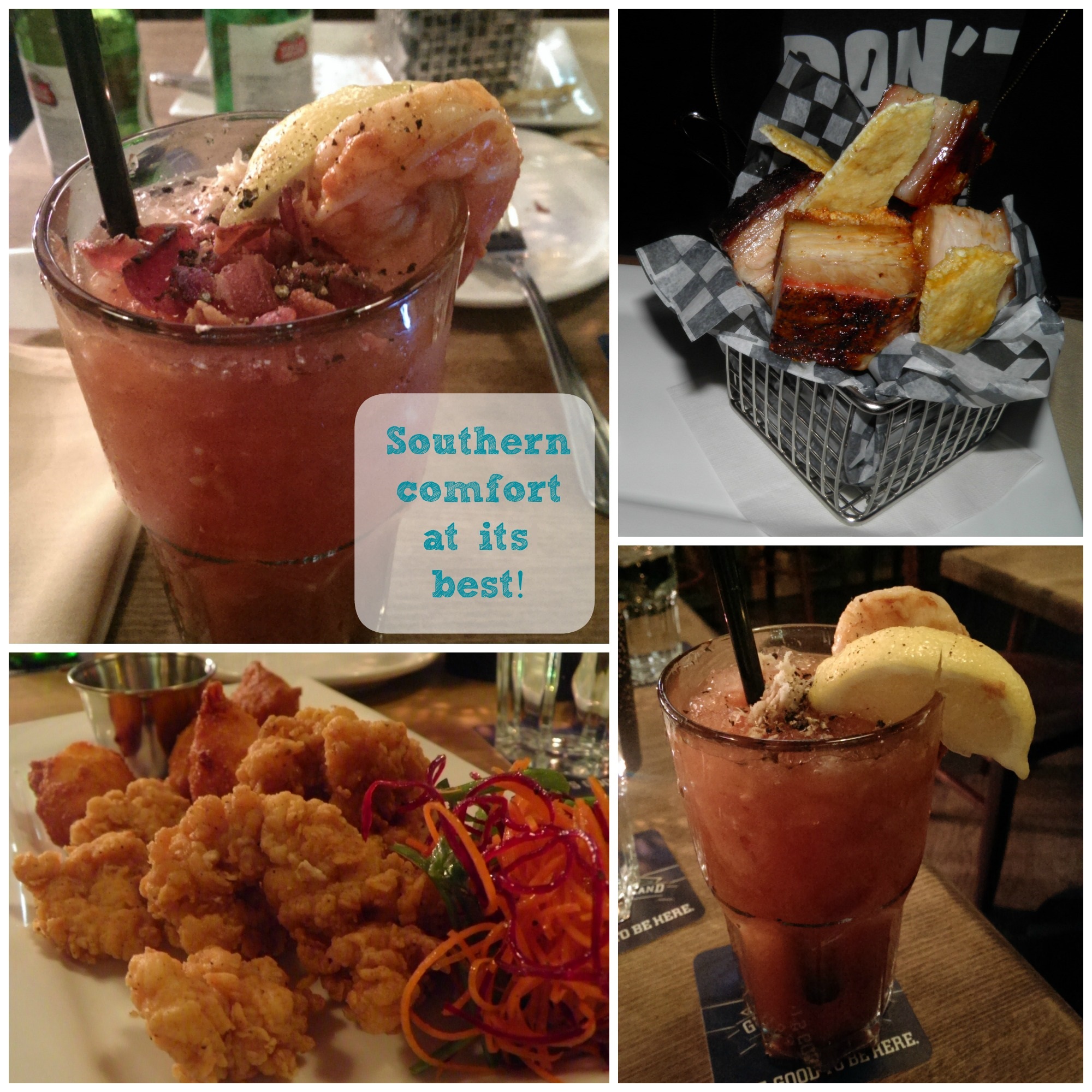 The Food
The Pork Belly Cracklin' was super tender on the inside, incredibly crispy on the outside and so sinfully good.  The Cajun sweet and sour sauce they give you for dipping was a really amazing paired with the chunks of soft and crunchy pork belly.  The serving was also huge.
The Fried Gator and Hush Puppies were much more than I expected.  Gator is amazing as it bursts in your mouth with its crunchy salty outsides.  The hush puppies were really moist on the inside and paired with the jalapeno jam, they turned into something spicy and to die for.  Even the slaw on the side is noteworthy and super delicate.
Heavenly Bevvies
But the Caesars we ordered were something else completely – and that something was heavenly. Both the regular and the bacon Caesar were polished off with the perfect amount of spicy.  With the great service I can promise you it will feel like it is never-ending. They were really attentive, but not in the always-interrupting-while-I-had-food-in-my-mouth kinda way. Between the decor, the soul food, the great beverages and the amazing service it was a perfect evening.
Every day at Chewie's you can find a great oyster deal between 3:00 and 5:00pm; a buck-a-shuck on select oysters. If you need an excuse to add this eatery to your list of where to eat in Vancouver you can't beat it. For an especially great date night the best day of the week would be Monday for their date night deal of "Dinner for two for $50". To top it off they even offer 50% off house wines by the bottle. Bon appetit!
Chewie's Steam & Oyster Bar – Coal Harbour
chewies.ca | Twitter | Facebook
110-1055 West Hastings Street, Vancouver, 604-620-7634
Monday to Friday 11:00am – 12:00am
Saturday and Sunday 5:00pm – 12:00am

Eschelle Westwood
Eschelle Westwood is the writer of Mumfection and is a dedicated young mother to two wonderful (though mischievous at times) boys. In between school drop offs, scraped knees, and milk spills you can usually find her on Twitter or on her hilarious Facebook page.