What to do in Vancouver: Enjoy the Complaints Choir
Wondering what to do in Vancouver this long weekend for something a little different? We suggest the fourth edition of the Complaints Choir. The fabulous folks at Vancouver New Music are teaming up with Vanessa Richards and the Woodward's Community Singers to produce this innovative event. The Complaints Choir will take place in and around the Woodward's building on Saturday, May 17, 2014. It all starts at Victory Square at 2:00pm. It pops up at 3:00pm in the Woodward's Atrium, and at 4:00pm at Pigeon Park.
What to do in Vancouver for Something a Little Different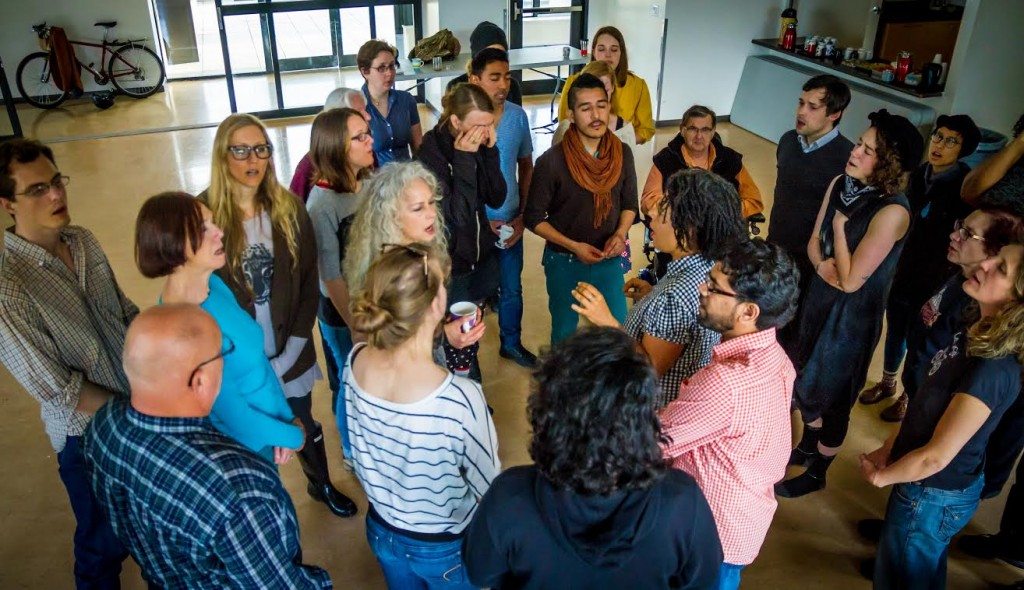 We bet you have the same question we did: what the heck is a Complaints Choir? The group takes complaints from choir members and the public, and weaves that into a song that's crafted using Dekaaz poetic form. This expressive form was created by contemporary artist, choral activist, and composer Rachel Begby. The result is a simple, three-line song form. And the best part? It allows the choir to add to the song on the spot with complaints collected from the public. Want to get something off your chest? Then this is what to do in Vancouver this weekend.
The Complaints Choir concept is a relatively new one. It originated in Birmingham in the UK in 2005, and spread rapidly. Vancouver New Music organized this city's first choir in 2008, with music composed and conducted by Steve Wright. In 2010, Vancouver New Music co-ordinated a second Complaints Choir featuring music and conduction by Vede Hille. The third incarnation of the Complaints Choir was led by composer, producer, and traditional Lil'wat singer Russell Wallace in 2012. You definitely won't want to miss this iteration of this one-of-a-kind performance.
Who's Performing?
Just who are the people behind Vancouver's Complaints Choir? The Woodward's Community Singers invite everyone to join with Woodward's residents, friends, neighbours, students, faculty and staff. You can sing together for a dose of collective joy, or just come and listen. They believe that now more than ever, we need what music gifts us. No experience or auditions are required. There's also no cost and no obligation – drop-ins are welcomed. They meet Thursdays from 6:00-7:30pm on the 10th floor in the Skyroom at PHS Woodward's.
See Also
Vancouver New Music is celebrating its 40th anniversary. As a group they explore and contextualize new music and sonic art. They do this through concert presentations, festivals, community events and workshops. They also regularly commission and premiere new works by Canadian composers, and present leading and emerging electroacoustic and electronic music artists, as well as sound installations and music theatre. Find out more about them at www.newmusic.org.
*Photo credit – Mark Halliday
Amber Strocel
Amber Strocel is a writer, aspiring math teacher, suburbanite, wife and mom of two. She believes in the power of the Internet to connect people, and she believes that numbers are the poetry of the universe. You can often find her knitting, sewing, volunteering, working in her garden, and sneaking chocolate when no one's looking. She blogs at Strocel.com and shares her photos on Instagram as @AmberStrocel.