Spreading Kindness and Happiness
As busy moms, we do a lot for other people. In fact, while a recent national survey conducted by Environics Research for Coca-Cola Canada tells us that Canadians have shown kindness to others through random actions an average of four times in the last four weeks, we'd bet that number is much higher for moms. At the same time, some 70 per cent of us don't feel that these do-gooders are getting the recognition they deserve for spreading kindness and happiness. This is another statistic that moms can relate to. So, how can we turn things around, and make sure that those folks who go out of their way on behalf of others get noticed?
One way to begin is by looking for the good news stories right here in our own community. The more that we pay attention to the good things that others are doing, the more inspired we will feel to spread the love ourselves. Carolyn Harty, Senior Brand Manager, Coca-Cola, says, "When it comes to kindness, seeing really is believing. More than half of Canadians are motivated to pay-it-forward themselves when they see others making a kind gesture. It is these small acts of kindness that make a larger difference and inspire and create happiness."
Inspiring Canadians
Here are a just few of the stories that Coca-Cola Canada found when they went on a cross-country search to find out about Canadians who arecreating more happiness in the world:
[unordered_list style="bullet"]
16-year-old Sheliza Kassam of Calgary decided on her thirteenth birthday that instead of gifts, she and her family would help feed families in need. Her one small gesture ballooned into a non-profit organization that Sheliza now runs to throw birthday parties for children living in shelters who otherwise would not be able to celebrate their special day.
22-year-old Luke Watters from Halifax heads up a special organization called Concrete Roots to help teens get off the streets and find their outlet in dance, giving them the confidence to excel in something they love. He started this initiative because he knows just how much dance fuels a positive lifestyle.
Winnipeg teen Nathan Unrau, with help from his parents Rohan and Elsie, created Lunches with Love. This non-profit makes and donates 450 bag lunches to Winnipeg's homeless shelters every other Saturday.
[/unordered_list]
Spreading Happiness
You can see more inspiring acts of kindness, which have been documented by filmmakers from across the country, at www.youtube.com/openhappiness. Under the Open Happiness Project, the filmmakers were given grants to help inspire more kindness – and as a result, happiness – through their art. And really, who couldn't use more happiness? You can spread the happiness yourself by tweeting your own acts of kindness with the hashtag #givehappiness.
This summer, why not take the time to look around you and recognize the people in your community who are making a difference? A smile, a thank-you, or a donation to a worthy cause are all great acts of kindness, as well. You'll be setting a great example for your kids, and doing your part to create a happier, more cohesive community. At VancouverMom.ca, where we're all about loving where you live, that's an idea we can really get behind.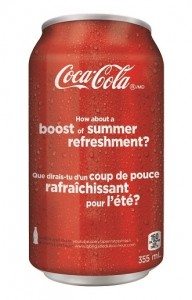 This article was sponsored by Coca-Cola. When was the last time you did something nice for someone just to make them smile? In a national poll by Environics Research Group, it was discovered that while lots of Canadians are spreading some kindness around, over 70 per cent of us feel that these acts aren't getting the recognition they deserve. This summer, Coca-Cola is celebrating some amazing folks and good works that will be getting a helping hand and national kudos for opening happiness in their communities.
www.youtube.com/openhappiness | www.livepositively.ca | www.coca-cola.ca

Vancouver Mom
Would you like to write for us? We welcome well-written guest submissions with a local interest slant. Share your tips, review local businesses and highlight hot trends for Vancouver moms. Get all the info on our Contributor Page!